Ask a random person for the best restaurant neighborhood in all of Chicago and you might get maced. But if you happened to pick a friendly and well-informed gourmand, you might instead hear "Logan Square," which would be a perfectly defensible response and one FAR preferable to the mace. What makes Logan special? These spots, from cutting-edge Asian cuisine to iconic sweet shops, are a fine place to start.
2957 W Diversey Ave
The eponymous Fat Rice dish is a massive pile of jasmine rice laced with a bevy of Portuguese and Southeast Asian fixings -- sofrito, Chinese sausage, salted duck, Portuguese chicken thighs, char siu pork, linguiça sausage, prawns, clams, pickles, and tea eggs -- and is a great meal for six, but an even better meal for four. And although the food appears to be something a guy in LA calls "fusion," it's actually an authentic mingling of flavors leftover from Portuguese colonialism in Southeast Asia, particularly Macau.

2853 N Kedzie Ave
Chef-cum-owner Matthias Merges spent years under Charlie Trotter before developing his own burgeoning empire of restaurants that began with izakaya-inspired Yusho. The $20 Sunday-night ramen prix fixe is a hot ticket, and the periodic ramen battles between noted Chicago chefs are evenhotter. Because they're shirtless! Or, something.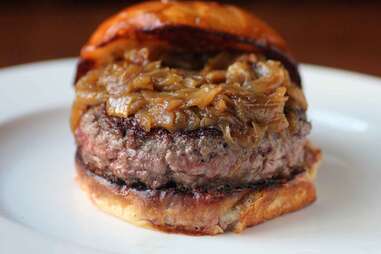 2700 N Western Ave
The short rib and brisket-mottled Slagel Family Farm beef burger needs nothing more than the caramelized onions and house-made potato bun it comes with, and it's perpetually on our best burgerroundups. But that doesn't mean you should stop there -- other menu items, like the step-up fish and chips, are equally excellent.

2072 N Western Ave
Come by late at night for steamed dogs simply dressed in mustard, relish, and onion (peppers by request), and a more-than-generous mound of fresh-cut fries that hold their own against just about any in the city. They're textbook "Depression Dogs," but they won't make you join the WPA a few years down the road.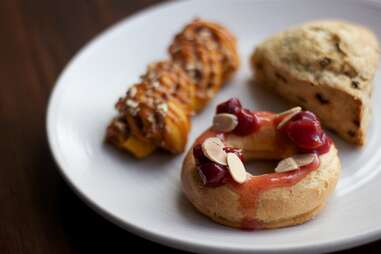 2537 N Kedzie Blvd
With this place a forerunner in the farm-to-table movement when it actually meant something -- as well as a venerable city brunch staple -- we have nothing negative to say about it, except regarding the severe distress caused by the recent couple-month closure for renovations. It's back though; worry not. And the beet bruschetta with whipped goat cheese is a good move.
2051 N California Ave
Classics like lemon cream and maple-bourbon-pecan pies are pretty stupendous, but we'd be remiss not to also mention the crazy-buttery savory biscuits. The interior is so rustic and adorable you'll feel like you're sitting in a dollhouse, except the food wasn't prepared on a plastic stove by a three-year-old.

1912 N Western Ave
A husband and wife from Korea and Puerto Rico, respectively, Chef Bill Kim and his wife Yvonne blend cultural flavors to create affordable eats like hominy hot-and-sour soup, plus pickled papaya and egg noodle-topped hot dogs that hit a perfect intersection of Asian and Latin cuisine.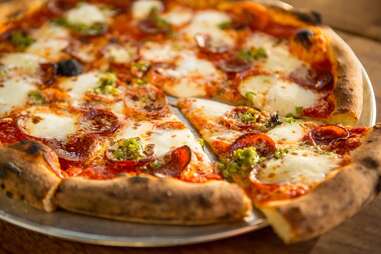 2607 N Milwaukee Ave
Each funky, wood-fired pizza -- like the roasted pear, Brussels sprouts, and bacon pie -- is made in the same oven as the unreal morning bagels.

2657 N Kedzie Ave
Eat and drink at the first-floor, whiskey-fueled, wood-laden nose-to-tail temple, then head upstairs to the accompanying inn's six furnished bedrooms. Small plates of tête de cochon or duck-in-a-jar might precede your dinner of wild-boar Sloppy Joe, but the menu is based on ingredient availability, so you'll just have to take a chance.
2540 W Armitage Ave
The empanadas, ropa vieja, and Cubano sandwiches are all fantastic, the booze is bring-your-own, and one time, Guy Fieri got a pork-roasting lesson when he visited. I'd like to give Guy Fieri a pork-roasting lesson, if you know what I mean. (I mean I make a terrific fresh-herb tenderloin rub with a brown-sugar glaze.)

1960 N Western Ave
Serving up three-scoop banana splits -- with whipped cream, nuts, and a cherry on top -- for more than 90 years, this vintage candy and ice cream shop allegedly played host to a Beatles ice cream sundae party in 1965, when the band charmingly shared a few six-scoop sundaes with five lady fans, if you know what I mean. (I mean they all ate ice cream together.)
Sign up here for our daily Chicago email and be the first to get all the food/drink/fun in town.
Carrie Dennis is an associate editor for Thrillist and is making pork tenderloin for dinner tonight. Smell what she's cookin' on Twitter @CarrrieDennnis.