Everything you should eat & drink at Parson's Chicken & Fish
When the weather warms up, it's understandable if the mind starts drifting to breasts and thighs, but you should stop staring at tank tops and hightail it to Parson's Chicken & Fish, the latest project from the Longman & Eagle folks, where you can manhandle a 10-piece bucket of fried chicken seasoned with garlic, morita chiles, cayenne, and smoked paprika, appropriately rounded out with a little coleslaw and Texas toast.
There's seating for 215, with a snug diner interior offering a handmade-tile bar, or a sprawling patio sporting 15 whitewashed picnic tables. The patio boasts a bar created from hollowed-out shipping containers, hopefully not the ones that give Dexter-style flashbacks.
Parked alongside the patio is a custom 1977 Chevrolet El Camino, a fitting companion to their '70s soundtrack deep with Skynyrd, Lee Hazlewood, and ZZ Top.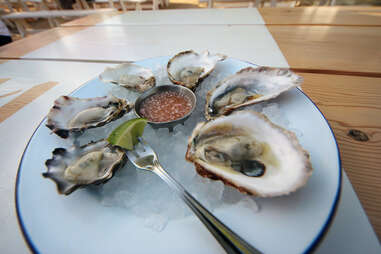 The menu's divvied into three sections: Fried (cod fritters, ham hock, and cream cheese hush puppies), Fresh (smoked trout salad, chilled Spring onion soup) and Raw, which eschews Eddie Murphy in favor of these oysters with a citrus mignonette.
You can't have Chicken & Fish without the fish (fine, you also need an ampersand, Captain Semantics), so the fried pollock is in full effect with a tempura beer batter.
These might be the fanciest pimento cheese toasts you'll find, dressed with charred radishes and pea shoots and elegantly plated on British enamelware.
Clam rolls come with celery root remoulade, red onion, pickled peppers, and butter lettuce, actually healthier than it sounds.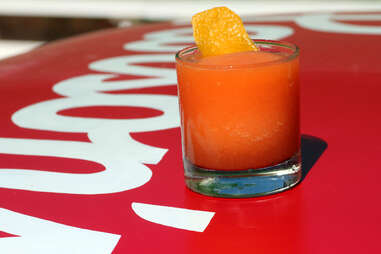 Matt Damon bought a zoo. Parson's bought a frozen drink machine, and clearly made the better choice as evidenced by this Negroni slushy also available in 1 liter carafes (Negroni carafes > Damon giraffes).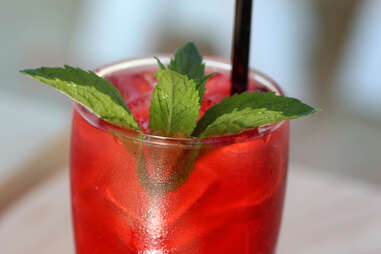 For non-machine cocktails, the Seasons And… is always in season with vodka, raspberry/mint soda, lime juice, and a sprig of mint. The bar's beer list, meanwhile, includes Hofbrau and Brickstone on tap and a slate of 20 local and import brews, including large format options from Pipeworks.
Not just a solid synopsis of Kris Humphries's thoughts on marriage, the Bitter/Sour mixes bourbon, lemon juice, bitters, and sugar.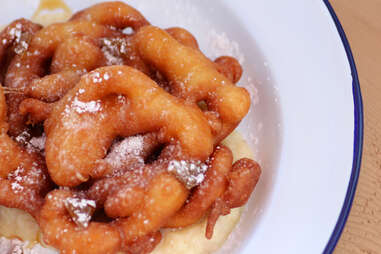 For dessert, you won't have to endure the stares of carnival folk to get this funnel cake covered in honey, powdered sugar, brown butter, and green peppercorn brittle.