Courtesy of XO Marshmallow
Courtesy of XO Marshmallow
Music may take top billing at Lollapalooza, but festival food almost steals the show. Chicago's largest music festival is back in August, and along with A-list talent like Billie Eilish and the Red Hot Chili Peppers, there are actual chili peppers—and a whole slew of other eats and drinks you can savor while swaying to Lana Del Rey.
In addition to four jam-packed days of music from nearly 200 acts, Lollapalooza has evolved into a dining destination in its own right. Held once again in Grant Park, and with nearly 70 food vendors in tow, the festival is starting to make the Taste of Chicago look like a food desert. Spread across two main dining areas, Chow Town and Dessert Island, concert-goers can expect a vast cornucopia of options, from empanadas and requisite hot dogs to marshmallows, donuts, iced coffee, and for fans of The Bear, Italian beef. To drink, general admission ticket-holders can look for beer, seltzer, and wine booths throughout the festival, while VIP entry grants more spirits and cocktails made from the likes of Bacardi and other brands.
Here are some of the best things to eat at Lollapalooza 2023.
What started as a pint-sized empanada shop on Southport has grown into a burgeoning local mini chain, with a handful of locations across town, each with intimate dining rooms as colorful as piñatas. Scratch-made and hand-rolled, the flaky empanadas are still the fan-favorite, available in flavors like chicken tinga, beef sirloin, and black beans with goat cheese and plantains, but the company also offers tacos and burritos.
Regardless of how you feel about that "cheezborger cheezborger cheezborger" schtick, it's undeniable that Billy Goat Tavern is as integral to Chicago's dining lore as deep-dish pizza and ketchup-less hot dogs. Naturally, said "borger" is the bill of fare here, an endearingly frills-free rendition comprising thin stacked patties, dill pickle "cheeps," American cheese, and kaiser buns.
Founded in Wrigleyville in 2020, Cloud Cookie is the kind of uber-sleek, contemporary bakeshop that looks straight out of The Jetsons, with cookies that are aptly otherworldly. Classic flavors, like chocolate chunk and peanut butter, boast a perfect chew, but make sure you dabble in the more whimsical offerings as well. The "Basic Bish" is a sugar cookie sparkling with sprinkles, "Cloudynoir" is a double chocolate cookie with chocolate chunks and white chocolate chips, and the "Cinnamon Roll" cookie does an impressive job of replicating the pastry.
Since festival-goers can't subsist on beer alone, Dark Matter Coffee is back to supercharge the party and keep the caffeine flowing all day and night. One of Chicago's preeminent coffee roasters, Dark Matter is beloved for its iced coffee, and in years past, the company came to Lolla with its famed Chocolate City cold-brew and Citra City coffee infused with hops.
A South Side staple, Donut Dudes is a bit of an underdog on the overstuffed local donut scene, but that changes now. With a grand stage like Lollapalooza, the decadent bakery operation gets to showcase some of the city's funnest fritters, which come in a miscellany of colorful flavors, glazes, and toppings, like the blue-hued Cookie Monster topped with cookie crumbles, Biscoff donuts, and donuts frosted with Fruity Pebbles.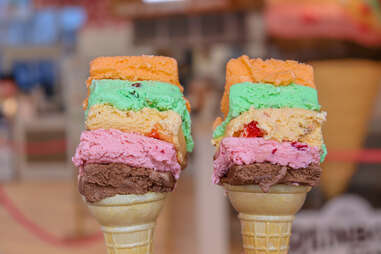 Among the best ice cream shops in Chicago, and an enduring tradition that's reigned on the South Side since 1926, The Original Rainbow Cone is the definitional OG. A refreshing summer staple, and a mercifully cooling snack at crowded festivals like this one, the thing to get here is the iconic stack of five original flavors, piled one after another in a crunchy cone. Said flavors are orange sherbet, pistachio, Palmer House (vanilla with cherries and walnuts), strawberry, and chocolate. The combo, which is "sliced" as opposed to scooped, is the perfect mix of textures and flavors, melting together in idyllic summer harmony.
The bubble waffle trend shows no signs of bursting. Just look at Eiffel Waffle, a bubble waffle purveyor that's ballooned to locations all over Chicago, specializing in those fluffy, egg-based waffles that appear to "bubble" outward into adorable little orbs. Delicious plain, Eiffel Waffle decks them out by using them as "cones" for over-the-top sundaes and toppings, like whipped cream, ice cream, strawberries, mini marshmallows, and graham crackers.
Unsurprisingly, Chicago-style hot dogs are well represented at Lollapalooza this year, but there's something just extra summery about a hot dog that's been charred and imbued with the fragrant aroma of a grill. When those pangs hit, head to Fatso's Last Stand, an enduring late-night haunt in Ukrainian Village (now with a second location in Lincoln Park) known for its snappy char dogs "dragged through the garden" with Chicago-style toppings like pickle spears, chopped onions, tomatoes, sport peppers, and celery salt in a poppy seed bun. The casual eatery has expanded its offerings to include burgers, chicken sandwiches, and Italian beef, but don't sleep on those char dogs.
Thanks to The Bear, Italian beef is having a moment. Once mostly only known in and around Chicago, the sliced beef sandwich has boomed in popularity, allowing other local purveyors to shine. One such business is Schiller Park's Frannie's Beef, a longstanding sandwich stand and catering outlet that makes a mean Italian beef with all the traditional trappings: thin slivers of meltingly tender roast beef, au jus, and fluffy French bread. The burly sausage sandwiches are also rightfully renowned, and the meaty menu also offers hot dogs, meatball subs, gyros, and pork chop sandwiches.
As a reminder: Hallucinogens are not permitted on festival grounds. But you can always get your mushroom fix in the form of plant-based superfood ice cream. Glow Superfood, a twee frozen dessert brand that looks like something Gwyneth Paltrow would love, provides a healthier snacking alternative with its plant-based ice cream bars. Made from ingredients like cashews, young Thai coconut, almond milk, and 10 types of organic mushrooms, flavors include cinnamon oatmeal raisin cookie, hazelnut chip, pistachio wheatgrass, and vanilla chai latte.
Chowing down on super-sized marshmallows may not seem like the most obvious festival fare, but XO Marshmallow is a far cry from the 'mallow mold. Quirky, colorful, and crafty, this cutesy cafe not only serves Instagrammable marshmallows in offbeat flavors, but uses them as the base for other irreverent treats, like s'mores cups, marshmallow-topped frozen lemonade, and "S'moreos," aka giant Oreos with fluff in the middle.
A Chicago rite of passage, Harold's Chicken is the perfect place to completely negate all your healthy superfood choices. Crispy and dark, the fried chicken comes in many forms at Harold's, including wings, tenders, sandwiches, and hulking plates of dark and white meat chicken piled atop french fries and sloshed in hot sauce. It's a Chicago tradition, an unabashedly messy feast, and a Lollapalooza staple.
Pizza is essential festival food no matter where you are, but since deep-dish is a bit of an unruly mess to attempt in the midst of a mosh pit, your best bet at Lollapalooza is The StopAlong, an adorably kitschy Bucktown spot slinging thin-crust slices in flavors both classic and whimsical. Cheese and pepperoni pizzas are perfect renditions of the form, in all their foldable glory, but keep your eyes peeled for more eccentric offerings, like the Return of the Spaceballs (mozzarella, meatballs, pepperoncinis, ricotta, basil), the Elle Woods (roasted sweet peppers, spinach, mushroom, red onions, vegan mozzarella), and the Chicago Special (sausage, mushrooms, green peppers, red onions).
The Tamale Guy, aka Claudio Velez, is essentially a guardian angel for late-night barflies in desperate need of sustenance. A local legend, he's long carted around homemade tamales in coolers to bars that don't serve food, offering hungry diners a much-needed nosh in their drunkest moments. The same is true at Lollapalooza, where the masa icon will be slinging tamales with fillings like pork, shredded chicken, and queso—and don't skimp on his zesty salsas.
Hot take, but bao buns may be the most perfect festival food. Compact, easy to double-fist, and neatly enrobed in doughy buns, bao are as convenient as they are delish. Which is what makes Wow Bao such a fitting fixture on the festival circuit. The vibrant brand, now with locations throughout Chicago and across the country, serves buns stuffed with the likes of teriyaki chicken, barbecue pork, spicy Mongolian beef, and coconut custard. Along with equally convenient eggrolls and potstickers, it's a reliable snack that goes hand-in-hand with the inevitable crowd-surfing.
Matt Kirouac is a Thrillist contributor.