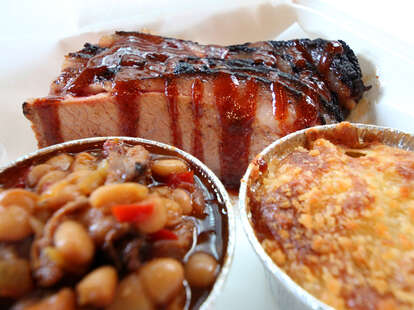 If a Chipotle franchise knocked boots with a Southern BBQ joint, things would probably get really messy, but the resulting offspring might well look something like Blackwood BBQ. The counter-service lunch spot has a simple BBQ menu that allows you to mix-and-match a lineup of ready-to-go meats, sides, and sauces, yielding results like this Memphis sauce-drizzled Angus beef brisket sided with panko- & cheddar-crusted mac & cheese and a pile of pulled pork-studded baked beans.
The 30-seat dining room has a clear view of their hickory-filled Southern Pride smoker and their simply laid-out menu boards, reminiscent of a certain fast casual Mexican chain.
You'll have the option to start with brisket, pulled pork, or pulled chicken, all available as a sandwich, platter, or salad. Decisions get tougher with the regional lineup of BBQ sauces, highlighted by the Chicago, a mix of mustard, vinegar, and a secret ingredient: PBR. Whoops. Let's call it a... special ingredient.
The end product comes in a to-go container and may well look something like this pulled pork with Chicago sauce, sweet cheddar cornbread, and cole slaw. There's also a breakfast menu in the works, with a brisket croissant sandwich and pulled pork hash, providing the morning-after comfort you may require after a one-night stand with a certain Mexican chain that won't return your calls, texts, or Snapchats.