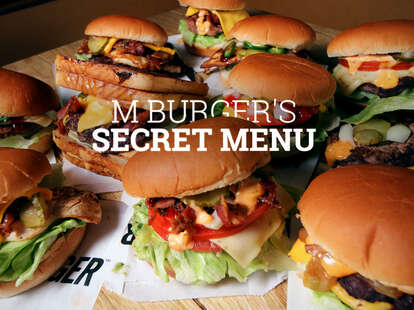 Chicago has plenty of secrets (though, Al Capone's vault is no longer one of them -- thanks Geraldo!), but disappointingly, not a lot of ones that involve 14 off-menu burgers, fries, and shakes. In fact, there's just one, and it belongs to Chicago mini-chain M Burger, where the secret menu is more than double the length of the regular one. Here's every single item on it:

THE SECRET BURGERS
Roman-Style Burger
No way is that a burger with buns made of grilled chee-- good God, that's a burger with buns made of grilled cheese. The Roman-Style is named after a dude (named Roman!) who invented it during a lunch break at the original Mag Mile location.
Adult Grilled Cheese
Say you're not up for eating an entire double-bacon cheeseburger with grilled cheeses for buns (hypothetically), you can instead opt for this suped-up grilled cheese with fresh avocado and tomato.
Barnyard Burger
All of your favorite edible animals are represented with a beef patty, chicken breast, bacon, and turkey topped with lettuce, pickles, American cheese, onions, and secret sauce (yes, more secrets).
Noah's Ark
It's a Barnyard Burger, just with TWO of every type of meat.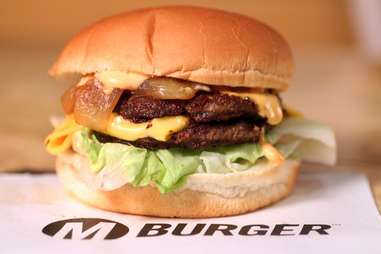 Big O Style
While we respect the swagger of HoF Bucks guard Oscar Robertson, he has nothing to do with this sandwich. Big O Style here gets you grilled onions added to any burger.
Turkey Old Fashioned/Chicken Mikey
You'll order the simple, old fashioned burger one of two ways: with turkey (Turkey Old Fashioned) or with chicken. If you wanna go the chicken route, you'll ask for the Chicken Mikey, named to the secret menu after a customer put in orders of 15 at a time to stockpile them at home.
Dr. Betty
What's the best way to improve a vegetarian sandwich? Add beef. That's what Dr. Betty prescribes, anyway! This one's a 3oz patty added to the already-appetizing Nurse Betty (tomato, avocado, pepper Jack).
Bacon Betty
What's the best-est way to improve a vegetarian sandwich? Add bacon. The hypocrisy continues, just this time with chopped spicy peppercorn bacon topping the salad-centric burger.

Fowl Mouth/Chicken Hurt
There are two alarmingly hot variations on the Hurt Burger: the Fowl Mouth is the turkey variation, and Chicken Hurt the chicken one. Both come with house BBQ sauce and pepper Jack cheese, and both can be taken to a third degree of hurt with double the BBQ sauce and jalapeños, or the rumored 10th degree of hurt with some insanely hot hot sauce.
Salad-Style
Replace any burger's white bread buns with an iceberg lettuce papoose.
M Turkey/M Chicken
Swap beef for birds in their signature cheeseburger with bacon and secret sauce.

THE SECRET NOT-BURGERS
Cheese Fries
Upgrade your side of fries with a green chili-cheese sauce, roasted poblanos, jalapeños, and BBQ sauce for dipping.
Secret Shakes
On the posted menu, you'll find desserts like sundaes, floats, and shakes in the standard vanilla/chocolate/strawberry flavors. On the secret menu, you can get an espresso shake with a double shot of Intelligentsia Black Cat, or ask what's in their current monthly rotation... like the Grasshopper with mint cookies and cream, or a Nutella shake.
Sean Cooley is Thrillist's Chicago Editor, and he's noticed that a pie tin is a handy pie chart for how much pie you've eaten. Follow him @SeanCooley.