Meet the New Classics That Are Reinventing Midwest Cuisine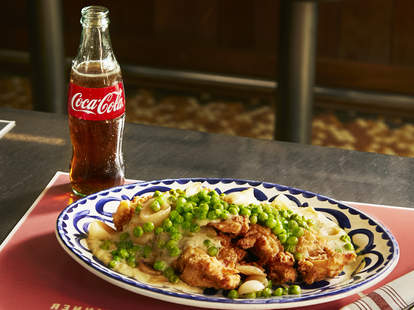 It's safe to say we know what a good meal looks like. So we've partnered with Coca-Cola to pair their timeless beverage with new twists on regional dishes -- a perfect chance to recognize the innovators who find the essence of beloved standards. The chefs below keep what everyone loves about local fare, while developing it into something new -- a true expression of how a society develops, and how it's reflected in the meals we enjoy. And with a bottle of Coca-Cola, it's a pairing of two American classics.

To see the complete map of luminary dishes, click here.
American composer Oscar Levant once said, "There's a fine line between genius and insanity." When it comes to food, a truly inspired work of art is full of esoteric choices that, with one differing ingredient or technique, could have been utterly terrible (or worse -- forgettable). All over the country, you'll find inspired and delicious recipes that elevate otherwise standard ingredients to a precarious new level of perfection. Which was great... when those dishes were created a few decades ago. It's time to mess with greatness in pursuit of even bigger tastes.
BUTTERMILK FRIED CHICKEN WITH CHORIZO VERDE GRAVY
Southwestern flavor settles in at the diner
Dove's Luncheonette
Chicago, IL
Taking country cooking to its inclusive extreme, Tom Carlin and Dove's recognize that home cooking can bridge farther borders than the Rio Grande. While steeped in "Tex-Mex" lore, this dish also ties into classic southern Illinois chicken plates -- with the gravy, peas, and onions a little more festive than usual. Yet that fried chicken breast is perfectly matched to the roux-style chorizo verde gravy's notes of cilantro, oregano, powdered toasted pepitas, and three kinds of hot pepper, two of which are char-blistered. You'll never eat boxed gravy mix again.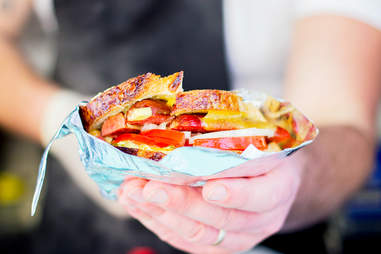 Emily Shea-Gagnon
CHICAGO DOG GRILLED CHEESE
The most Wisconsin way to adopt an Illinois emblem
Melted
Madison, WI
The Midwest, supportive and polite place that it is, features plenty of edible tributes to its neighbor states. The iconic Chicago Dog, taking a trip up north in this beloved food cart, brings tomato wedges, sliced onions, deli mustard, and neon green relish. Of course, by the time it crossed the Wisconsin border, it got enveloped in Muenster and extra sharp Cheddar cheese, and before you know it, you've got a grilled cheese on your hands (and chin). The acidic tang of the mustard and relish, the aromatic onions, and the tempering mildness of the tomatoes are all instantly familiar... yet the amount of cheese permissible within Chicago city limits has exploded from cheese dog to full-on grilled cheese as only Madison can make it.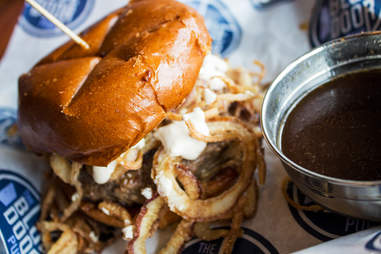 Marissa Schafer
HORSEKICK BLUCY
The cheese-stuffed burger gets a German remix
Blue Door Pub
Minneapolis, MN
While both Matt's and the 5-8 Club lay claim to inventing Minnesota's Ju(i)cy Lucy, you can now find the ingenious cheese-on-the-inside burger delicacy all over the Midwest, prepared faithfully to the blueprint at almost all of them. To find a variation, visit the Blue Door Pub, where they take it full German. The Horsekick Blucy tips its Alpine hat in a culinary direction somewhere between prime rib and a beer garden obatzda dip: squeezing house horseradish sauce inside a patty full of blue and cream cheeses till it's bursting at the seams. The pile of onion strings on top may just be there to keep a lid on this powder keg. Visitors may want to loosen their dirndls. Mahlziet!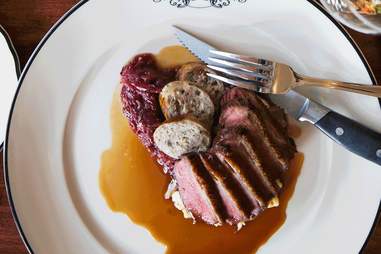 GLAZED MINNESOTA MAGRET DUCK BREAST
Local ingredients find a Minnesota-cozy intersection of rich but light
Meritage
St. Paul, MN
In the land of 10,000 lakes, you'd think the duck would be king. But surprisingly, it's only a supporting player despite its unassuming prevalence on Twin Cities menus, where you're more likely to find it in sausage and sandwiches. Maybe it's the odd duck out? The region has more than enough rich food without using such deeply flavorful meat, and for simple dishes with local veggies, there's always a fresh fish ready to serve. That can all change with Meritage's Minnesota ducks, whose perfectly crisped skin belies their crimson slicing. The fowl is served atop a rotating cast of seasonal vegetables -- currently an equally daffy mixture of "vanilla-scented autumn fruits, brown butter-crème fraîche cabbage, salsify, and pomegranate bigarade sauce" that's more than strong enough to support the star. It's a rich rebellion that will have your stomach chanting "Quack quack" with enough vigor to make Emilio Estevez proud.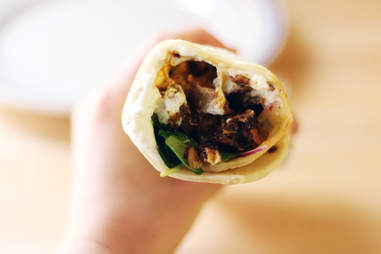 Chloe List
RETURN OF THE GYRO
The iconic Greek sandwich takes on international ingredients
Publican Quality Meats
Chicago, IL
Messing with Chicago classics is a little more dangerous than other recipe twists -- ask for ketchup on a hot dog and see what the guy at the counter says if you'd like to see for yourself. Publican Quality Meats is a primo deli extension of the famous Publican rustic beer hall, so they don't mess around when they take on a classic. Here, savory escalivada veggies and rich pork belly sub in for the tomato, onion, and gyro meat, while Indian raita cools it all down instead of tzatziki. The griddled flatbread thins out the spongy downside of a traditional pita, and the chili oil adds just enough heat to make you dive back in for the next bite. This is the kind of sandwich that even Cubs and White Sox fans can agree on.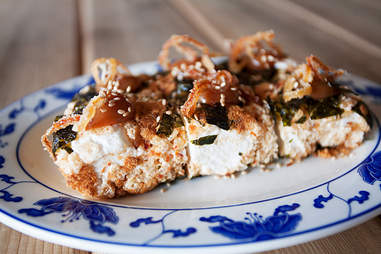 Ellen Malloy
MACAU RICE CRISP
Childhood nostalgia becomes avant-garde gastrofare
Fat Rice
Chicago, IL
Rice Krispie treats may be universal childhood memories, but they were invented by an Iowan in Battle Creek, MI. Completing this midwestern trifecta is Fat Rice, which has tied the crunch and fat of a Rice Krispie together with pork floss -- a Chinese ultra-shredded jerky of sorts -- and a shallot caramel rich in umami thanks to fish sauce. Yowza! Salty seaweed and savory sesame are incorporated into the treat to make this a mind-boggling dream team of flavors, a wildly audacious effort that's perfectly executed.