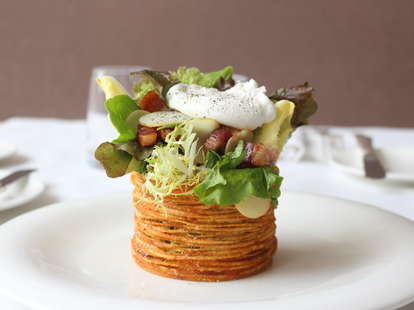 You know what would be great? Knowing which Michelin-starred Chicago restaurants you could go to without having to sell your collection of unused Fitbits. You know what would be even better? Finding that out without having to use math and stuff. Like, say, using the story below:

ONE STAR
We took the average price of an entrée on each one-star restaurant's a la carte dinner menu, assuming that it 1) had an a la carte option, and 2) had entrée-sized portions (unlike, say, some tapas/sushi restaurants). There are 19 single-star spots in the Windy City (17 if you consider the fact that both Senza and Takashi have closed). In ascending order, according to average price, here's a look at the eight spots with the best value:

Logan Square
With nearly half the entrée section of the menu clocking in at under $20 a pop, this self-proclaimed farm-to-table concept is a no-brainer for Michelin-rated dining on the (comparatively) cheap.
Average entrée: $23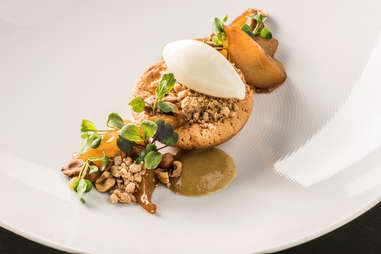 South Loop
Helmed by chef/proprietor Ryan McCaskey, this chic resto offers a la carte eats that are simultaneously whimsical and accessible, such as the Wagyu beef tri-tip ($36) with vegetable ash, baby leek, garlic, celery root gratin, Tokyo turnips, and oxtail prune consommé, or the Tasmanian ocean trout ($32) served with "ramen tagliatelle."
Average entrée: $31
West Loop
Occupying a nineteenth-century printer shop and adorned with sleek chandeliers and trimmings, elegant Sepia looks and feels the part of a high-end restaurant, but a meal out won't WMD your wallet as much as you'd think. The priciest thing on the menu is a strip steak with beef shank pave, sunchoke, cheddar, coffee, and burnt cinnamon jus, which will run you a not-so-shocking $38.
Average entrée: $32

Lincoln Park
Chef/partner Lee Wolen's penchant for playing with complementary textures and flavors gets showcased at this sexy date night spot on Halsted. Starters like heirloom carrots with pistachio, amaranth, and smoked goat cheese ($12) and grilled Spanish octopus ($17) are perennial favorites, while Colorado lamb loin plated with yogurt, pistachio, rhubarb, and lettuce ($38) shines on the current list of seasonal entrees.
Average entrée: $33

River North
Enjoy approachable, contemporary American fare like pan-roasted skate wing ($31) and a killer burger ($22!!!!!!!!!!!) smothered with smoked mozzarella, applewood smoked bacon, and a special sauce paired with thick-cut fries and garlic aioli.
Average entrée: $33
Lincoln Park
When it comes to romantic restaurants, few things top North Pond, which is literally set pond-side in the heart of Lincoln Park. The menu highlights locally sourced ingredients and changes based on what's in season and readily available. Recent standouts include marinated lamb leg ($39) with snap peas and grilled Atlantic striper ($36) with candied blood orange.
Average entrée: $38
West Loop
Long before Randolph St was known as "Restaurant Row," Paul Kahan and the team behind One Off Hospitality opened West Loop fine dining pioneer Blackbird. Entrees range from vegetarian-friendly confit king trumpet mushroom with sweet potato tortellini ($30), to roasted and braised venison ($44).
Average entrée: $38

River North
Enjoy American-meets-Mediterranean cuisine at this upscale concept from cousins Carrie and Michael Nahabedian. For a memorable plate (and flavor explosion in your face), try the lacquered, aged Moulard duck breast ($45) with foie gras, wheat berries, blood oranges, cipollini onions, and "Thumbelina" carrots.
Average entrée: $44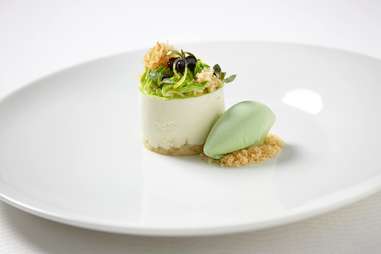 TWO STARS
For double-starred Chicago restaurants, a la carte options go bye-bye, so we're looking at how much a multi-course meal costs. When the most recent round of Michelin stars were granted, there were three two-star recipients. Now, however, LEYE fine-dining spot L2O is closed, leaving just two such honored restaurants. Meaning your best value option is kind of not the best value.

River North
Every season, the creative minds behind Sixteen completely reinvent the menu (and the conceptual theme around which each menu is crafted) and, despite such frequent change, manage to pull off two-star worthy eats and service time and again. The new spring 2015 menu, entitled "Food in Progress: Assessing an American Food Revolution," includes dishes like Loup de Mer and dry-aged beef ribeye, as well as a bunch of "gift courses" such as potato soufflé with sturgeon and caviar and smoked squab.
Multi-course tasting menu: $190
THREE STARS
There are currently two three-star Michelin rated restaurants in Chicago, and one of them is cheaper than the other. And that restaurant is...

West Loop
At $22 a course for a nine-course meal of this caliber, the price you'll pay to dine at Grace honestly just might be worth it. And thanks to two separate menus (one called "Flora" and the other "Fauna"), even vegetarians can enjoy the experience without the need for requesting substitutions.
Multi-course tasting menu: $205
Sign up here for our daily Chicago email and be the first to get all the food/drink/fun in town.
Kailley Lindman is a contributing writer for Thrillist Chicago, as well as a food blogger, bacon enthusiast, and devout user of the Oxford comma. Follow her at @KailleysKitchen.