Since we're so often in the running (!) for fattest city, it's safe to say that Chicago is a bastion for the country's most caloric comestibles. With 2013 finally put down, we take a look back at some of our favorite fatty foods from the year, all of which have a special place in our heart (... right next to the fatty lining of our arteries).
Chocolate Pretzel/Nutella Doughnut Ice Cream Sandwich
Black Dog Gelato (Ukrainian Village) and Glazed & Infused (Lincoln Park)
Approximate Calorie Count: 598 (but is it breakfast, or is it dessert??)
When a gelateria like Black Dog hooks up with a wacky donut-ery like Glazed & Infused, fat things happen. This time, that takes form with this glazed chocolate/pretzel doughnut that's cut in half and then stuffed with Nutella ice cream, all before being topped with an extra little pretzel for fat-flair.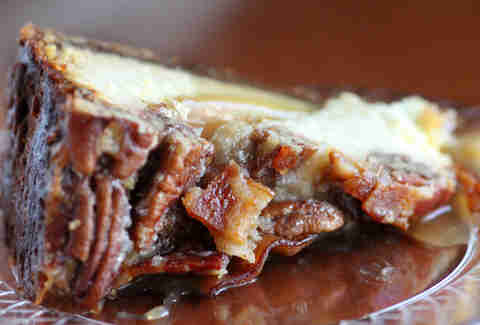 Bacon-Pecan Cheesecake
Bacon Takedown
Approximate Calorie Count: 769
The Bacon Takedown spawned some pretty impressive specimens of baconery, but we've gotta hand the Grand Prize to the Bacon-Pecan Cheesecake -- it's a vanilla cheesecake that's been covered in crispy, smoky bacon, and encrusted with a mix of graham crackers and chopped brown sugar pecans. Delicious? Yes. Kosher? Ask your rabbi.
Honey Butter Fried Chicken
Honey Butter Fried Chicken, Avondale
Approximate Calorie Count: 813 (for two pieces of chicken w/ honey butter)
Naming a restaurant Honey Butter Fried Chicken is as unfair as naming your band Everyone Gets Laid. Their eponymous menu item gives you two pieces of white/dark meat chicken that's then coated and deep-fried, spiced to your liking, and served up with a pat of honey butter to apply to either their hexagonal corn muffins, or... THE CHICKEN?! Yep, we think that's a better usage too.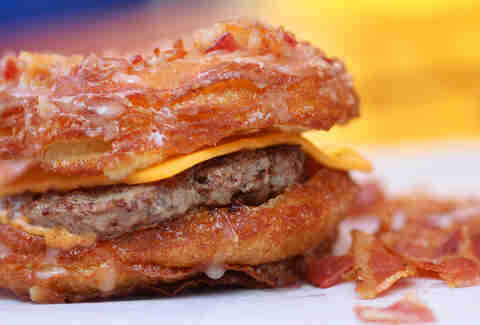 Cronut Bacon Breakfast Burger
Devil Dawgs, Lincoln Park
Approximate Calorie Count: 818 (who knew dainty little Cronuts could be so heart-stopping?)
Cronuts are cool and all, but Cronuts ain't got nothin' on this baby: a breakfast sandwich that takes a maple-glazed "crognet" (good luck suing THAT, lawyers), slices it in half, throws in a steakburger, American cheese & spicy remoulade, and then sprinkles the whole thing with bacon bits. They call it The Demon Delight, and it has been known to absolutely demolish a hangover or two.
Donut Milkshake
Beavers Coffee and Donuts, West Loop
Approximate Calorie Count: 870 (sugarrrrrrrrrrrrrrrr.)
Start with four scoops of Bobtail ice cream (vanilla, chocolate, or strawberry), add in crumbled mini-donuts made from buttermilk batter, blend it all up, then top it generously with whipped cream, chocolate, caramel sauce, and chopped pecans. Throw a still-intact donut through the straw, and you have a masterpiece of sugary goodness.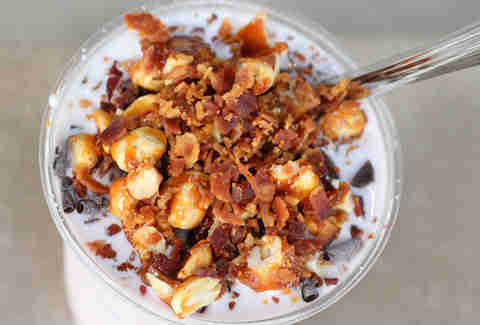 Bacon Brittle Ice Cream Flurry
Burke's Bacon Bar, Near North Side
Approximate Calorie Count: 874 (but you've gotta get to the bottom to salvage every last bit of bacon!)
David Burke of Top Chef Masters is clearly bacon-obsessed, as evidenced by the fact that he opened a bacon bar where everything (sandwiches, buns, wraps, COOKIES) has bacon in it. To wit: this soft-serve vanilla flurry topped with whiskey-soaked cherries, chocolate shavings, chocolate sauce, and a bacon brittle topping. It's perfect for satisfying the dessert-loving kid in you, while also helping you to hit your bacon and whiskey man-quotas.
Hawaiian Hot
Hoppin Hots, Andersonville
Approximate Calorie Count: 995
Get transported to tropical island paradise with this hot dog from Hoppin Hots (the best tropical island paradise of all), which's topped with teriyaki pork, pineapple relish, pickled red onions, crushed avocado, and Cotija cheese. Stuff your face with plenty of these and you still might be able to gurgle out an affectionate "mahalo".
The Mac Attack Burger
Rockit Burger Bar, Wrigleyville
Approximate Calorie Count: 1039
Noodle-bunned burgers are all the rage nowadays, kiddos. Ramen, lasagna... you name it! Soon buns made of bread will only be a relic you tell your grandkids about as they sit on your very large, doughy knee. There's a new incarnation of this trend rearing its head where they've taken two patties made out of mac & cheese, deep-fried them, and stacked black Angus beef, tomato, greens, and Sriracha ketchup between them.
Stuffed Chili Burger
On The Bun, Lakeview
Approximate Calorie Count: 1145
The place that churns out this stuffed chili burger in Chicago is owned by the waffle-slinging team of, uh, Waffle, and it turns out that golden nook-and-crannied deliciousness isn't the only thing they excel at. This here burger's stuffed with sharp cheddar cheese and jalapeños, covered in sliced avocado, and blanketed by a fried egg -- all between artisanal pretzel buns that sop everything up. And that may be the sexiest use of the word "sop" ever. Don't Google it.
Ramen Burger
Buzz Bar, North Center
Approximate Calorie Count: 1410
As previously mentioned, buns're being made out of all kinds of things nowadays, but none have captured the public's eye quite like ramen burgers. This one's unique in that the ramen buns are BUTTERED before they're griddled, and the Kobe beef burger within's topped with a fried egg, gooey sharp cheddar cheese, sun-dried tomatoes, arugula (for your health), and Sriracha sauce. Kinda reminds you of college, huh?