You can find some truly one-of-a-kind dining experiences in Chicago -- granted you may have to sift out some Downtown tourist traps, joint after joint of indiscernible burgers and tacos, and the wealth of vapid and overpriced haute dining. On the range of more unique spots, some embody pure world-class dining at its best (Alinea, duh), more than one restaurant will test your capacity for odd animal parts, and others you don't even have to leave your car for. However, all share an identity as truly Chicagoan. Go get 'em.
The weirdest dinner party ever at EL Ideas
Douglas Park
With dishes like freeze-dried coconut-lime powder presented on a mirror with a razor blade or fish topped with reconstituted whale vomit "foam," and courses intended to be (literally) licked off the plate or sucked from a baby bottle, Chef Phillip Foss toys with the tasting menu in truly novel ways at his eccentric (and underrated) Douglas Park restaurant. With just 26 seats and a waist-high ledge separating the dining room from the kitchen, a meal here is like the best kind of peculiar dinner party.
Smalls delivery at Lizard's Liquid Lounge
Irving Park
This miniature counter spot with the electric blue paint job would be destination enough for its focused menu of impeccably smoked meat imbued with Asian influences (like ribs with Filipino-style glaze), plus some of the city's best fried chicken. But then they went and started delivering it to the deliciously divey (and pup-friendly) Lizard's Liquid Lounge next door. Turns out, the only thing that makes brisket bibimbap taste better is when it's washed down with a cold beer in a dark bar.
A true whole-beast experience at Frontier
West Town
So you think you're into whole-animal eating? Grab 12 of your closest friends and test your offal resolve at this West Town tavern. Executive Chef (and Louisiana-born) Brian Jupiter's whole-animal service offers nose-to-tail (or fin) preparations of 10 proteins ranging from roasted goat to smoked free-range pig, salt-crusted salmon and even alligator stuffed with whole chickens.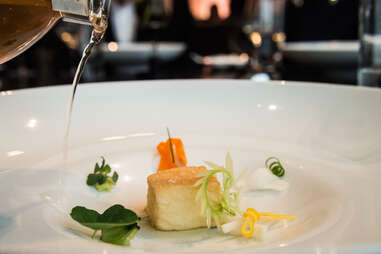 Lincoln Park
Grant Achatz's 10-year-old temple to modernist cuisine and No. 15 on the World's 50 Best Restaurants list continues to surprise and dazzle, most recently with a five-month redesign that included moving the bulk of the dining space upstairs and retiring all the dishes it became famous for. Now diners can choose from three menus that increase in experimentation as they do in price -- think 18 courses that play as much with plating, sound and dining room configuration as they do with cuisine. Still got it.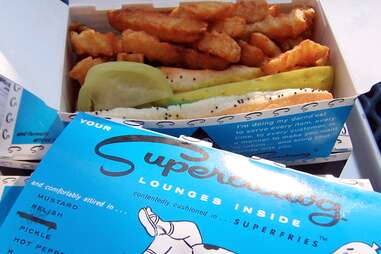 Norwood Park
This far northwest side drive-in is as old-school, all-American as it gets, where you order your hot dog on a microphone and a carhop brings it on a tray that gets attached right to your car door. Tucked inside that bright blue box next to a pile of golden crinkle fries is their specially made hot dog, richly beefy, and topped with (most) of the expected Chicago-style fixins'. What's that fat, pale green wedge on top? Pickled green tomato, darlin'.
A full day of dim sum
Chinatown
There are so many reasons to take a Saturday afternoon stroll through Chinatown -- whether you're on the hunt for cookware bargains, bubble teas, or mouth-tingling Sichuan. But make sure you carve out some time to experience dim sum. Where should you go? A few of our faves include Phoenix, with its signature roving carts, the sleek MingHin (don't miss their Macau-style pork belly, either), the ever-popular Cai, and the dim-sum-till-late Triple Crown. What should you get? Classic savory dim sum means chicken feet, xiao long bao (soup dumplings), shrimp dumplings, and spare ribs. For a sweet ender, try the egg tarts and sesame balls.
Dinner in an old train car
River West
A meal at Silver Palm is a must, both for the generously portioned, casual fare (including one of the nation's best sandwiches, per Anthony Bourdain) and ambience, since the dining room is a permanently parked, 1947 railroad dining car. That legendary sandwich we speak of would be the artery-clogging 3 Piggy, piled with smoked ham, pork tenderloin, bacon, melted Gruyere, an onion ring, and a fried egg. Start or end your meal at the adjacent the Matchbox, the lives-up-to-its-name tiny bar with delicious, affordable, and fiercely strong cocktails.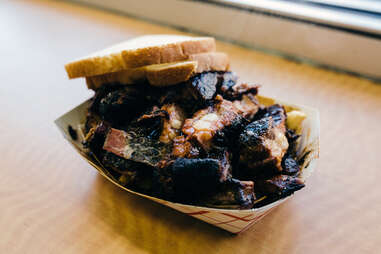 True Chicago 'cue at Lem's
Grand Crossing
Maybe we don't shout as loud as our Southern counterparts about it, but Chicago does lay claim to its own style of barbecue -- mainly on the South Side, where a pork-heavy version has origins in the Mississippi Delta. (The North Side is more fusion-y.) Chicago's oldest barbecue stand, also credited with bringing the rib tip to our fair city, is Lem's Bar-B-Q. This no-frills, family-run spot lost its founder, James Lemon, last year, but the BBQ still doesn't miss a beat, from those charred tips to tangy-smoky spare ribs and juicy hot links. Be prepared to wait in line, but you'll be so glad you did.
Get your goat
West Loop
There's a reason that Girl & the Goat, Stephanie Izard's triumphant return to restaurateurship after her stint on Top Chef, is still one of the toughest reservations in town. This lively West Loop loft radiates with that quintessentially urban dining feel, which, when matched with Izard's uncanny ability to make super balanced, damn cool food, makes for a killer experience. Plus, you gotta love someone who can make pig face, goat liver, and duck tongues near-irresistible even to picky eaters.
Goose Island
Not only does this fine-dining spot tucked on the third floor of the Goose Island culinary school boast one of the city's best deals for prix-fixe dining (three course for $29), it also has spectacular views of Downtown. A teaching restaurant for advanced students in the culinary and hospitality program, students cook and serve everything on the seasonally changing menu. The eager hospitality of the student-servers reminds you why people get into the restaurant business in the first place, even if it takes them a few extra minutes to yank that cork from your wine bottle.
West Ridge
There's a bratty kind of self-satisfaction that comes with changing someone's mind on food. Bring a resolute meat eater for an all-veg meal on Indian and Pakistani food haven Devon Ave, and you'll feel it in spades. Uru-Swati's deftness in lightly frying all manner of stuffed doughs and veggies and mastery of meatless North and South Indian -- from smoked eggplant curry to creamy palak paneer (spinach and cheese) -- can make a temporary vegetarian out of almost anyone. Ask for ideal paratha (flatbread) pairings for your meal, which take sauce sopping next level.
The restaurant that launched Paul Kahan: Blackbird
West Loop
Eighteen years in the business and a bevy of ever-more popular restaurants and bars from Big Star to Publican to Violet Hour to show for it, Paul Kahan's local empire (with partner Donnie Madia) known as One Off Hospitality has left an indelible mark on Chicago's dining scene. His flagship Blackbird is a reminder of what makes them so good. Sleek interior, warm yet welcomingly restrained service, and a timelessly imaginative Midwestern menu, now helmed by the capable Ryan Pfeiffer.
Uptown
This longstanding Chinese barbecue restaurant in Uptown has stood the test of time for a reason. The crisp-jacketed, Chinese five-spiced, succulent reason also known as the whole-roasted Beijing duck. Roving carts deliver the glistening birds table-side, which are quickly dismantled by servers into neat arrangements of breast, legs, and wings. Pile said meat into pillowy bao buns with tingly pickled veg and a drizzle of hoisin. Stuffed yet? There's still duck soup and duck fried rice to come.
Logan Square
Leonard Hollander and Chad Little's year-old café tucked away on the second floor of the Green Exchange made headlines late last year with its twice-weekly, unconventionally intimate "Midwestern Omakase." Call, text, or email to reserve a spot, and embark on one of the most uniquely tailored dining experiences out there. Hollander performs uninhibited culinary magic on only the ingredients grown in Arbor's dense little on-site garden or procured from a few choice vendors. The more you interact, the more tailored your meal will be, so speak up and enjoy the ride.
Little Village
Like a lot of great taquerias in Chicago, La Chaparrita is an unassuming little restaurant attached to a grocery store in the city's Little Village neighborhood. Here you'll find a comparatively big menu of tacos dressed with cilantro and onion on warm tortillas, but there are no wrong choices. The suadero (brisket) and longaniza (chorizo) bubble away till juicy and crisp on the circular grill with raised center known as a charola. The carne asada is charcoal-grilled to perfection, and the sweet-savory griddled al pastor is juicy, slightly sweet and perfectly spiced. An exceptional way to sample Chicago's darling street fare.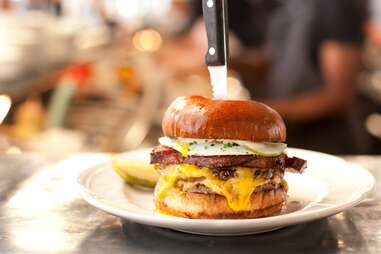 West Loop
We fully acknowledge that waiting three hours for a cheeseburger is ludicrous, but you should do it at least once to taste what all the fuss is about. Au Cheval's burger is really that good -- the single gets you two patties (we know) of umami-rich beef topped with mild American cheese, Dijonnaise, and pickles -- like a study in proper burger ratios. When asked, say yes to the egg and bacon topper. If waiting's not your thing, stop in for weekday lunch or do as the industry folk do, and go late. Burger aside, this diner from Brendan Sodikoff's prolific Hogsalt Hospitality group has plenty of other worthy dishes, like the fried bologna sandwich, aka the best bad late-night decision you'll ever make.
Sign up here for our daily Chicago email and be the first to get all the food/drink/fun in town.
Maggie Hennessy is a freelance food and drink writer whose favorite dining experiences usually involve sandwiches. Follow her on Twitter @edible_words and at www.maggiehennessy.com.