Yes, you could just stay holed up in your apartment listening to the Frozen soundtrack on repeat ("I do wanna build a snowman, I do, I do, I do!!!"), or you could definitely not do that and instead check out any of these eight new spots that had the intestinal fortitude to open their doors this month.
Links Taproom (click here for address and deets)
Wicker Park
Links' menu overflow-eth with craft beer, artisanal sausages, and hand-cut fries, which means you kinda can't go wrong. To be extra sure though, do the "Lover of the Bayou" with andouille, crawfish tails, and red pepper remoulade, a (very) generous side of "Buried Alive" fries, which're topped with Italian sausage, bacon, cheddar, giardiniera & green onions, and a glass of Off-Color Brewing's Apex Predator.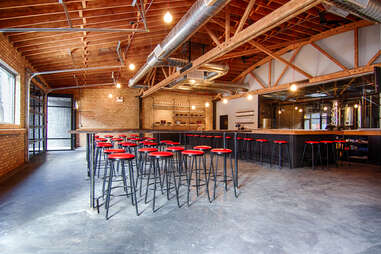 Chicago Distilling Company (click here for address and deets)
Logan Square
This badass-looking, 46-seat bar and distillery (and hotly anticipated stop on our distillery drinking guide) boasts a brief cocktail menu with a blend of classic and modern craft cocktails that highlight their house vodka and 90-proof white whiskey (both available for retail, too), as well as a selection of wine and beer.
Begyle Brewing Taproom (click here for address and deets)
Ravenswood
Get your growlers/stomachs filled at Begyle's new 600sqft tasting room, where they're pouring eight brews including their Flannel Pajamas oatmeal stout, Quagmire double IPA, and Johnny Quest Thinks We're Sellouts, a Black IPA collab with Dryhop. Definitely tack them onto our brewery bar crawl list.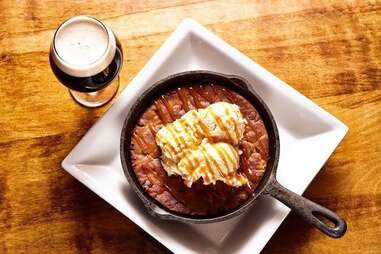 Woodie's Flat (click here for address and deets)
Near North Side
This Old Town burger joint from the Big Onion Tavern Group offers everything a glorified dive bar should: 5oz burgers grilled on a 54in wood-burning grill (might we suggest the Mac Attack topped with smoked bacon, cheddar cheese, lettuce, Sriracha mayo, and mac and cheese?), cheesy bread sticks called "Soggies" served with au jus for dipping, funnel cake ice cream sandwiches, and a deep craft beer list.

Blue Door Farm Stand (click here for address and deets)
Lincoln Park
Locavores/normal people who like eating locally, rejoice -- a new, locally focused farm stand's now open in Lincoln Park and doing some pretty great stuff, like after-work charcuterie, a Grown-Up Grilled Cheese (Gruyere, Havarti, baby Swiss, tomatoes, rosemary honey, multigrain), and house-made jams and jellies.

Ravenswood Q (click here for address and deets)
Ravenswood
Chow down on upscale versions of smoked chicken, ribs, and brisket, or just go straight for the BUFFALO CHICKEN EGG ROLLS at this quality BBQ hangout on the 1,800 block of Irving Park Rd.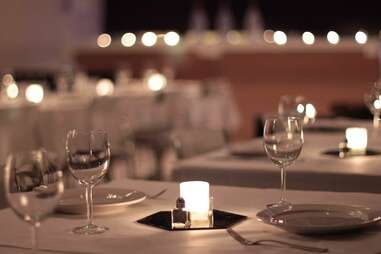 Fleetwood (click here for address and deets)
South Loop
This sleek South Loop lounge offers shareable American fare fit for a Tinder date night. Split salmon croquette sliders and prosciutto-wrapped shrimp under the glow of one of the space's modern chandeliers, and return on Sunday for a comfort food-heavy brunch.

Pearl Tavern (click here for address and deets)
Loop
Stunning mermaid mural painted on the ceiling? Check. Riverside tavern? Check. Oyster and crudo bar, shareable plates of savory crab churros, and grilled octopus served over Sicilian caponata? Alllll the checks.