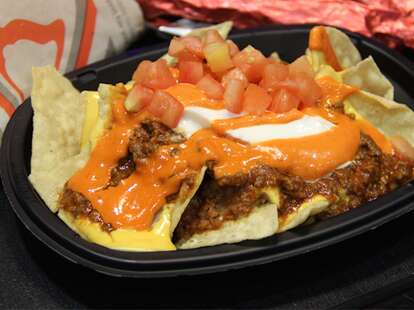 Updated
Our dreams of conveniently enjoying all kinds of Crunchwraps, Doritos Locos Tacos, and Quesaritos along with a few beers -- right at a freaking Taco Bell -- could finally be coming true.
Management at a new Taco Bell location coming to Chicago's Wicker Park neighborhood have applied for a liquor license, which could ultimately make it the first Taco Bell in the world to serve booze, according to a report by Eater Chicago. In other words, holy crap. Additionally, the new restaurant, located at 1439 N. Milwaukee Ave., will also come with an all new "urban" interior design, according to the report.
So far, there's no word on exactly what kinds of boozy beverages the new Taco Bell will offer, or when it will open, but we'll just have to fantasize about all the possible Taco Bell-themed alcoholic concoctions until we hear more. Can you say Doritos Locos Margarita? Or Mexi-mojito?
Taco Bell representatives have not yet returned Thrillist's request for confirmation and further details.
Update - 3pm CDT: A Taco Bell spokesperson would not confirm information about offering alcohol in an email response to Thrillist, saying, "I'm sorry to say that we don't have any information to share at the moment. However, we should have more to share about the Wicker Park location come Summer."
h/t Eater Chicago
Tony Merevick is Cities News Editor at Thrillist and can only imagine making a drunk Taco Bell run all while at Taco Bell. Send news tips to news@thrillist.com and follow him on Twitter @tonymerevick.