Duck sausage pizza and 100 beers on tap: 6 new places to eat and drink
It's been a big month, between all the arguing over pizza and learning to butter our fried chicken. So big, in fact, that you may have been distracted from other exciting happenings in the restaurant scene. Luckily we have our greasy, butter-coated finger on the pulse. Here are six new spots you'll be glad you know about.
Blackfinn Ameripub
River North
Ameripub, in addition to being our favorite word combo since Sharknado, is another super-sized gastropub entering the fray in River North, packing 500+ seats and (more importantly) 100 beers on tap surrounded by wall-to-wall flatscreens at its third outpost (adding to locations in Austin, TX and Merrifield, VA). Eats include steak with customizable toppings like melted bleu cheese and cilantro butter, skillet mac & cheese with pulled pork, and bacon-wrapped meatloaf with mashed sweet potatoes and honey-chipotle ketchup.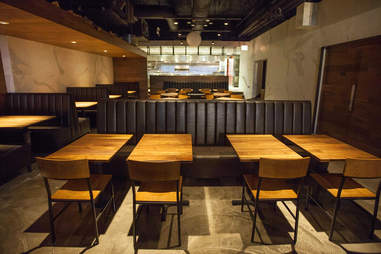 Barry Brecheisen
Doc B's Fresh Kitchen
Gold Coast
This tech-savvy, all-day counter-service joint has patrons ordering from a digital menu, after which servers will track them down and deliver their order via a GPS tracker. What might that order be? Expect everything from egg sandwiches, like the Red White and Bleu (Danish bleu, bacon, and red onion) and Bow Truss coffee, to burgers, pizza, steaks, and wok bowls. Also expect a second location in River North this Spring.
Brand BBQ Market
Logan Square
This BBQ joint has reopened and reloaded (dare we say... re-branded!?) since closing last Winter with a liquor license (they had been BYOB), a food truck license, and even a shiny new sign. The updated menu has smoked chicken bruschetta, pulled pork nachos topped with smoked Gouda mac 'n cheese sauce, and the return of their burnt ends sandwich, now with $1 PBRs to wash everything down.
J. Rocco, The Bar
River North
After opening its doors earlier this year, the Italian table is expanding, opening up a second-floor bar serving Italian wines, craft brews (5 Rabbit, Unibroue, and Founders) and cocktails like the Scarlet Harlot (bourbon, amaro, blood orange, brandied cherries, and disapproving glances from Mrs. Peacock). There's room for 100 to grab a grilled duck sausage pizza, short rib panini, or some signature meatballs.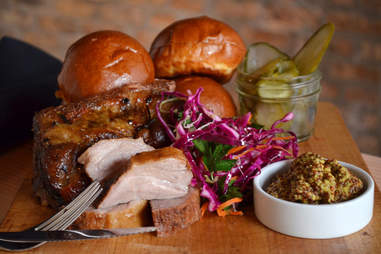 The Grid
River North
Okay, so you already know about The Grid... but it grew! It's taken over its upstairs predecessor Baume & Brix's space and rechristened it with upscale tavern food from Dirk Flanigan (The Gage, Henri). There's wood-fired flatbread pizza, the Big Kahuna bacon burger (hands off, Sam Jackson) with pineapple-jalapeno chutney, and a build-your-own Boards and Buns menu option for do-it-yourselfers.
Runa
Wicker Park
Runa is Japanese for "Platinum Moon", which we can only assume is Sailor Moon's creepy wide-eyed twin. At this sushi bar, you'll go pie-eyed for 10 varieties of dim sum (with daily fresh fish from Hawaii), bento boxes, pork buns, and Chinese Mandarin small plates. While the weather's still good, enjoy their private outdoor patio with room for 30.