Hot Stove season isn't just for the Cubs and Sox -- the restaurant scene has a few moves in the works as well (and thankfully, they involve far more fried chicken and far less Nate Schierholtz). Get up to speed on everything with this super-sexy Winter Preview.
Recommended Video
Roasted Red Pepper Deviled Eggs: Perfect for Parties, Grandma-Approved
Name: Leghorn Fried Chicken
Ukrainian Village
Opening: January
Why You Should Care: The team behind Old Town Social and Nellcote's new fast-casual spot'll dole out fried chicken sandwiches served pickle-brined, or Nashville hots on a bun or buttermilk biscuit. This place is everything that Chick-fil-A isn't, and we're not talking just local, sustainable ingredients -- they've got Leghorn-branded birth control at the counter and a portion of proceeds support gay rights.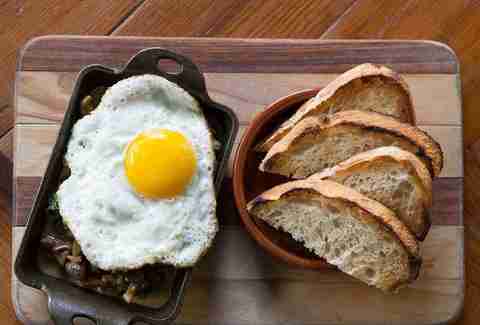 Name: The Winchester
Ukrainian Village
Opening: January
Why You Should Care: Helmed by Chef Greg Bastien (Tavernita, Perennial), Winchester will put out American comfort food including a smoked-chicken sandwich, duck rillette crostini, and a trout lox sandwich with fennel, honey, and lavender. The restaurant and cafe'll have breakfast, lunch (available all-day), and dinner with craft beers and fresh-juice cocktails in the works.
Name: Stan's Donuts
Wicker Park
Opening: January
Why You Should Care: More donuts are coming to Wicker Park's six corners, as Labriola Bakery teams with South Cali's old-fashioned Stan's Donuts to open a 20-seat donutropolis across from Glazed & Infused's takeout window. Expect their full arsenal of custard-filled, peanut butter, and old-fashioned buttermilk donuts, as well as cinnamon rolls.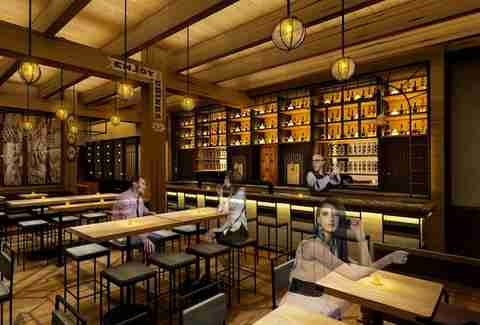 Name: Tippling Hall
River North
Opening: February
Why You Should Care: The former Hop Haus will be replaced by a classic, rustic beer hall that's spotlighting the beverage innovations from Tippling Bros. Mixologists Paul Tanguay and Tad Carducci partner again with Mercadito Hospitality (Mercadito, Tavernita, Little Market Brasserie) for cocktails, global comfort food, and, according to this photo... ghosts?
Name: The Promontory
Hyde Park
Opening: Early 2014
Why You Should Care: Built using reclaimed materials pulled from Hyde Park's Piccadilly Theater, this is the latest concept from the Longman & Eagle folks (Empty Bottle, Bite Cafe, Union Pizza). The spot just off the Promontory Point lakefront will feature a hearth-driven menu, live music offerings, and probably a sign that says, "Courteous Service".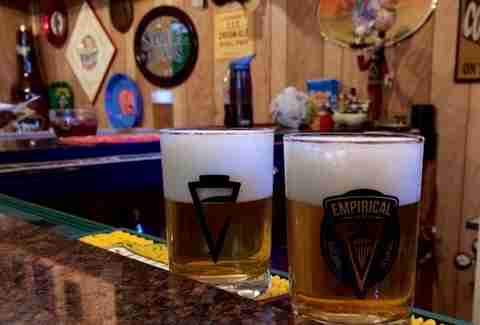 Name: Empirical Brewing
Ravenswood
Opening: Spring
Why You Should Care: Ravenswood has long been an incubator for great breweries (Metropolitan, Begyle, Half Acre), and the brew scientists behind Empirical are no exception. The brewery -- which'll pump out beer that incorporates taster's feedback into recipes -- will open first with tours and tastings of a lineup that'll include an oatmeal stout, Kolsh, and chocolate porter. There's also a second-floor taproom in the works.
Name: Reverie
River North
Opening: Early Spring
Why You Should Care: The struck-out Brewstone Beer Company (RIP) is being converted to a West Coast sushi spot from the restaurateur behind Red Ivy and Quay. Entrees from Rodelio Aglibot (TLC's The Food Buddha) will be dished out downstairs, with a lounge upstairs.
Name: Kaiser Tiger
West Loop
Opening: Spring
Why You Should Care: There'll be a Viking's share of sausage, bacon, and beer available at this new restaurant from the owner's of Paddy Long's. They're looking to bring Paddy's reputation for craft brews and bacon creations to a much larger kitchen right by the United Center.
Name: Parts and Labor
Logan Square
Opening: Mid-December
Why You Should Care: Boiler Room owner Giovanni Ribisi Russ Grant is launching a burger spot griddling thin patties with sides like giardiniera and curly-Q fries. The beverage menu should resemble Boiler Room's ('PB+J Deal' = 'Pizza, PBR and Jameson'), while the interior'll take the form of a multi-level lounge with industrial art and custom booths.