Now You Can Get Chipotle Delivered in Chicago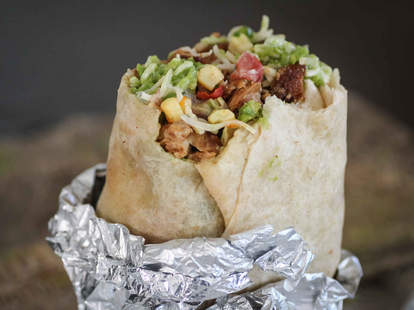 Chipotle just made it easier for you to chow down on a huge steak burrito in the comfort and privacy of your home. The massive fast-casual taco and burrito slinging chain has announced the launch of a new delivery service in dozens of cities, and has chosen Chicago as one of them, the Chicago Tribunereported. 
Your big burrito delivery will come via Postmates, a mobile app-based delivery service that works kind of like Uber and is the same company Starbucks has teamed up with for its delivery service. You just have to need those lime salted tortilla chips and massive chicken burrito bowl enough to cough up for the Postmates delivery fee, which starts at $4.99 and can go as high as $7.99, depending on how far away you are from the Chipotle you ordered from. Currently, 11 locations offer delivery through the service, and a Postmates spokesperson said you can order Chipotle anywhere in the app's "Chicago zone," which basically includes downtown and most of the city's North Side.
Tony Merevick is Cities News Editor at Thrillist and wouldn't mind enjoying a huge burrito from the comfort of his living room. Send news tips to tony@thrillist.com and follow him on Twitter @tonymerevick.