Obélix Brings Foie Gras Tacos and Modern French Fare to River North
Snag a reservation at this new French bistro from Oliver and Nicolas Poilevey ASAP.
Published on 5/25/2022 at 11:30 AM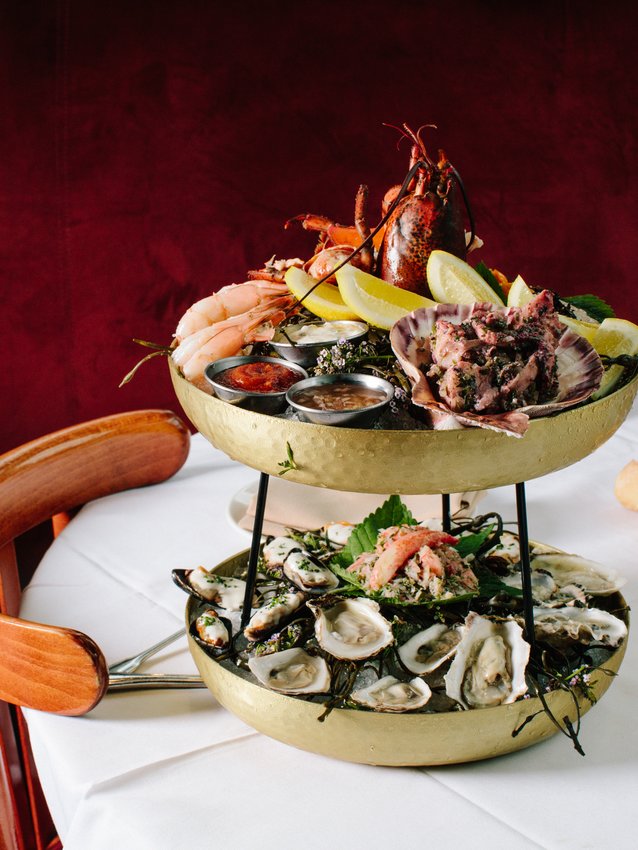 Seafood tower at Obélix | Photo by Matt Haas for Thrillist
Some say good cooking skips a generation—the rationale being that if a parent is a great cook, the child never needs to learn and takes the skill for granted. In Chicago, the Poilevey family clearly falsifies that claim.
Chef Jean-Claude Poilevey and his wife Susanne ran the beloved La Sardine from 1998 to 2020, and their bistro Le Bouchon has been supplying Bucktown diners with steak frites since 1993. After Jean-Claude's death in a car accident on the Eisenhower Expressway in 2016 (Susanne passed after a long illness in 2019), their son, Oliver, who worked in kitchens internationally and at both bistros for years, took over the stoves.
Oliver and his brother Nicolas, who served as wine director at both Poilevey restaurants, opened Obélix—a restaurant named for the lesser known hero in the French comic book series Astérix—on May 5 in River North in the short-lived former home of Entente. "La Sardine was our parents, and we kind of want to do something more ourselves," says Oliver.
Interior view of Obélix | Photo by Matt Haas for Thrillist
Interior view of Obélix | Photo by Matt Haas for Thrillist
The bright, many-windowed bistro seats 66, plus 12 more lucky patrons at the inviting bar. A plush wine-toned banquette wraps around the space, which is tiled in black and white and furnished with simple wooden chairs and crisp white linens. A huge window right by the entrance offers a great view of the kitchen's hot-line in action.
"I've been cooking classic French food most of my life, that's definitely part of me," says Oliver, "but I opened a taqueria [Taqueria Chingon], and I want to bring some of that influence, maybe a little bit of Southeast Asian—I love those flavors." Nicolas agrees: "Most French restaurants that we've seen in Chicago are using classic French recipes from 20, 30, 40, years ago… We don't want to open a 20-year-old French restaurant. We want to introduce more modern techniques and flavors."
The result is an ambitious, exciting menu that lists some classics (Escargot Bourguignonne, Soupe à L'oignon Gratinée, Steak Frites), some twists (the asparagus comes with Al Pastor Hollandaise), and some downright u-turns (the Foie-co, a blue corn tortilla sizzled in duck fat and filled with peanut-y salsa macha and grape jam). The stunning seafood tower comes draped not just with oysters and shrimp, but also poached octopus, charred lemon, and slices of sparkling poisson cru (raw fish). Fresh pain d'epi (classic baguettes shaped like sheaves of wheat) and a crock of homemade butter land on every table.
Foie-Co | Photo by Matt Haas for Thrillist
Foie-co | Photo by Matt Haas for Thrillist
Ducks get their own section of the menu, a changing array that may include the aforementioned taco, a macaron, a torchon, a croquette, and a 10-day dry-aged breast. Duck fat even makes an appearance on Nicolas's cocktail menu—there's a fat-washed Old Fashioned in the Stirred section of his tight collection that features mostly French spirits, sparklers, and aperitifs. In a departure from the Poilevey tradition of exclusively French wine, about 5% of the list is devoted to American producers.
The brothers hired Nathan Kim as Chef de Cuisine, a classically trained chef with Korean roots who last worked at Jeong, the fine-dining Korean spot in West Town. Says Oliver, who is serving as Executive Chef: "He's bringing his own type of influences and experiences, and the more we have that the better." Kim agrees: "The irony in this relationship is that the Frenchman doesn't want to cook just classic French, and the Korean guys do. The thing is, when you walk in, you could be expecting a totally classic experience here, but if you want to get weird you can get weird."
Baked Alaska dessert | Photo by Matt Haas for Thrillist
The Poilevey brothers also hired a pastry chef, Antonio Incandela, formerly of Spiaggia, and the menu truly puts him to work. There's buttery crispy pastry everywhere, from the ramp tart (a seasonal play on the classic onion and blue cheese version still served at Le Bouchon that, frankly, it blows out of the water) to the wild boar Pâté en croûte, to the $115 Beef Wellington, and a stacked dessert roster that includes a precisely plated Baked Alaska blithely flamed at your table, a to-order Sicilian pistachio souffle with honey ice cream, and a classic mille feuille.
Chicago diners may recognize a few of their favorite servers and bartenders from La Sardine and other former haunts. "Friendly service, repeat customers, and knowing people's names," says Nicolas, that's what's important to the Obélix team, and they hope to "bring that same soul and energy from Le Bouchon."
And what would Chef Jean-Claude think of all this? "He'd be very happy with this," says Oliver, but Nicolas interrupts. "I think he'd have to taste everything, and then he'd realize, 'Oh yeah, you guys know what you're doing actually.'"
700 N Sedgwick St, Chicago 60654
312-877-5348
Lisa Futterman is a contributor at Thrillist.