When piecing together a particularly crazy night, there are a lot of questions. Was it really necessary to drink through all three Sunday football games? Did I actually get that girl's number? Where are my pants? But there's no question about what you need the next morning: the loving caress of greasy meat and melted cheese. Sandwiches like this cronut bacon breakfast burger are worth getting up from the fetal position on your futon, putting on your darkest sunglasses, and braving the outdoors.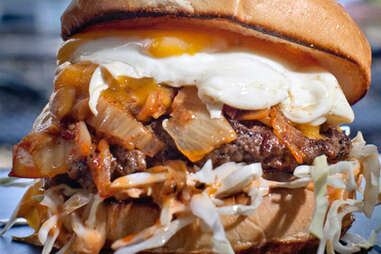 The Kimchi Burger at bopNgrill
What did you in: Forgetting your debit card at Cunneen's followed by stumbling onto Loyola's campus trying to convince freshmen you can play acoustic guitar like Jason Mraz.
The cure: You'll be surprised what a little fermented cabbage can do for you, especially when it's caramelized and laid on top of an Angus burger with a fried egg, cheddar 'n bacon.
The Tenderizer at Cheesie's
What did you in: Berating Cardinals fans and then fellow Cubs fans at Sheffield's, followed by ill-advisedly challenging a breakdancer named Jaroslaw at Big City Tap.
The cure: Even if you somehow passed up the temptation to eat there on the walk home at 5a, you'll come around to Cheesie's cheddar and mozzarella monstrosity packed with bacon, fried chicken tenders, hot sauce, and Sweet Baby Ray's.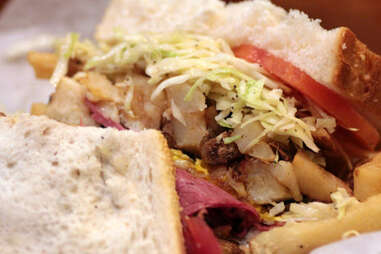 The Two-Bagger at Lucky's Sandwich Company
What did you in: Swearing at the Dig Dug game for eating your quarter at Emporium, followed by stumbling into Evil Olive because... you don't really remember why.
The cure: Lucky's Pittsburgh-style stuffed sandwiches can sop up any excess alcohol with their pillowy bread, corned beef, pastrami, tomatoes, fries, and vinaigrette cole slaw. Hey, it worked for Adam Richman on Man v. Food.
Benton's Bacon Sandwich at Butcher & the Burger
What did you in: Knocking over your cocktail at The Barrelhouse Flat followed by an attempt to sample all 400 whiskeys at Delilah's.
The cure: Nothing that a little top-of-the-line Benton's bacon can't cure, and why not have it on a croissant with tomato, avocado, egg, and goat cheese streaming down your butcher's block?
Demon's Delight at Devil Dawgs
What did you in: Overindulging on a tour of Atlas Brewing Company followed by screaming at turtles to run faster at Tin Lizzie.
The cure: The inspiration for this list is the newly minted hangover helper, The Demon Delight, featuring a maple-glazed, bacon-covered crognet (made at La Boulangerie, one of four spots in the city making cronuts), and filled with a steak burger, American cheese & spicy remoulade.