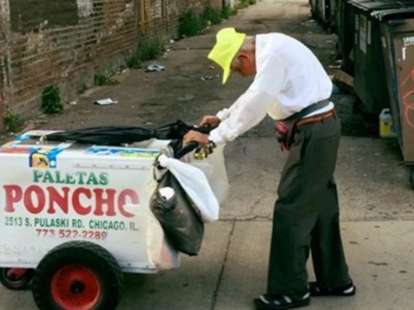 The next time any geezer brings up how selfish millennials are and how the Internet is leading to the degradation of society, you can kindly remind them of the time an online community raised more than $350,000 to help a lowly old paleta vendor in Little Village.
Last Thursday, a GoFundMe page was created for 89-year-old paleta man Fidencio Sanchez, showing a picture of Sanchez hunched over, wearing geriatric sandals, and determinedly pushing his "Poncho Paletas" cart through the streets of Little Village. It's hard not to love him a little… and to want him as your grandpa. Sanchez and his wife, Eladia, had recently lost their only daughter and have each taken turns selling paletas to help cover bills, so the fundraiser's organizer, Joel Cervantes Macias, set the campaign at $3,000 to help the retirees.
Since then, the page has gone cat-meme-level viral, far surpassing the initial goal and quickly becoming the most successful GoFundMe of all time in Illinois.
"He's a powerful man. A powerful paleta man," chuckles Gustavo Pedraza, the owner of family-owned Paleteria Poncho in Little Village.
We tried to talk to Sanchez -- but, predictably, he was working -- so Pedraza filled in some more details for us. Pedraza's paleteria, Poncho, has supplied Sanchez with homemade fruit popsicles for over twenty years until Sanchez retired this summer. But when his daughter died and his wife fell ill, Sanchez came back to Poncho ready to work again.
"He was devastated and wanted to get going… he's really, really strong," Pedraza says. "[Fidencio's] a hard-worker and he's good-hearted, a good soul… we feel so blessed that he was in the right place at the right time."
So what does Sanchez plan to do with his dream lottery winnings after the GoFundMe ends this weekend? According to Pedraza, Sanchez will probably retire for good (who wouldn't?) but otherwise is taking it slow: "He's getting advice, we want him to enjoy his blessing and to avoid someone taking advantage of him." A smart approach to be sure. But moochers beware, try to take advantage of Fidencio Sanchez and you'll have the anger of the entire internet to deal with.
The GoFundMe page is taking donations until Monday, September 19th.
Sign up here for our daily Chicago email and be the first to get all the food/drink/fun in town.
Eliza Helm is a freelance writer, actor, and improviser based in Chicago. She has consumed an ungodly number of popsicles while writing this article, because anything for research.