Sean Cooley/Thrillist
Sean Cooley/Thrillist
The team at Longman & Eagle has restored the Czech landmark Thalia Hall to its former Bohemian rhapsody, creating a two-chambered bar and restaurant with a beer-paired food menu, called Dusek's, and a basement punch-focused cocktail bar, Punch House. Filled with thrifted beer steins and reclaimed material from the original communal hall, the private dining room's accessible through a hidden rotating bookshelf door like a culinary Batcave.
The kitchen, headed by Longman & Eagle's Michelin-starred chef Jared Wentworth, produces a quartered menu: 'greens and grains', East and West coast oysters, 'by sea', and 'by land and air'. The Grilled Juicy Lucy (Slagel ground beef, red onion, bacon marmalade, house-baked pretzel bun) with duck fat fries comes by land, so that'll be one lantern, Mr. Revere.
Dusek's offers 23 craft drafts to pair with the likes of country-fried chicken livers with buttermilk biscuits and gravy, which matches up well with Ayinger Oktoberfest (which just so happens to be on our best Fall beers list).
A far cry from Buffalo, the confit-ed boneless duck wings are in a league of their own alongside a house hot sauce fermented with cayenne and tobacco peppers as well as an aerated ranch with dill pollen.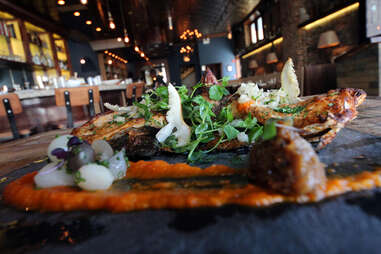 The spicy wood-roasted cobia collar, what Wentworth calls "the fattiest, best part of the fish," is served with porcini marmalade, yellow tomato conserve, and ramp relish.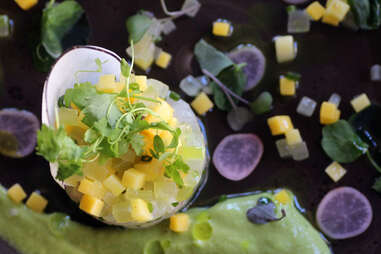 If you're not yet ready to enter sweatshirt season/weren't really all that emotionally tied to The Little Mermaid, the Summer flounder crudo comes with pickled mango, cucumber, black radish, pea tendril salad, avocado mousse, and curry oil.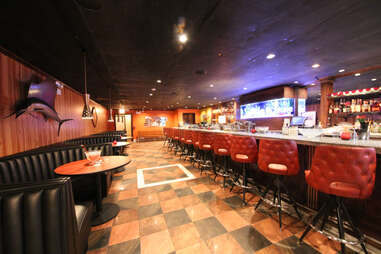 Head downstairs to grab a booth in the retro rec room Punch House with punch flowing by glass, carafe, or 40oz bowl. The list of classic and contemporary punches on tap is curated by cicerone Will Duncan, who has a fondness for the five-flavored communal beverage that dates back to the 1600s.
Served in custom glasses, the Dusek Punch mixes bourbon, lemon, raw sugar, dark ale, and nutmeg.
Space Juice For Jered (reposada tequila, grapefruit, lime, Aperol, sparkling wine, sage) is named for Jered Gummere, the former Empty Bottle bar manager who chipped in with the beverage program.
The Rack Punch, 1600's rounds out their eight varieties with Batavia arrack, black tea, lime, raw sugar, and rosewater. If you're punched-out (cue: NES nightmares), there is a section of boozier, more intense cocktails called "not punch," including a Jamaican Old Fashioned, a Negroni, and the Definitely Not a Hemingway Daiquiri.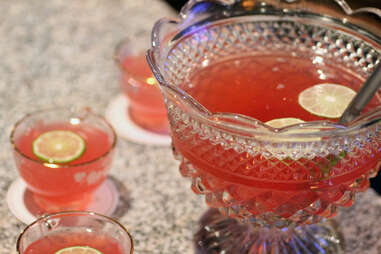 Next year, a music venue is in the works to open in Thalia's opulent hall space, modeled after the Prague Opera House, which will serve to host concerts, festivals, and films, giving you plenty of time to polish off the rest of that bowl.