As hedonistic and fun as a Thanksgiving feast is, the dinner is almost always a stressful multi-day affair if you're the one actually cooking, culminating in a mad dash to the finish line where you're working as a one-person pit crew trying to time everything out so it's all fully cooked at exactly the same time -- but then it becomes way too much to handle and you pass out into the mashed potatoes and your cousin has to give you CPR.
 
Avoid all that embarrassment this Thanksgiving and just go out to dinner at one of Chicago's best restaurants. Let someone else pass out into the mashed potatoes for once.
Recommended Video
This Restaurant Reinvented the McGriddle
South Loop
Class up your Thanksgiving meal this year
If you're going out for Thanksgiving, why not go all out? Acadia (yes, the one with two Michelin stars) has put together a relatively affordable Thanksgiving menu featuring dishes inspired by colonial America, but with a high-cuisine spin. Diners will enjoy five courses (including a lobster pot pie), with the choice between beef tenderloin and turkey roulade for the meal's main course. 
Cost: $95 per person, with wine pairings for an additional $55; reserve online
River North
A Thanksgiving buffet with a beautiful view
If you've never experienced the rooftop restaurant and lounge at The Godfrey, Thanksgiving is a great time to try it. It's going for a home-away-from-home vibe, with a gigantic video wall playing the day's football action, a playroom for kids, and a complimentary wine glass for adults. And also the food: There's a chef-curated buffet with Thanksgiving classics like mashed potatoes, pumpkin pie, butternut squash soup, family-style pastas, and roast turkey. Plus there are some not-so-Thanksgiving-y treats like a prime rib carving station and a chocolate fountain.
Cost: $59 per person; reserve online
River North
Choose your own Thanksgiving adventure
For one of River North's newest restaurants, The Smith is getting pretty ambitious with its Thanksgiving offerings. There's a cornucopia of appetizer, entree, dessert, and side dish options that riff on classic Thanksgiving dishes. Traditional options like roasted turkey breast with garlic mashed potatoes, spinach, and gravy are available, but we recommend trying the turkey oso buco.
Cost: $49 per adult, half price for kids; reserve online
Gold Coast
Thanksgiving goes barbecue
There are plenty of great barbecue restaurants in Chicago, but it's hard to beat the elevated fare served at Chicago q. For their Thanksgiving offering, they've got the smokers working overtime, cranking out piles upon piles of brined, smoked turkey breast, and smoked prime rib. Each plate comes with a full three-quarters-of-a-pound of your choice of meats, stuffing made from q's signature cornbread, cranberry sauce, two sides, and your choice of either pecan or pumpkin pie. 
Cost: $50-60 per person; reserve online
West Loop
Your go-to for vegetarian-friendly options 
It's tough to tackle Thanksgiving with any kind of dietary restrictions; it's such a meat-heavy holiday. Props to City Mouse for being one of the only restaurants in Chicago that happily offers a vegetarian entree option for its Thanksgiving seatings. In addition to turkey legs and breasts and a tempting braised short rib, they're offering up a delicious roasted delicata squash as well. Your main course will be accompanied by elevated side dishes (the green beans with smoked buttermilk are a highlight on the menu) and finished off with your choice of either sweet potato pie or caramel apple crisp. As an added bonus, many (though not all!) of these menu options are available as a prix-fixe menu available now through November 29!
Cost: $60 per person; reserve online
River North
A family-style meal in one of the most romantic restaurants in the city
There are few restaurants in the city that can boast the modern-yet-comfortable, open-yet-cozy vibe of Travelle. It's one of the most romantic spots in the city, and if that's the mood you want to set this Thanksgiving, you'll be rewarded with some of the best food you'll ever eat. Chef Jeff Vucko has prepared a three-course meal with plenty of sides, and notably, is offering his turkey two ways: an herb butter-roasted turkey breast for white meat lovers, and apple-chilli braised turkey thighs for those who prefer dark meat. The meal is capped off by patissier extraordinaire Danielle Marelli's pumpkin affogato.
Cost: $90 per person; reserve online
Your house
A chef-crafted multi-course Thanksgiving dinner, at home
Fairmont Chicago just hired William Schultz as their new executive chef, and he's wasted no time in bringing his signature style to the Millenium Park mainstay's menu. More importantly, however, he's in charge of Fairmont's annual "Thanksgiving at Home" menu, which allows you to bring home a gigantic meal cooked by one of Chicago's greatest chefs and pass it off as your own to your friends and family. We won't tell. This year's menu includes a variety of Thanksgiving staples, including cornbread stuffing, garlic mashed potatoes, an orange-infused cranberry sauce, sweet potatoes, charred Brussels sprouts, green beans, and house-baked dinner rolls served with a salted honey compound butter, plus your choice of pie at the end. The turkey, though, is the star, brined in Michigan cider and roasted to an impossible golden brown. The best part though? It's only $37.50 per person.
Cost: $295 for a meal for 8 ordered before November 22; after November 22, meals will be available with a $50 rush surcharge; order online
Magnificent Mile
Downtown cuisine at a decidedly-not-downtown price
If you have friends or family coming in from out of town clamoring to see the more touristy side of Chicago on Thanksgiving Day, make sure to duck into About Last Knife after working up an appetite hunting for those elusive Black Friday deals that actually go up on Thursday. This Thanksgiving offering is a bit less involved than some of the other options on our list, but that's a good thing. For under $30, the full Thanksgiving plate includes heaping portions of turkey, gravy, potatoes, green beans, and cranberry sauce.
Cost: $26; reserve online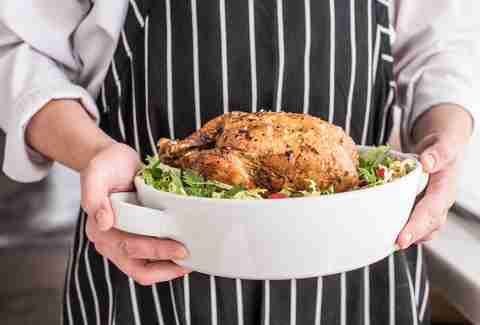 Gold Coast
French-Japanese fusion collides with Thanksgiving classics
Folks who are familiar with NoMI won't be surprised when they look at the restaurant's Thanksgiving menu and see a cold soba salad on there. NoMI's Thanksgiving celebration is an all-day, eclectic affair beginning at 11am, so the smart move is to come for lunch and then stay through dinner, enjoying all the sushi, snapper, turkey, scrambled eggs, charcuterie, caramelized onion soup, tarts, cakes, and macarons you can eat.
Cost: $155 per person; reserve online
River North
Fried turkey, without the hassle of calling the insurance company after your house burns down
It's kind of not fair that Bub City routinely gets overshadowed by Three Dots and a Dash, the not-so-secret speakeasy nestled underneath it. It's one of the only unapologetically country-themed restaurants in the glitzy River North neighborhood, and its Thanksgiving menu reflects this down-home attitude. Just $40 gets you a plate full of both smoked and fried turkey, as well as your choice of another barbecue meat. Plus, a slice of pie and literally all of the holiday sides you can cram into your food hole. 
Cost: $40 per person; reserve online
West Loop
Mediterranean-inspired takes on Thanksgiving classics
For those of you who want something other than the standard turkey-and-mashed-potatoes dinner, we recommend popping into Cira. Chef Chris Pandel has put together one of the most colorful Thanksgiving dinners we've ever seen. The dishes burst with bright colors and flavors, from the walnut-apple-endive salad to the pumpkin ravioli to the rolled bacon-sage bread dumplings to the main course, a whole roasted heritage chicken. Sure, there's no turkey, but trust us, it won't be missed.
Cost: $75 per person; reserve online
Logan Square
The Logan Square mainstay's annual family-style Thanksgiving dinner
Kudos to Longman and Eagle. Although they are offering a prix fixe menu including heritage turkey, cornbread dressing (the superior cousin to stuffing), green bean casserole, cranberry and bourbon sauce, and much more, they also indicate that they have options for vegetarian diners as well. Above and beyond that, they've announced that they're happy to work with folks who have other dietary needs as well, though arrangements for those meals will have to be made ahead of time. 
Cost: $65 per person; reserve online
Sign up here for our daily Chicago email and be the first to get all the food/drink/fun in town.