Your Next Meal Needs to Be at Chicago's Revival Food Hall
The Loop's lunch cred has just gotten a massive boost as the group behind Dusek's and Moneygun opens its sprawling Revival Food Hall at Clark and Adams. The 24,000sqft, chef-driven food court on the ground floor of landmark building The National will feature 15 local vendors, including fast-casual spin-offs from beloved chefs, a coffee shop/bar, and a record store.
Unlike fellow upscale food halls Latinicity and Eataly, which feature all house-branded food concepts, Revival recruited an impressive lineup of local restaurants to set up shop, either with miniature versions of their beloved spots (Antique Taco, Smoque) or original concepts with well-known names behind them (Danke from the Table, Donkey and Stick team, Graze Kitchenette from Johnny's Grill's Sarah Jordan). By bringing a veritable highlight reel of Chicago's dining scene to the Loop, food hall founders Team 16" On Center hope to draw both commuters and tourists who've been starved for choice in this notoriously lacking food hood.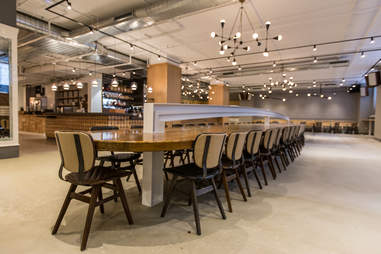 Courtesy of Jennifer Catherine Photography
The beautiful bank building
The National was designed by Chicago architect Daniel Burnham for Commercial National Bank, which had it built in 1907. Through the decades it was home to Commonwealth Edison and later Chicago Public Schools' headquarters until 2014. Blue Star Properties bought it in 2015, and has since sunk in an additional $100 million into revitalizing the 20-story structure.
"It's not a restoration so much as a reinvention, where we put our take on it," says Blue Star founder Craig Golden, "I call it a histo-remix." Golden is the other half of 16" On Center with Bruce Finkelman. The group has a knack for reinventing old spaces, having facelifted such iconic haunts as the sprawling Bohemian theater Thalia Hall and divey Wicker Park venue Empty Bottle.
Revival's sole holdover from the original building (aside from the restored facade) is the floor, but details like cast tile on the mirrored pillars hint at the style Burnham favored. Several portions of the building's history have been adaptively repurposed, too, like the 43ft CPS boardroom table turned massive communal table anchoring the Revival coffee shop/cocktail bar; or the Commonwealth Edison executive suite, which was broken down and rebuilt piece by piece, including the fireplace, in the new sixth-floor tenant lounge (tenants include co-working space provider WeWork and Paper Source). The original bank vault still remains in the basement as well and will eventually be used as an events space.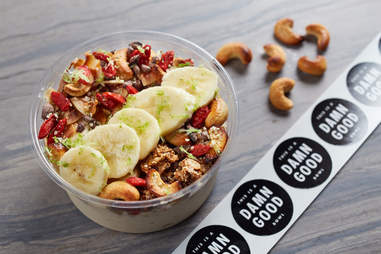 Jason Little Photography
Burgers and bowls from a diner reviver
Sarah Jordan of Johnny's Grill has teamed up with
GT Fish & Oyster
's Mason Edelson for
Graze Kitchenette
, a playful "burgers and bowls" concept featuring egg biscuits, grass-fed burgers on buttery brioche buns and smoothie-inspired bowls like avocado matcha and açaí.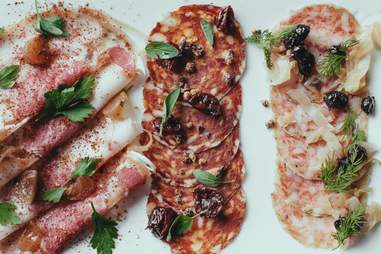 Courtesy of Danke
Danke ups the Loop's charcuterie game
A spin-off from Logan Square's Alpine spot Table, Donkey and Stick, Danke will feature highlights from chef/partner Scott Manley and partner Matt Sussman's acclaimed charcuterie program in fast-casual form. Smoked salmon and toasts at breakfast give way to handcrafted sandwiches during lunch, such as the Secret Sandwich -- comprising schweinekopf and duck liver mousse on house-made bread. During post-work hours, the focus shifts to customizable meat and cheese plates, designed for pairing with a focused selection of wine and craft beer.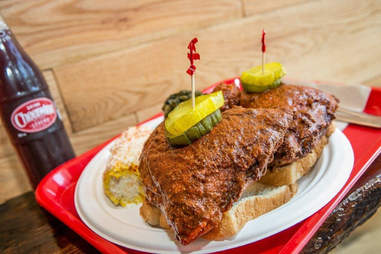 Courtesy of Hilary Higgins
The Budlong kicks off a rotating pop-up stall
It's only fitting that the first of Revival's rotating pop-up stalls should begin with one of the summer's hottest (pun-intended) eating trends: Nashville hot chicken. Lakeview newcomer The Budlong brings to the Loop a streamlined menu from owner and barbecue master Jared Leonard (Rogers Park's
Rub's Backcountry Smokehouse
) and chef/partner Jonathan Zaragoza (
Masa Azul
,
Birrieria Zaragoza
), including Nashville hot fried chicken plates and sandwiches on buttery brioche buns. It's only here for three months, so get it while it's... hot.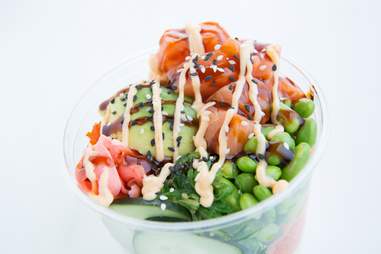 Courtesy of Alain Milotti
Fresh fish fast
The quickly expanding build-your-own poke bowl hotspot,
Aloha Poke
, will give Loop lunchers the Aloha treatment with a choice of three sizes of bowls with a rice or mixed-greens base, as well as sashimi grade ahi tuna, salmon or tofu served marinated or "naked," and a veritable rainbow of toppings. If preview night was any indication, the infamously long lines of the original French Market location will most likely be the reality here, too.
Courtesy of Neil Burger
Brown Bag Seafood Co., the two-year-old, sustainable fish-focused counter spot Downtown, is narrowing the focus to its veggieboxes and powerboxes at Revival. Diners get a choice of made-to-order fish served on a vegetable blend or grain blend. There will also be a "power hour," a daily-changing, grab-and-go hot food option.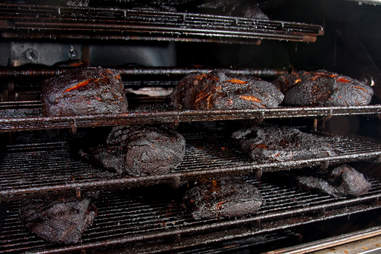 Courtesy of Zachary Johnston
Get your Smoque on
Fans of Smoque BBQ won't have to travel to Old Irving Park to sample
some of the city's best 'cue
, just follow the aroma of smoke around the corner past the Aloha and Danke stalls. You'll find a limited menu of highlights, including fall-apart smoked brisket; snappy, jalapeno-cheddar sausages, pulled pork and smoked turkey -- available as platters or sandwiches -- plus sides like barbecue beans and cornbread. Apologies in advance to rib lovers, you'll still have to visit the original location for those.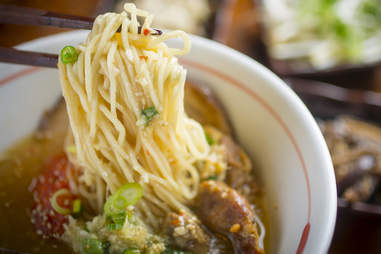 Courtesy of Furious Spoon
New branches of Furious Spoon and Antique Taco
The third location of Shin Thompson's Tokyo-style ramen spot
Furious Spoon
, will feature four different types of ramen including vegetable, shoyu, miso, and the shop's namesake Furious ramen (a spicy miso-based bowl). Said noodles will be made in-house daily at Furious Spoon's Wicker Park and Logan Square locations.
Courtesy of Antique Taco
Also the third outpost for quirky Wicker Park taco joint Antique Taco, the Chiquito version will offer several of the same creative tacos that made it famous, like the crispy fish with smoked cabbage and pork carnitas with bacon. There will also be brand-new breakfast dishes like chorizo and egg empanadas and skillet tacos with peppers, onion, eggs, and árbol salsa. Retaining its namesake aesthetic, Chiquito will also stock several vintage antiques sourced from local Midwestern markets.
Courtesy of Union Squared
Detroit square-cut pizza comes to the Loop
Fans of Detroit-style, square-cut pizza can get their fill at Union Squared, from the same group that owns Evanston's Neapolitan-style
Union Pizzeria
. Those who haven't tried this Motor City import can anticipate blistery cheese right up to the edge, chunky tomato sauce, and a light, crunchy crust. Meat, cheese, and veggie toppings will rotate daily, save the staple pepperoni. There will also be a weekly 10in Neapolitan pie in a nod to the Evanston spot. Whole pies will also be available to grab, go, and reheat at home.
Courtesy of Black Dog Gelato
Gelato and juice
Jessie Oloroso's homegrown
Black Dog Gelato
brings an abbreviated, rotating menu of seven house-made gelato and sorbet options, in cups or cones. The roster will feature a highlight reel from its Ukrainian Village and French Market locations, like Nutella pretzel, blueberry French toast, basil coffee, and, yes, goat cheese caramel cashew.
Harvest Juicery will offer the entire menu of chef-driven, cold-pressed juices, and smoothies available in its West Loop storefront, like nutty oat smoothies, green, and the oh-so-summery watermelon-basil juice. Kristina Sciarra's concoctions will also appear in collaborative juice cocktails at the Revival Cafe-Bar.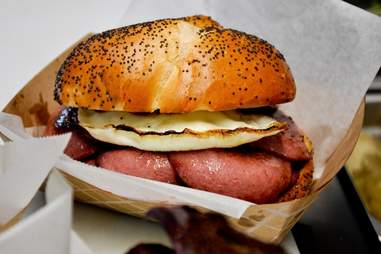 Courtesy of The Fat Pickle
Vending machine and food truck faves
Beloved food truck
The Fat Shallot
opens its first brick-and-mortar location taking greatest hits from The Fat Shallot and follow-up truck The Fat Pickle. Think Muenster grilled cheese with sautéed spinach and a truffle BLT on Texas toast. New offerings include fresh bagels, house-cured salmon, and veggies and specialty drinks and shakes.
Healthy vending machine Farmer's Fridge will expand beyond the jar at Revival, using locally sourced fruits and vegetables (including from the farmers market across the street) to create a larger menu of healthy food prepared to order. The menu includes Chicago-style avocado toast with smashed avocado and refined giardiniera and the popular shaved vegetable and kale salad made to order.
Courtesy of Mindy Segal
A hybrid cafe and bar
One of the final (and buzziest) reveals of Revival's star-studded lineup, the Cafe-Bar is part coffee shop, part cocktail bar and features cookies, hot chocolate and pastries from James Beard award-winning chef Mindy Segal (
Mindy's Hot Chocolate
).
"I'm doing the bakery I didn't get to do in Logan Square," says Segal. That means house-made mini bagel sandwiches, brioche donuts with hot fudge, sweet and savory rugelach, shattering ham and cheese croissants and slab-dessert slices like oatmeal streusel.
Pair treats with coffee beverages (including nitro draft lattes!) from five different roasters by day, and a dozen cocktails (several coffee-infused) from bartending vet Michael Huebner (Drumbar, the Aviary) by night. As the "bar" in its name would hopefully suggest, this spot will stay open two hours later than its fellow vendors, till 9pm, so you can linger over a stiff drink at that repurposed CPS boardroom table, like the best detention you've ever had.
Sign up here for our daily Chicago email and be the first to get all the food/drink/fun in town.
Maggie Hennessy is a freelance food and drink writer who thinks there's nothing more terrible than shoveling in a forgettable sandwich in a cubicle. Take Back Lunch with her on Twitter @edible_words.