13 reasons you should be eating at Eataly right now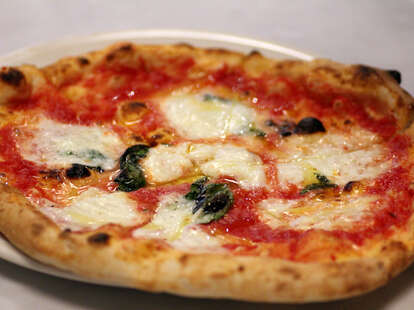 All Photos by Sean Cooley
There are really only two reasons you need to stop what you're doing immediately (unless what you're doing is reading this, in which case, carry on...) and make your way over to Eataly: 1) it's Chicago's biggest restaurant opening of the year, and 2) it's a $28M Italian food emporium from celebrity Chef Mario Batali and restaurateur Joe Bastianich. But we found 13 other ones anyway, ranging from pizza cooked in seconds, to soft-serve gelato, to house-brewed beer. Check it out...
1. It's bigger and better than New York's Eataly
Chicago's two-floored, 63,000sqft-er puts NYC's Flatiron building (50,000sqft) to shame. It's got 23 eateries in all, manned by 270 chefs, food court-style seating, retail departments, classroom space, and a fine dining restaurant (Baffo, available by reservation).
2. Pizza cooked in 90 seconds
Meet World Champion pizza-maker Davide Civitiello (the guy with the smile). He will see to it that you get a delicious Neapolitan pie in seconds, thanks to wood-fired ovens with pizza stones made from volcanic rock.
3. The Nutella corner
Even after getting hazelfaced on two jars of it, you're really never not in the mood for Nutella, especially inside crepes and a cannoli, or spread on fresh raisin cake.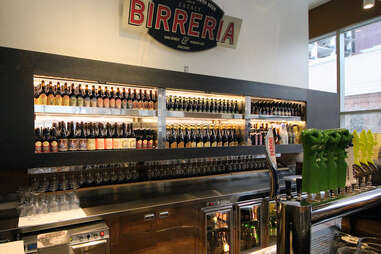 4. They brew their own beer
Building off of their killer beer garden in NYC, Eataly Chicago's brewpub La Birreria will produce its own unique beers (for example, a thyme pale ale) in collaboration with Dogfish Head founder Sam Calagione.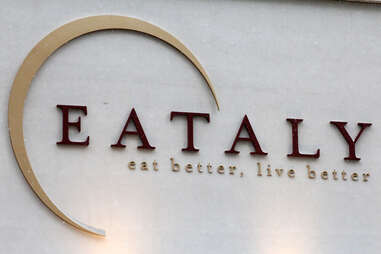 5. A deep-fried restaurant
One of the 23 food counters, Il Fritto is dedicated to deep-frying everything (they'll fit in well in the Midwest) from crab meat to Tuscan tomato soup balls.
6. Soft-serve gelato
Supremely rich and creamy, the Lait Gelateria will serve up flavors like hazelnut, sweet milk, pistachio, chocolate, coffee, and sorbet.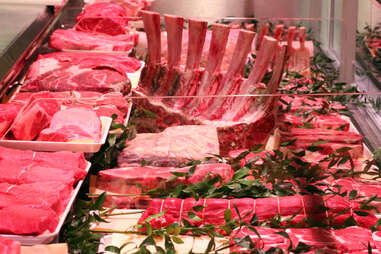 7. Meat!
No, seriously, MEAT. It comes cured, fresh, or rotisserie, with their roasted meat counter putting out a porcini-rubbed prime rib that -- when placed on their signature pretzel bread -- makes for an unbeatable sandwich.
8. 100+ varieties of olive oil
Because you're not some plebeian who only uses that one kind that you can spray on your pan, ARE YOU???
9. They make 3000 loaves of bread a day
Including an amazing(ly stackable?) focaccia Genovese with extra virgin olive oil, rosemary, and salt.
10. White truffles
Prized white truffles from Alba are shaved atop Crostino Di Carne Cruda (aka raw Razza Piemontese beef on toast).
11. Fish from island-coast to mainland-coast
Score slices of bigeye tuna from Hawaii or filets from this 60lb Florida swordfish.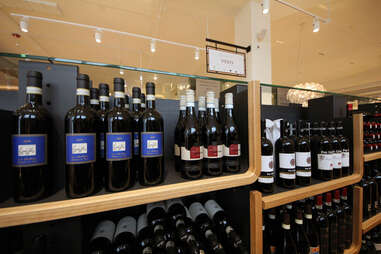 12. Enough wine to be called Drink...aly
Pick up a bottle of the 1000+ varieties of Italian vino, or just sneak your mouth under one of the tapped casks.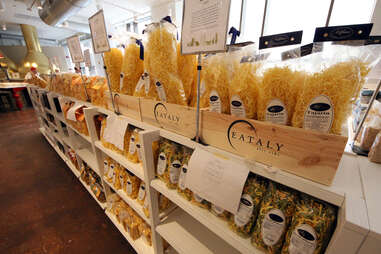 13. You can pick up ingredients from any of their entrees
Then make your own Eataly meal at home without ever having to put pants on! Except near the stove!