Though it'd be a great name for a Bubbles-centric prequel to The Wire, American Junkie's actually a 320-seat, two-floor industrial barstaurant sporting a retractable skylight roof and American flags carved on tables, etched onto bar stools, and occupying an entire wall of the upstairs bar. Believe it or not, there's another wall with an arguably even more American accessory -- a massive 16ft HDTV

The second-floor bar overlooking Hubbard is where the roof retracts, giving an open-air feel around the denim-upholstered couches ready for bottle service (well, they will be once people sit on 'em), and a dance floor with two DJ booths pumping 100,000 watts of sound

Chef Kendal Duque (Sepia, City Tavern) is running the kitchen, turning out meatiness like this wild boar chili with ancho peppers, cornbread croutons, Meyer lemon cream, and an entirely new feeling toward "Hakuna Matata"

Lamb chops? No, dum dum, lamb lollipops, in a sour cherry glaze on a bed of navy beans

Not a celebration of Salma Hayek making a unibrow look sexy, the Frieda burger has two patties from New Jersey's famous Pat LaFrieda butchery that are topped with bacon, cheddar, and sweet pickles

Back to more exotic meats, this bison rib eye comes with a side of Brussels sprouts in wild mushroom sauce

They're also firing flatbreads like foie gras & pineapple, or this combo of bacon, pork belly, kumquat, bourbon & blue cheese

For dessert (or a really unhealthy way to perk up in the morning), there's chocolate macchiato cake with espresso cream

The bar has nearly 40 wines and 26 draft beers, including private labels of each. As far as cocktails, this Sunset Blvd has vodka, Prosecco, lime, and a coiled cucumber, ready to strike

Oh, and that TV -- they're also laying claim to the title of biggest television in the Midwest with this 16x8ft, 1080i LED screen wonder. If it inspires diners to eat enough of those Frieda burgers, they may soon be able to claim some of the biggest Midwesterners as well.
Recommended Video
Potato Skin-Breaded Queso Balls Will Make All Other Apps Obsolete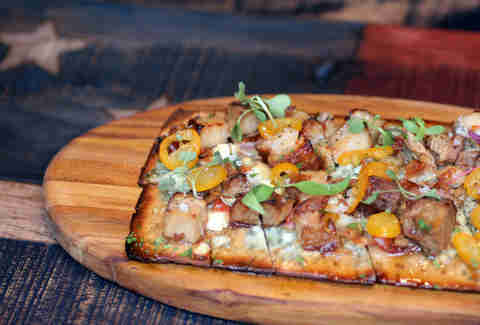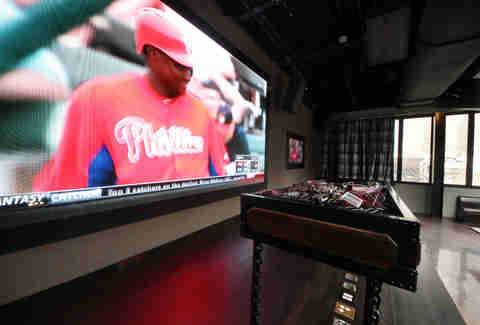 Previous Venue
Next Venue
Venue Description
1. American Junkie
15 W Illinois St, Chicago, IL 60654
American Junkie is a 320-seat, two-floor industrial restaurant and bar, sporting American flags carved everywhere. The food's as American as the decor, with Chef Kendal Duque (Sepia, City Tavern) running the kitchen and turning out awesome meatiness like pork & apple pizza, bison burgers, and shaved prime rib. The dinner menu is worthy of a sit-down trip, but if you're just looking to have a beer and munchies while watching a game, there might be no better place in Chicago. American Junkie claims to have the largest TV in the Midwest -- a 16x8ft 1080i LED behemoth, located on the second floor sunroom -- making it the perfect place to go in springtime to catch March Madness, or in summer to watch the Cubs and White Sox. With 26 beers on tap and a killer bar menu (think grilled octopus, 30-minute wings, and shrimp ceviche), American Junkie has everything you need to distract you from the score of the Cubs game.