Admire beer cocktails & pork-packed street food
Knowing full well that some people can find art kind of boring, Gallery Bar's added a few things to its mix of funky pop art, namely beer-infused cocktails, Asian burritos, and this Swimming Pig (jumbo shrimp, pork belly, garlic-chile rice noodles, mango gastrique), which would be great if it was a real thing so bacon counted as seafood.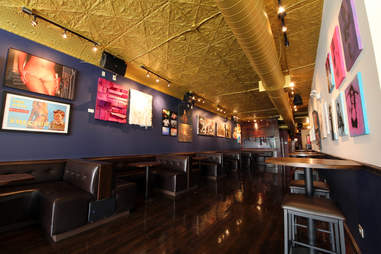 In the second-floor space that formerly housed Highball Lounge, the Gallery's booths and tables are sectioned by artist, with more than more than 20 of them featured (and none of them formerly (or currently) known as Prince). For example, you may sit down for: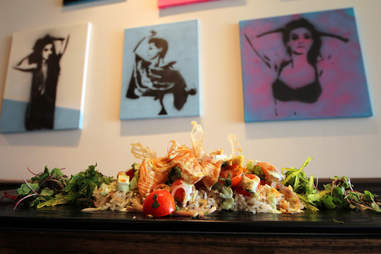 A Lomi Lomi plate (salmon sashimi with shaved onions and Thai basil tomato salad) next to the stenciled ladies of Raskol.
Or you could opt for this Bang Bang Tuna Bonzai -- spicy yellowfin tartare, baby bok choy kimchi, pickled carrot, and daikon -- that doesn't taste the least bit Chitty. Here it's backed by Sarah Spread's pop-crocheting.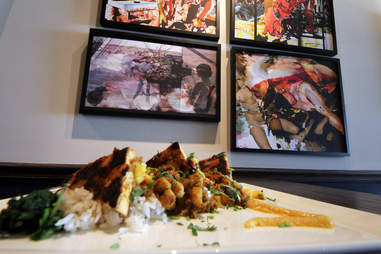 You won't want to cancel this carnivale platter (tamarind-mango tofu, steamed brown rice, curried chickpeas, potato ragu, green mango chutney), resting near Jessica Jokhi's provocative digital art collages.
The Osaka Pizza is a veggie pancake filled with bacon, cabbage, and carrots and topped with avocado, green onion, crispy wontons, and drunken eel sauce... which also makes the eels a bit wanton.
The cocktail list runs 17-deep, with many of them boldly ignoring rhymed conventional wisdom and combining liquor and beer. Pictured here: the Raskol, a vodka-pilsner blend with lime and raspberry preserves.
Pull a Sisqo and unleash this Flying Dragon (rum, Deschutes Black Butte Porter, Grand Marnier, pineapple juice) tiki drink at the graffiti-muraled bar.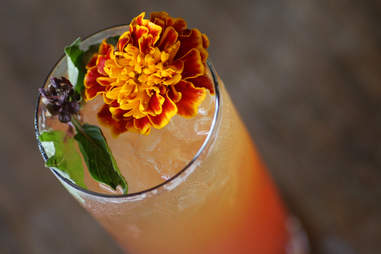 You won't have to cheat at a wild West poker game to find yourself staring into business end of this Revolver: a Chain Breaker IPA with gin, lemon juice, and lavender syrup. And there's a flower, so drinking it kind of counts as art appreciation.