Paid Content For
San Pellegrino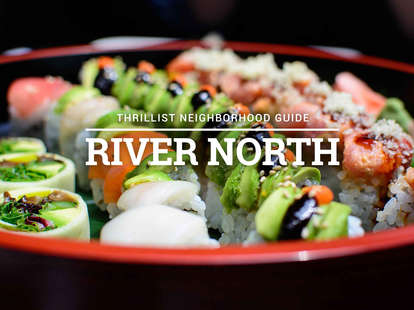 Kailley Lindman/Thrillist
As one of the sexiest neighborhoods in America, the food scene of this swanky 'hood is undoubtedly a total scene. But between the art galleries, luxury high-rises, and Champagne lounges lies an amalgam of excellent, unpretentious eateries, if you know where to look. And we do! So from short rib tortas to whole roasted chicken served on a picturesque riverside patio, here's what Chicago's trendiest neighborhood has to offer, other than beautiful moneyed people.
118 W Grand Ave
Despite being the only Peruvian joint in the 'hood, this lively 100-seat space decked in pop art paintings is still very definitely the best. Try the causita (whipped Peruvian potatoes with aji), cebiche, and hearty pork fried rice, then wash it all down with a pisco cocktail while the surrealistic mural of Adriana Lima watches you.

449 N Clark St
We salute you, Frontera Grill and Topolobampo, but when it comes to inventive and affordable Mexican, nothing beats Rick Bayless' quick-service café, where you can get street-food-inspired braised short rib tortas, huevos rancheros, or wood-roasted chicken pozole caldos for less than $10. Don't leave without a house-made churro… or three. It's sacrilege.

110 W Illinois St
Billy Dec and the Rockit Ranch Productions crew's whimsical menu offers some seriously interesting eats, like barbecued octopus in a spicy gochujang sauce or beef lollipops -- sliced NY strip steak wrapped lemongrass with ginger citrus soy glaze. Definitely start with the crispy Brussels sprouts, and definitely end with the Sunda Sundae, a monstrous mix of avocado, sweet corn & cheddar, and ube-macapuno ice creams with red mung beans, jackfruit, coconut gel, sweetened condensed milk, fresh berries, and coconut. What happens in between is up to you.
401 N Franklin St
Marked by a story-tall menu painted on the brick exterior, this tiny shop slings some the best old fashioned-style donuts in Chicago, let alone the neighborhood. Make sure to get there early because once the donuts sell out for the day, the shop closes until the next morning.

315 N LaSalle St
There's no such thing as a "bad" patio in Chicago, but there is such a thing as the "best," and the sweeping riverside terrace at River Roast just might be it. Take in killer cityscape views while throwing back fresh oysters, impossibly juicy whole roasted chicken, and "Definitely Not Malort" shots made with dry-hopped Letherbee gin steeped in gentian root, chamomile, and wormwood.
66 W Kinzie St
River North is teeming with great steakhouses, but it's the modern, glamorous concept from the Melmans, Rancics, and executive chef Doug Psaltis that shines the brightest. Between masterfully balanced classic cocktails and virtually every cut of meat under the sun, you'll want for nothing, save for, perhaps, another order of the bourbon-vanilla bean glazed bacon appetizer and a doggy bag for the precious remnants of whatever behemoth dry-aged steak did you in.

100 W Ontario St
From a perfectly steamed bun to bright, crunchy, and wholly Chicago-approved accoutrements (read: yellow mustard, onions, pickle, tomatoes, sport peppers, and celery salt, no ketchup!), the Jumbo Hot Dog, with its perfect meat-to-bun ratio, at this locally based chain hits all the right notes. Team it with a chocolate cake shake and crinkle-cut fries for the full Portillo's effect.
439 N Wells St
The classic-to-its-core deep-dish at Lou's epitomizes Chicago-style pizza andhas remained a crowd favorite since its inception a few decades ago, not least because of its signature buttery, pie-like crust, and its mozzarella that's been sourced from the same Wisconsin dairy farm for more than 40 years.

116 W Hubbard St
Carnivores will dig the Tan Tan Men Ramen loaded with the Holy Pork Trinity (broth, meatball, and chashu), while vegetarians can opt for the red curry-coconut udon made with okra, a medley of Japanese mushrooms, hominy, chickpeas, and eggplant. Everybody wins.
11 W Illinois St
Executive Chef Jimmy Papadopoulos' inventive menu layers authentic Central European flavors with bold, modern presentations, like the grilled chicken paprikash, the roasted duck leg with sweet and sour cabbage, and the supremely hearty bacon buns -- pillowy dinner rolls lacquered with bacon fat, stuffed with bacon chunks, and paired with plum sauce and pickles. And it's not bad for brunch, either; the egg-topped, open-faced pork schnitzel sandwich will trigger Pavlovian salivation at first sight.

441 N Clark St
So $17 for a burger might seem a little excessive, but so is Chef Kevin Hickey's juicy ground bacon bespeckled beast. Topped with Vermillion blue, special sauce, and shoestring potatoes, few things are more digestively destructive, yet satisfying.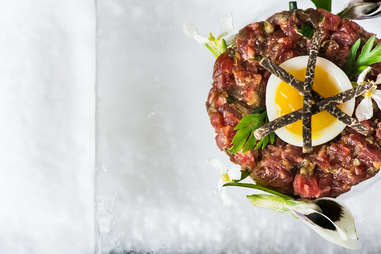 Best for a super-fancy occasion: Sixteen
401 N Wabash Ave
Chef Thomas Lents' theme-driven tasting menu changes completely with each season, which ensures a vastly different dining experience each time. Recent themes include the "History of Chicago" and "Food In Progress: Assessing an American Food Revolution." With two Michelin stars, the elegant fine-dining spot perched on the sixteenth floor of Trump International Hotel & Tower Chicago is a no-brainer for times when other people are paying.

666 N Orleans St
Grungy and unassuming, this small shop has been serving juicy Italian beef sammies with house giardiniera to the Downtown crowd for more than 30 years. It's simply a Chicago classic.
Sign up here for our daily Chicago email and be the first to get all the food/drink/fun in town.
Kailley Lindman is a contributing writer for Thrillist Chicago, as well as a food blogger, bacon enthusiast, and devout user of the Oxford comma. Follow her at @KailleysKitchen.