Tabletop tequila taps and bartop dancing waitresses
The fuego-hot waitstaff of El Hefe Super Macho Taqueria would like to welcome you to a land where Cinco de Mayo never ends and tequila, piñatas, and graffitied statues of the Virgin of Guadalupe abound. And you probably won't mind if their Coyote Ugly-esque bartop dancing obscures your view of one of the 20 flatscreens.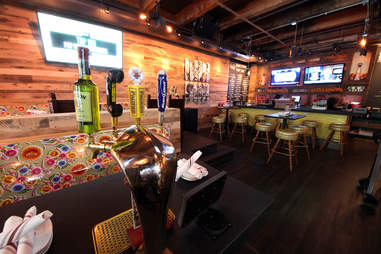 The 140-seat taqueria's front window retracts into an outdoor awning via a magnetic pulley system, while inside, the tables are equipped with custom-made table taps. An iPad at each table calculates how many ounces have been poured of beer, Cabo Wabo, Ciroc, or Jameson. If you think having an endless stream of tequila at your fingertips is a bad idea, just have some tequila and you'll quickly reconsider.
If you prefer a finite amount of tequila, there's a lengthy marg menu that includes this Salty Chihuahua (agave nectar, lime, jalapenos, ginger beer, and a chili-flaked rim).
If 1995 Royal Rumble runner-up The British Bulldog were still around (RIP Davey Boy Smith), he'd undoubtedly crush this Bulldog-garita: 32oz of marg with a Corona planted inside. The 64 oz Macho Garita is probably a job for Macho Man Randy Savage. Wait, he's dead too?! Well then, a job for an hombre like Eddie Guerrero... oh, he's also dead? Well, it's the certainly the right size for Yokuzuna. Dead too…. just enjoy the margarita and don't ever become a pro wrestler.
The menu's composed of elevated street food, starting with apps like these camarone ceviche tostadas with grilled shrimp, pears, black beans, and Baja slaw, for when it's time to let the dogs out.
They're doing seven types of tacos include these chicken tinga (chorizo, jicama relish, mango, passion fruit salsa), carne asada (pickled cabbage, pico de gallo, queso fresco) and camarones (grilled shrimp w/ sweet onion, bell pepper, and coconut slaw), plus further options like duck carnitas and beef cheek.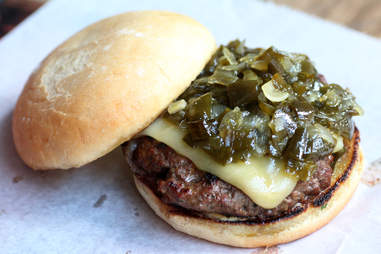 Or openly defy the overlords at Taco Bell and think inside the bun with the Hefe hamburguesa topped with grilled peppers, onions, jalapeno marmalade, queso, and chipotle mayo.
Rounding out los libations are 10 beers on tap and a Chuperita shot bar with 42 provocatively-named shots that sound like the "best of" Urban Dictionary entries: Justin My Cullo, Citron My Face, and other classiness to prepare you for more dubious decisions than Charlie Sheen aka Carlos Estevez aka this extra-sour strawberry-kicked marg.