Donut ice cream sandwiches are now a part of your life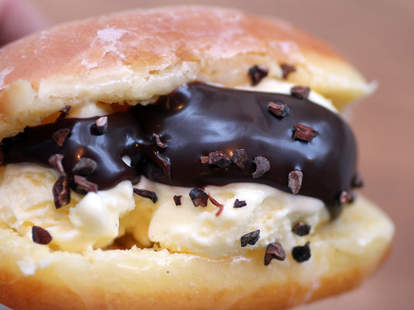 Let's say you're trying out a new all-sandwich diet -- sausage, egg & cheese for breakfast, BLT for lunch, Reuben for dinner -- and are worried you'll have to cut out desserts. Well, first of all: you're silly, because ice cream sandwiches exist. But you can do better, because Firecakes has you covered with their donut ice cream sandwich, which already should have been thought of by YOU, Baskin-Robbins!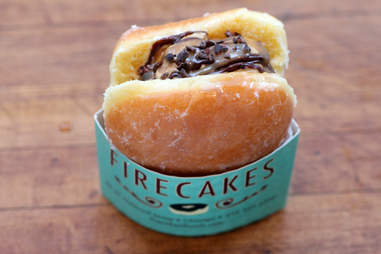 Sean Cooley/Thrillist
They start with a raised honey-glazed donut, sliced and packed with chocolate espresso or vanilla bean gelato (from the owner's nearby pizza place La Madia) and capped off with chocolate & caramel sauce and cocoa nibs. It's served in a coffee sleeve so you don't have to have the glazed-over look on your fingers... just on your eyes for the impending sugar rush.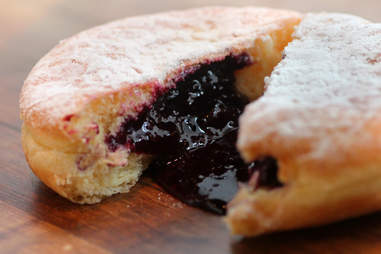 Sean Cooley/Thrillist
The sandwich is a welcome addition to their seasonal standbys, like the classic jelly donut with farm-fresh blueberries.
Sean Cooley/Thrillist
Pork and pineapple have been a dynamic duo on a rotisserie, a pizza, and now a donut: this maple-glazed pineapple & bacon number.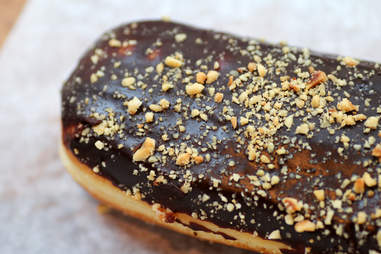 Sean Cooley/Thrillist
This chocolate hazelnut Long John with Nutella icing and toasted hazelnuts sprinkled on top is also part of the lineup, available late-night (Wed-Sat until midnight or sold out) along with La Colombe coffee or fresh-squeezed OJ.
Sean Cooley/Thrillist
The apple fritter is made with Granny Smith and Macintosh apples and is coated in a cider reduction glaze.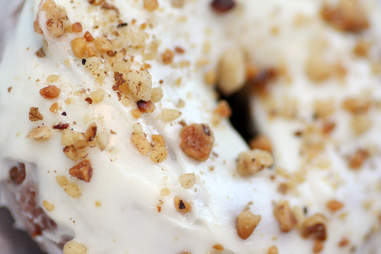 Sean Cooley/Thrillist
Sure, a goat's diet consists of tin cans and spare tires, but as long as they can convert those calories into sweet, sweet cheese, you'll be able to partake of this goat cheese & iced banana-black walnut donut.