Here are all 22 sliders at the new Henry's Swing Club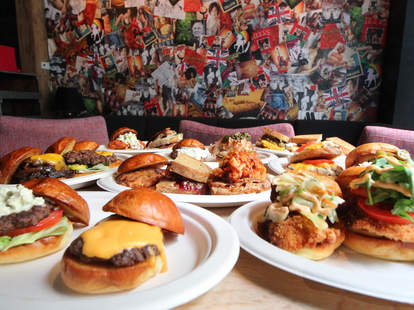 Because you deserve as many slider options as humanly possible, we're following up last week's list of the best sliders in Chicago with this: Henry's Swing Club, a new bar-cum-slider shop from the folks at DMK Burger Bar in River North who've armed the place with the most eclectic selection of mini-burgers in town. Here's a look at all 22:
Sean Cooley
Burgers
Tiny, griddled cheeseburgers come with options like charred red onions, lettuce, tomato, and pickles, all on a sweet brioche bun. Every slider on the menu is $3 or less, and can be washed down with a boilermaker of Stroh's and a shot of Old Grand-Dad bourbon.
Sean Cooley
Blue Cheeseburger
Cheese choices don't end there, so go for blue cheese crumbles, or...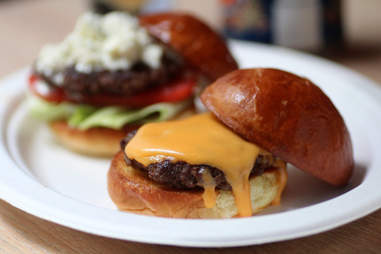 Sean Cooley
Merkts Cheddar Burger
... a c-burger with melty Merkts, the addictive local cheese spread.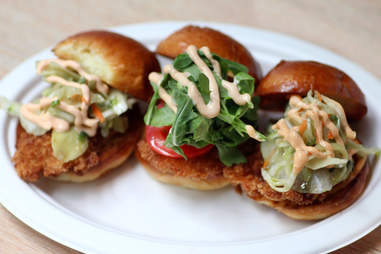 Sean Cooley
Fried Oyster Sliders
They've got three takes on fried oysters, including Sriracha & pickled ginger, Thai red curry & cucumber, and Cajun mayo & arugula.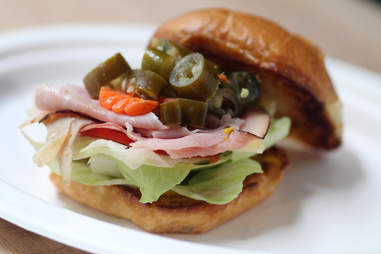 Sean Cooley
Italian Hero
"It's-a-me, a meaty combo topped with giardiniera!"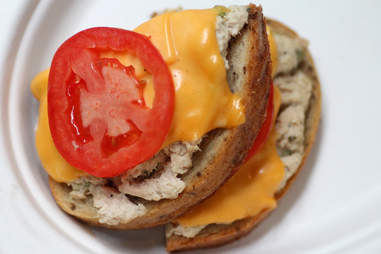 Sean Cooley
Tuna Melt
White albacore tuna is mixed with capers, lemon juice, and celery, and served with tomato and cheddar on rye.
Sean Cooley
Fried Chicken; PB & J; Roast Pork Banh Mi
Offerings that branch away from the everyday burger include fried chicken with wildflower honey butter, peanut butter and jelly (with the option to add bacon, because, bacon), and a marinated roast pork & kimchi banh mi.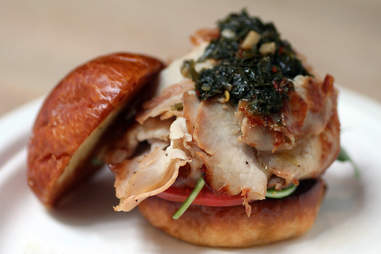 Sean Cooley
Roast Pork
Chimichurri FTW!
Sean Cooley
Hatch Green Chili
The sacred green hatch comes with fried eggs on rye.
Sean Cooley
Buffalo Chicken
Cornflake-breaded and seasoned with cayenne and garlic, the Buffalo chicken slider is coated in a house-made honey/Buffalo sauce and finished with blue cheese dressing.
Sean Cooley
The Elvis
Fit for a king (though not king-sized, sorry), this sandwich packs peanut butter, bacon, and bananas.
Sean Cooley
Kentucky Hot Brown
Though it sounds like a Derby horse, it's actually an open-faced sandwich with crispy chicken, bacon, and cheese sauce.
Sean Cooley
Spicy Lamb
Spicy ground lamb is dressed with tzatziki and cucumber, like all things should be dressed.
Sean Cooley
Fried Bologna
The slider parade ends with a fried bologna/onions/mustard combination.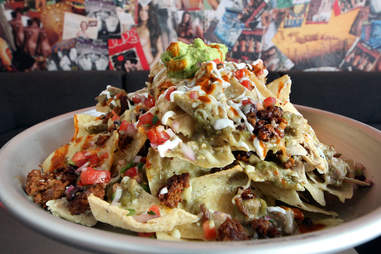 Sean Cooley
There are also a few non-slider items on the menu worth trying, too, like poutine fries, the "F**k It, Here's A Big Tamale", and the appropriately named giant nachos, served in a large oyster tray. In the mix is sauteed chorizo, shredded pork, jalapeno-poached chicken, black beans, guac, Chihuahua, and Cotija cheese.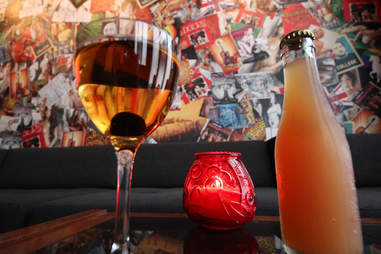 Sean Cooley
For beverages, Henry's has force-carbonated cocktails like this pisco punch (Pisco Tabernero Acholado, pineapple syrup, lime, grapefruit bitters), frozen mezcal mules, and cheap beers on draft or in cans. There's also the nuclear option to buy a bottle of Jack Daniels for your party with free refills on Coke.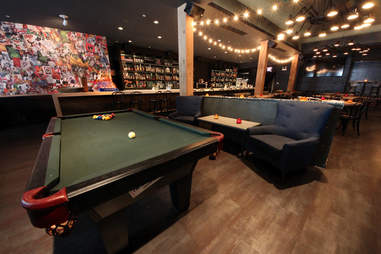 Sean Cooley
Overall, the whole place aims to be a douche-free alternative for River North barhoppers/slider-eaters, with free pool, decks of playing cards, and vintage '70s Playboys for your "article" perusal.
Sean Cooley is Thrillist's Chicago Editor and will take all his meals in slider form. Follow him @SeanCooley.