Tony Hu has landed downtown, and he wants to feed you soy-smoked pork belly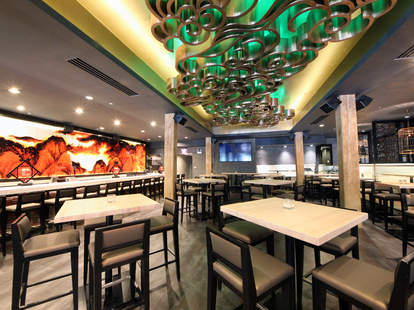 Acclaimed chef and titan of Chinatown Tony Hu has expanded his empire to River North with his 11th spot, Lao 18, whose 8000sqft interior is so ornate, you may mistake it for a Beijing Olympic ceremony (minus the billion drummers and a generally awkward-looking Michael Phelps). Inside, two giant rice bowls hang upside-down over tables, birdcages serve as light fixtures, and a green metallic swirl covers the ceiling like the aurora borealis, setting the scene for some serious Szechuan tastiness.
The place may be huge, but that doesn't mean they don't have smaller bites like scallion pancakes with soy-smoked pork belly and plum sauce. Legend has it that pizza evolved from the scallion pancake, brought back from China to Italy by Marco Polo during history's longest and most elaborate pool games.
The spiciest dish, on a menu full of spicy dishes, is the Szechuan peppercorn sole filet with chile relleno, peppercorn, ginger, and garlic.
Named for a Chinese folk song, the Melody of the Yangtze is a jasmine-passion fruit mojito on a list of Asian-inspired cocktails, such as a mango chili martini and an Aviation with lychee sake. There's also a dozen bottled beers with a few rare entries from Japan and China, as well as a deep sake selection.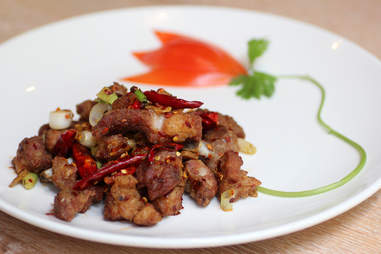 A house favorite is Tony's three-chili chicken (jalapenos, hot pepper, soy, sweet syrup, rosemary) stir-fried in sesame oil. It's Tony's, but he's willing to share (get it?).
This metal bowl of Fei Teng black cod (hot pepper, peppercorn, star anise, Chinese cinnamon) has been served by lantern light in front of the white cloud mural. White clouds are a symbol of luck in China, as in: good luck not getting pit stains while sweating through some crazy hot black cod.
Tony's special shrimp entrée is made light and sweet with Asian mayonnaise and lemon syrup. Sure, it's Tony's, but thankfully, it has already been established that he doesn't mind sharing. Right? RIGHT?!