When you think of farm-driven cuisine, you think of impossibly fresh produce, ethically raised meats, and... bacon butterscotch donuts?! Or at least that'll be on your list now, thanks to Endgrain, brought to Roscoe Village by two brothers (one of them a Girl & The Goat vet) who're hooking you up with a cornucopia of farm goodness and... bourbon vanilla donuts. And Nutella milk stout donuts! Just look at them!
You can start enjoying said donuts (named "Enoch's donuts" for Enoch Simpson, one of the owners) as early as 7a amid the pastoral interior with a grain-patterned bar, chicken feeder light fixtures, and a mounted eight-point buck, also what happens when Eryan Ilyasova gets laid even though he went just went 4-for-10 from the field.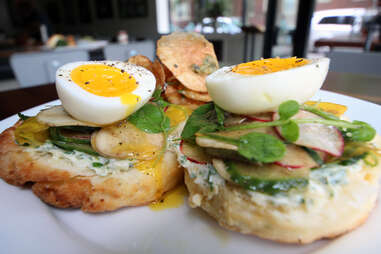 Starting at 10a, you can hit all-day deliciousness that'll rotate faster than the seasons, so dig into this buttermilk biscuit covered in Spring vegetable crudite and homemade chips tossed in roasted jalapenos and garlic butter, topped off with a soft-boiled egg.
Biscuits also make an appearance in this fried chicken dinner, with the crispy bird glazed in butter, mustard, honey, and Korean chili flakes and coming with smoked mashed potatoes and pork gravy, because chicken gravy would be like eating salad.
Made with a dough recipe from one of the cook's grandmothers, mushroom and rapini hand pies are also available to grab on the go. Just don't eat it on the El. That's not okay.
If you didn't land Mike Trout for your fantasy team, compensate with this lake trout over olive oil/lemon polenta with sunchokes and sunflower seed crumble. Actually, if you have Mike Trout, still get it.
In hip hop, trifling is shady behavior, occasionally perpetuated by hoes. In dessert, a trifle is a tasty custard dish, like this grilled rhubarb trifle layered with creme fraiche, lemon-poppy seed shortbread, and basil.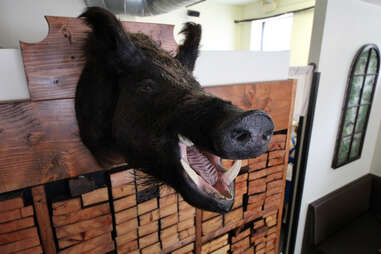 Should you enter into a staring contest with a certain stuffed boar, you can stay caffeinated with La Colombe coffee or inebriated with a rotating selection of wines and brews. Hakuna Matata.