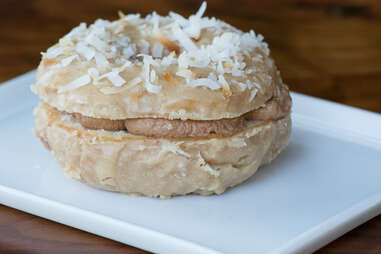 Taking advantage of Endgrain's fluency in both doughnut and biscuit production, doughscuits come in two varieties, starting with this German chocolate cake-inspired variation which is coated in a sweet brown sugar glaze and toasted coconut flakes, and filled with a blend of crème fraiche and chocolate ganache.
If you're not the chocoholic type, slip into something more comfortable (read: elastic waist-banded) and try the honey-glazed doughscuit stuffed with airy whipped crème fraiche.
After a quick dip in the deep fryer and a fresh coat of glaze, each doughscuit is sliced in half and meticulously laden with a light, creamy center that brings them right to the edge of sinful without being cloyingly sweet.
Doughscuits are currently available Friday through Sunday mornings starting at 7a, so you now have a new reason to wake up and subsequently nap on the weekend.