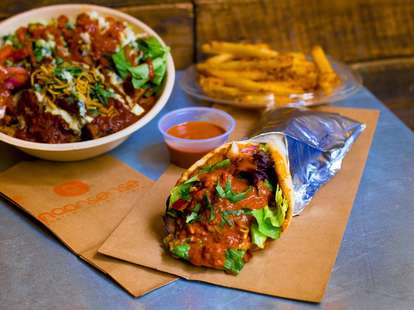 Naansense
Naansense
There's spicy. And there's SPICY -- the face-melting, sweat-inducing, belly-burning, everything-in-all-caps kind. For those who are into the latter, we put a little something together for you: these nine dangerously spicy dishes in Chicago.

Chicken vindaloo Naanwich
Naansense (address and info)
Loop
Whether you like yours in a rice bowl or wrapped up in naan, if you order your Naansense lunch covered in vinegar-based vindaloo sauce, you'll definitely feel the burn. And if you're truly hardcore, you'll be able to stop in for a chicken vindaloo naanwich with a side of masala fries before making it back to the office without any telltale face sweat.
Nashville Hot Chicken
Leghorn Chicken (address and info)
Ukrainian Village
Put aside all thoughts of "spicy" chicken sandwiches with quotes that indicate it's not actually spicy, 'cause Leghorn's Nashville Hot Chicken Sandwich totally is. Order your choice of breast or leg meat on a biscuit (or a buttermilk bun, even though that's clearly the inferior choice). The sandwich is the way to go here -- the addition of tangy pickles cuts through all the heat without dulling it. But if you're avoiding carbs (weird), you can order up the fried chicken tenders in the Nashville Hot variety instead.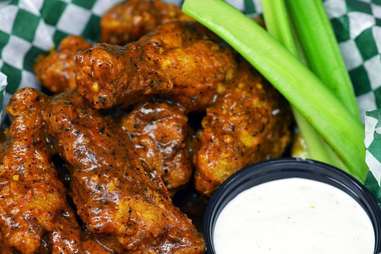 XXX wings
Jake Melnick's (address and info)
Streeterville
The Downtown bar is known for its wings for good reason. Whether you like your chicken mild (come on, bro) or super spicy (that's better), you'll probably be happy with your order. That is, unless you opt for the XXX wings, which are genuinely punishing for even the most die-hard heat heads. Make no mistake, these are amazing wings -- they're just... intense. Packed with habanero, ghost pepper, and scorpion, they just might live up to the claim of being the "world's hottest" chicken wings.
Som tum Thai
Andy's Thai Kitchen (address and info)
Lakeview
Here's a word you don't often associate with spicy food: refreshing. Why is this relevant? Because that's probably the first word that'll come to mind if you order the som tum Thai at Andy's Thai Kitchen. The second word will probably be an expletive, though, 'cause once you make it past the light, crisp freshness of the strands of papaya, you're left with a painfully intense, tongue-burning spice. The papaya salad is topped with tomato, peanut, and long-bean, but it's the Thai dressing that really delivers the heat.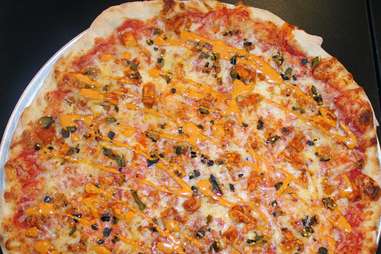 Dance with EL DIABLO pizza
Big G's Pizza (address and info)
Wrigleyville/University Village
You know a dish is going to melt your face when the wait staff gives you a verbal disclaimer before serving it, as is the case with the Dance with EL DIABLO pizza at Big G's. This punishing pie, which is also available by the slice, comes topped with spicy marinara, chicken marinated in Valentina Mexican hot sauce, jalapeño havarti cheese, Diablo chipotle sauce, and grilled jalapeño and habanero peppers.
Kanabo spice ramen
High Five Ramen (address and info)
West Loop
This popular ramen spot's menu may be tiny, but don't underestimate the level of heat the restaurant's Kanabo spice ramen packs. This bowl takes High Five's already spicy signature pork ramen and ups the fire element by several notches. If you're thinking about ordering this one, the restaurant only has one piece of advice for you: don't. They actually encourage you to not order it. If you do it anyway, you'll be rewarded with a seriously delicious bowl of mouth-scorching noodle soup and our eternal admiration.
Diabo Curry Stew
Fat Rice (address and info)
Logan Square
The Logan Square resto is drowning in awards and accolades, but here's something you may not know: its family-style Diabo Curry Stew is packed with plenty of meaty goodness (chicken, turkey, beef, AND pork, FTW) and some serious heat. The stew, dubbed Devil's Curry, is flavored with mustard seed and scorpion pepper with culinary roots in both Singapore and Malaysia, where they know a thing or two about spice.
Habanero salsa
Mixteco Grill (address and info)
Lakeview
The habanero salsa may not be a dish in its own right, but this sauce, which is served as a side dish, has something most of the other dishes on this list don't: the ability to elevate any other item on the restaurant's menu with its serious heat. Granted, spice is sort of the point of salsa, but the heat level of this stuff is beyond anything you'll find in a glass jar. Even if you can't get it all down, rest assured that with its $2 price tag, this is a relatively low-stakes gamble on your spice threshold.
Hell burger
The Fifty/50 (address and info)
Wicker Park
If you order The Fifty/50's Hell burger and find it too spicy, you're SOL. They're not granting any refunds for heat intolerance. The burger comes topped with jalapeños (with seeds), house hot sauce, and pepper jack, all on a brioche bun that doubles as a heat stroke buffer.
Sign up here for our daily Chicago email and be the first to get all the food/drink/fun in town.
Zara Husaini is a lifestyle writer in Chicago who loves carbs, sugar, and cheese, but hates eggs. Follow her @zarhus.