A dollar-by-dollar breakdown of Chicago's first $100 grilled cheese
Oh, this? It's just Deca's new limited-edition Zillion Dollar Grilled Cheese. No, no, it doesn't cost a zillion dollars, silly, it costs... $100?!?!? True story, the now-priciest grilled cheese in Chicago (and maybe the Midwest?) features everything from 24-karat gold flakes to 100yr-aged balsamic vinegar.
And because you're totally curious, we got Deca to put together this dollar-by-dollar breakdown of the sandwich: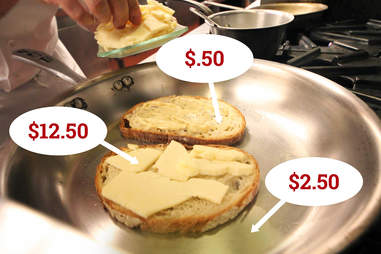 Sean Cooley
The sandwich starts with two slices of sourdough bread topped with aged Wisconsin cheddar in a pan of Laudemio Marchesi de' Frescobaldi olive oil that's $39 per bottle.
Sean Cooley
An heirloom tomato is sliced up and covered with 100yr-aged balsamic vinegar that's $443 per 50ml. So basically, a little bowl of super-old vinegar = XBOX One.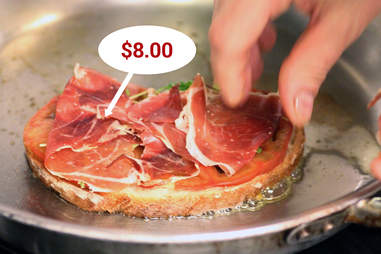 Sean Cooley
Straight from Southern Spain, the black Iberico ham is made from free-roaming, acorn-fed pigs (you thought Kobe cattle had it easy). The meat's been air-dried for six weeks, cured for a year, and sliced thin onto the grilled cheese.
Sean Cooley
You had to have known that foie gras was going to be on the guest list for this party, especially when it's a $32-per-pound duck liver from Hudson Valley.
Sean Cooley
A duck egg is prepared sunny-side-up, giving you duck two ways.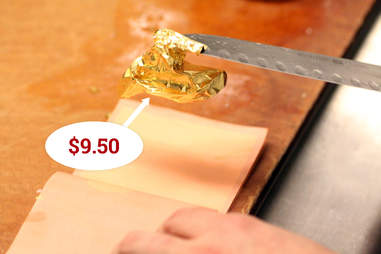 Sean Cooley
In the past, you had to rely on a steady diet of Goldschläger to get your daily gold intake, but now you can get it on your grilled cheese in the form of edible, 24-karat gold flakes.
Sean Cooley
A pound of lobster is added (because, why not?) to a four-cheese sauce for the accompanying side skillet of mac and cheese.
Sean Cooley
The sandwich is assembled and sprinkled with shavings of Oregon Perigord white truffles that are $50 per-ounce, and also incorporated into the aioli.
Sean Cooley
And there you have it: Warren Buffett's brown bag lunch. The Zillion Dollar Grilled Cheese is available through the rest of April.
Sean Cooley is Thrillist's Chicago Editor, and judges his self-worth based on how many expired yogurts are in the fridge. Follow him @SeanCooley.