For centuries, Chicagoans have had to decide, "Do I go get donuts, or do I get fried chicken?" Well, no more -- not with the opening of the new Do-Rite outpost in Streeterville, where the walls separating pastry from poultry have crumbled like hunks of a buttermilk old-fashioned.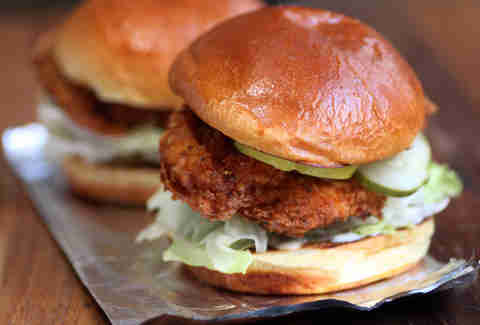 The fried chicken lineup -- served up starting at 11am everyday -- is a new addition to the second Do-Rite location (respect, Loop location). You'll have your choice of regular or spicy chicken, brined in hot sauce as well pickle juice and buttermilk, and served on a brioche bun with lettuce, pickles, and mayo.
The burgeoning breakfast sandwich menu will start with an option of bacon, ham, or avocado, along with eggs, tomato, sharp cheddar, and regular or roasted jalapeño mayo.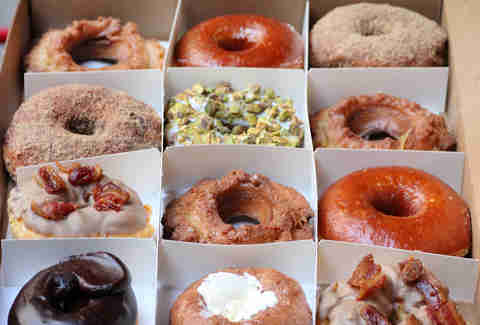 The donut menu will be on a constant rotation that includes daily specials, as well as vegan and gluten-free versions of their best-sellers, each for $2.50 or less and baked within the hour it's sold. Do-Rite sells donuts everyday from 6:30am until whenever they feel like closing (so be nice to them!!!). Here's a look at the goods:
Bucking the trend of Long John-style bacon donuts, Do-Rite's candied maple-bacon cruller has the texture of a light, eggy cruller covered in maple glaze, along with glistening, smoked-applewood bacon, candied in maple syrup. It's essentially a breakfast platter in donut form.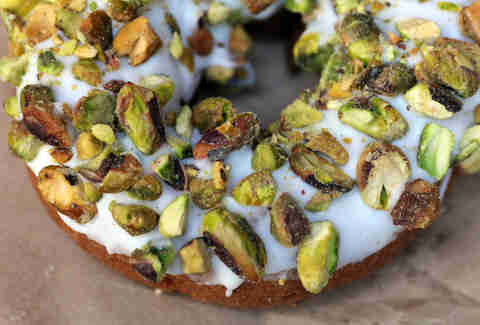 The pistachio/Meyer lemon cake donut gets vanilla frosting and a flurry of toasted Sicilian pistachios.
Do-Rite's chocolate-glazed donut is a classic, yeast-raised donut dipped in Valrhona chocolate and given a healthy (/not healthy?) smear of ganache.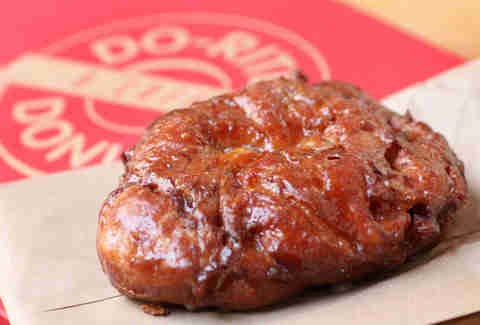 Fritters will jump around to different fruits (pineapple-jalapeño!), but the stock donut is the Michigan apple fritter. With cinnamon dough and apples dipped in cinnamon glaze, it's the only way to apologize to your Michigan buddy for dredging up that Appalachian State game.
The carrot cake donut fills a ring of spicy glazed carrot batter with a cream cheese frosting center. Uhhhhhhhhhhhh, yes.
A vegan option that you'll actually want to eat, the baked pineapple donut has been dipped in a syrup made from squeezed pineapple juice. 
Coffee comes courtesy of Dark Matter, filling out a full menu of espresso and cappuccino drinks, as well as iced coffee.
Now, we know what you're thinking: "Are they going to make me that fried chicken donut sandwich I didn't know I wanted until just now?" The answer is yes, they'll look to accommodate off-menu orders so that you can go full-on sweet and savory. Luckily, the shop is conveniently near Northwestern's medical campus, should any heart palpitations arise.
Sean Cooley is Thrillist's Chicago Editor and he will pay any amount of money to un-hear the song "Rude" by Magic! Follow him @SeanCooley.