Whether you're a nine-to-fiver suddenly confined to your tiny home office or a parent of restless school-aged rugrats, we're all struggling through these uncertain times. But with the forced closure of all dine-in bars and restaurants throughout the city, the industry that's long been Chicago's backbone has taken a heavier hit than most. Here are all the ways you can help your favorite joints make it through these wild times intact.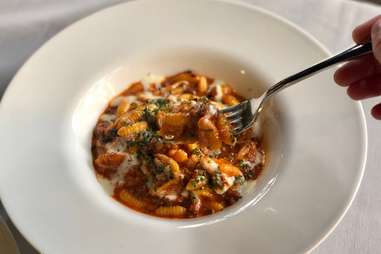 Now Illinois restaurants have been forced to close their doors to dine-in customers, hundreds are turning to delivery and take-out services in an effort to stay afloat. When's the last time you felt good about lazily ordering a burrito off Grubhub instead of getting your ass up off the couch and harnessing your inner Bobby Flay? With more restaurants moving their operations to online platforms and telephone orders, there's never been a better time to give into your sloth-like tendencies.
Some delivery apps have sweetened the deal by recently easing associated fees. On Friday, March 13th, Chicago-based Grubhub (which also owns Seamless) announced they'd be deferring the collection of up to $100 million dollars in commission fees nationwide during the epidemic and the following Monday UberEats promised to waive delivery fees for independent restaurants across the country. DoorDash, Postmates, Instacart, and other apps are also incorporating a "non-contact delivery" option that ensures that both you and your driver remain at a safe distance throughout the transaction.
Rest assured it's not all pizza and hot wings (though there's plenty of that). Even fancy spots are putting their meals on wheels, from swanky chophouses like RPM Steak and Maple & Ash to Fulton Market hotspots like Aba and Bar Siena. And in case you're having trouble navigating this sudden land of plenty, the good old internet has you covered. Restaurant group powerhouses like Lettuce Entertain You and Gibsons have updated their websites to reflect new delivery options and some local food-lovers have also chipped in by setting up Dining at a Distance, a crowd-sourced database listing take-out and delivery information for 2037 Chicagoland restaurants and counting. Feel free to keep those sweatpants on, friend.
Curb yourself (and your food)
If you must stretch your stir crazy legs, curbside pick-up is a great way to support Chicago's restaurant scene without endangering yourself or others. Many area joints are adopting this low-to-no-contact take-out option, preparing food in their kitchens and running it out to hungry customers waiting patiently just beyond their doors. Boatloads of celebrated Chicago eateries -- including, perhaps most surprisingly, high-end Grant Achatz-driven numbers Alinea, Next, The Aviary, and Roister -- have begun offering family-style meals delivered curbside through Tock to Go. West Town's Bodega Biscay is also taking to the sidewalk to hawk a massive inventory of prepared meals, groceries, and even household items (yes, that means toilet paper). And a few blocks down Chicago Avenue you can find All Together Now's "drive-through window," the wine bar's adorable (and ingenious) new method for getting food, wine, cheese, olives, tinned fish, beer, cultured butter, and more from their shop to your hands.
That's just barely scratching the surface. Head over to Dining at a Distance and sort their massive collection of restaurants using the tag "Takeout/Curbside" to get a sense of all the safely distanced amazingness taking over the streets.
Don't forget the booze
Liquor laws are notoriously tricky business. Thankfully, the state's COVID-19 mandate made it clear that shuttered bars and restaurants are not just allowed but encouraged to deliver unopened bottles of beer, wine, and liquor to us thirsty shelter-in-placers. This means you can still get your professionally recommended drink on from a safe social distance, though note that unlike California and New York, Chicagoans can't get technically premixed cocktails to-go, only cocktail kits featuring sealed, full bottles of booze and accoutrement. (Miss your perfectly stirred martini? Fight the good fight by checking out famed Kumiko cocktail wizard Julia Mamose's Change.org petition to legalize carry-out mixed drinks.)
Many bars and restaurants are jumping on the boozy bandwagon and are offering curbside pick-ups specifically designed to enhance your dwindling home bar. Tiki legend Three Dots & a Dash is delivering a bounty of rare and exclusive rum along with festive mugs and housemade syrups via Bub City's GrubHub page and boundary-pushing West Loop den The Aviary has partnered with Mississippi River Distilling Company to push a set of bottled, barrel-aged cocktails sure to scratch your molecular gastronomy itch.
Looking for something a little more low-brow? Dial up Happy Camper and get in on their Basic Hard Seltzer Survival Kit. A cool $75 gets you two medium pizzas, a 12-pack of Basic Hard Seltzer in a variety of flavors, plus ranch dressing, cookie dough, and, get this, a fresh roll of toilet paper (while supplies last). Better yet, all the profits benefit the restaurant's employee emergency fund.
Stock up on gift cards
Buying a gift card is a fantastic way to show some love to the local restaurant scene in their time of need while also doing your future self a solid. Lots of spots are now adding extra incentives like matching funds or discounts to get folks spending. Order take-out from etta or Maple & Ash right now, and the restaurants will toss in a gift card for future use that matches your order's total. For example, buy $40 worth of tasty steak today and you'll get $40 towards another tasty steak whenever this madness subsides. Outposts like Boka Restaurant Group's lauded network and Wrigleyville stunner Mordecai are also selling their gift cards online (a hot commodity if and when baseball ever starts up again... ) and The Smith is selling a series of steeply discounted gift cards for your future dining pleasure ($100 card for $90, $500 for $400, $1,000 for $650, and $5,000 for $2,500).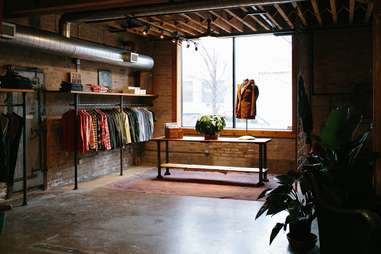 Grab some gear
Plenty of restaurants and bars out there sell branded merch like tote bags, mugs, stickers, and T-shirts and right about now is the perfect time to wear your support on your sleeve, so to speak. Three Dots is selling just about everything but the tropical kitchen sink these days while the Chicago Board Game Cafe is primed to keep you busy with a huge array of games to complement their tasty drinks and snacks. Southside favorite Kimski has also entered the swag arena, offering limited-edition $20 T-shirts designed by chef Won Kim that urge Chicagoans to "Wash their Damn Hands." And one of the coolest ways to stretch your donation dollars is by picking up slick Chicago Hospitality United shirts and other accessories from workwear brand Stock Mfg. and creative hospitality studio Leisure Activities (Ludlow Liquors, Young American, Estereo, Sportsman's Club). T-shirts start at $25 a pop and all the proceeds will be shared among affected staff from participating restaurants including Moon Palace, All Together Now, Birrieria Zaragoza, Elske, Hopewell Brewing, Ludlow Liquors, Mini Mott and Mott St, Passerotto, Scofflaw, Young American, and more.
Tip from afar
Just because they're not shaking up your cocktail or slinging your burgers in front of your face doesn't mean the hardworking folks behind your meal aren't still deserving of a generous tip. In fact, it's high time you put your money where your mouth is (or, you know, at least six feet away from your mouth) and shelled out a few bucks for the hourly staffers that make our restaurant and bar scene so vibrant and delicious. Don't skimp on your delivery and take-out tips, keep your eyes peeled for Go Fund Me campaigns (like these for Dos Urban Cantina, Superkhana International, Longman & Eagle, Heisler Hospitality, Footman Hospitality, Lost Lake, and Dusek's and Thalia Hall, among so, so many others) follow your favorite spots on social media so you can stay on top of all their life-saving fundraising efforts.
Sign up here for our daily Chicago email and be the first to get all the food/drink/fun in town.