A New Food Club Is Bringing Exclusive Meals to Chicago's Best Restaurants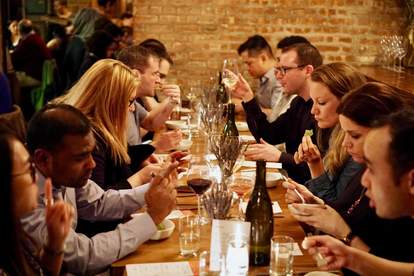 Winter is here, and with it a better option for feeding yourself than walking around in the freezing Chicago cold, waffling between the same five restaurants you always eat at. It's called Tasting Collective, and it's a culinary club that's one part meal and another part live entertainment. After a successful launch over a year and a half ago in New York City, it's finally arrived in Chicago's best restaurants.
Tasting Collective offers a members-only dining experience that shuts down restaurants to the public for a night and allows chefs to put together meals for a private audience. Its mission is to attempt to foster a connection between the people who eat food and those who make it. Meals become more than just that, bringing patrons into each chef's process and giving them a multi-course feast that shows off everything that they are capable of.
Founder and CEO Nat Gelb unofficially started the club as a hobby three years ago, as he felt dining out in NYC lacked a vital human component. He would organize intimate meals with chefs that would allow interaction between them and their diners. From there it grew organically until Gelb was able to fill entire restaurants, which finally made him realize the potential for it to become a business. Now, Tasting Collective is ready for the next step halfway across the country.
"The food scene in Chicago is awesome," said Gelb. "There are so many amazing restaurants that fit exactly the type of restaurants that we work with."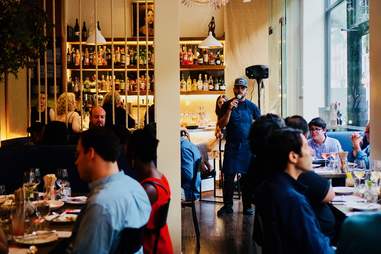 Tasting Collective
Chicago restaurants can sometimes offer options NYC restaurants can't
The restaurants Gelb is talking about are generally chef-owned, small, and innovative, and while in NYC many of those spots tend to be squeezed into tiny spaces, in Chicago they're spacious and even more conducive to the atmosphere Tasting Collective is trying to create. Unlike NYC, Chicago restaurants often close for a day or two per week, setting up the perfect time for a event.
Gelb describes a Tasting Collective meal as a kind of culinary entertainment. Patrons take their seats before the meal starts, a bell rings, and the chef comes out to talk about the dishes that are to be served. What follows is an 8-10 course meal that can include some of the restaurant's classic dishes or experiments thought up just for the occasion. The chef comes out twice more to tell the story behind some of the courses and answer questions from the audience.
"We create a stage so chefs can put on a show," said Gelb.
Tasting Collective
It's a premium service, but it's not that pricey for what you're getting
To get into that show, you must be a member of Tasting Collective, a $165/year membership. Members get access to tickets a week before the meal, $50 for dinner and $35 for brunch, and have access to up to three guest tickets for $25. Gelb teased that early members in Chicago may get a discount for being among the first to join. Signing up is easy through the company's website; just request an invitation to join, and it will come within a few days. Chicago registration has already begun.
Events will be held every two weeks to start but could increase, as there are multiple events per week now in NYC. Gelb wanted to keep the planned restaurants under wraps, but did mention Split Rail and HaiSous as two of the first Tasting Collective spots in Chicago -- the types of spots you might call the best new restaurants of the year, and where a $50 eight-course menu will be a nice deal, especially accompanied by a unique, communal, chef-led experience.
"The restaurants we're talking to thus far are the same kind of thing as New York," he said. "They're the younger, newer restaurants that are receiving acclaim. That's the sweet spot."
Keep an eye out for Tasting Collective events all over Chicago, as Gelb and his company continue to reinvent special dining experiences.
Sign up here for our daily Chicago email and be the first to get all the food/drink/fun in town.
Sam Henken is a writer and editor based in Brooklyn. You can usually find him watching basketball, eating, or both. Follow him @samhenken on Twitter.