From being served up at sports bars and Mexican spots to a Top Chef-helmed diner and Downtown restaurants, nachos are a gluttonous yet integral part of Chicago's collective diet. No, we're not talking about prepackaged chips suffocating beneath a layer of liquid cheese; we're talking about monstrous piles of gastronomic goodness best enjoyed with reckless abandon and chased with an antacid. Here's a look at the 10 best plates of nachos in Chicago, ranging from traditional favorites to outside-the-box stunners.
Machos Nachos
Little Goat (address and info)
West Loop
As with most of chef/owner Stephanie Izard's creations, this plateful of nachos is as inventive as it is comforting. The masa chips are made fresh daily in-house, and a heavy blanket of cheddar, refried beans, Slagel Family Farm's barbecued pork, sour cream, pickled peppers, and pureed avocado ensures that no chip is left untouched (or uneaten).
BBQ nachos
Twisted Spoke (address and info)
West Town
If there were an award for "Most Over-the-Top" nachos, these bad boys from Chicago's favorite biker bar would take the cake. The behemoth dish is sinister in all the right ways (just like the metal tunes coming through the speakers): crispy chips, melty Gouda, succulent barbecued pork, a truck-load of frizzled onions, a drizzle of Sriracha aioli, and just enough cilantro to make you feel better about the ensuing gluttony.
 
Nachos con carne
Taqueria Moran (address and info)
Logan Square
Given their Tex-Mex origins, nachos are hard to come by at most of Chicago's authentic taquerias, but every now and then, one of these joints breaks from the mold to give the people what they want: a side of nachos, like this carne asada-, pickled jalapeño-, Mexican cheese-, diced tomato-, and refried bean-laden number.
Lamb nachos
Rockit Bar & Grill (address and info)
River North
Nachos take a turn for the Greek at the new and improved Rockit Bar & Grill. The unique spin begins with a layer of plentiful chips, followed by feta fondue, Greek olives, tomatoes, and a crowning glory of pulled braised lamb.
Pulled chicken nachos
Hub 51 (address and info)
River North
Head to this perennial River North hotspot for a heap of nachos smothered in juicy pulled chicken, a blend of cheddar and Oaxaca cheeses, tomato salsa, and a generous amount of creamy guac. The dish is an always-on-the-menu staple, and is big enough to split between several hungry folks as an appetizer.
 
Coach's pot roast nachos
Ditka's (address and info)
Multiple locations
You don't have to be a fan of Mika Ditka's to dine at his restaurant, but one taste of his famous pot roast nachos and you'll be a fan of "Da Coach" for life. The popular starter, which comes in two sizes, is covered with (what else?) shredded pot roast, velvety cheddar-Jack, jalapeño slices, sour cream, and diced tomato, and is spread out in a thin layer instead of piled high in order to maximize the amount of chip surface area getting coated in the good stuff.
Pulled meat nachos
Smoke Daddy (address and info)
Wicker Park
If you've ever felt like your nachos lacked smoked meat and a healthy dose of barbecue sauce, come to this Division St barbecue joint to right a lifetime of wrongful nachos. The carnivore-friendly masterpiece is a beautiful mess of chips, pulled smoked meat, cheese, tomatoes, and a flurry of cilantro -- all doused in Smoke Daddy sauce.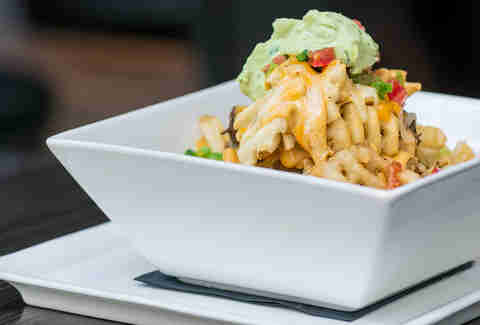 Waffle fry nachos
Chucks: A Kerry Simon Kitchen (address and info)
Loop
Okay, this waffle fry-based wonder may not be the most traditional nacho dish out there, but it deserves a spot on this list nonetheless. The chip-less mountain is equal parts classic nachos and cheese fries, and stacked with tender short rib meat, habanero queso, green onion, diced tomato, and a dollop of guacamole crema to temper the heat.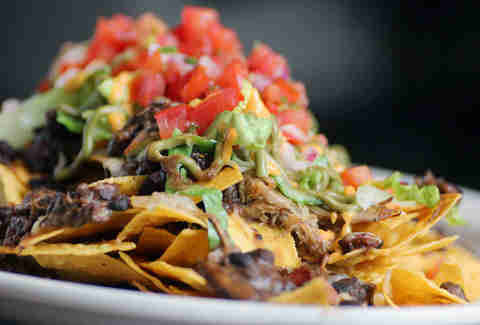 Brazilian nachos
Old Fifth (address and info)
West Loop
This innovative gastropub has a penchant for next-level bar bites, and the Latin-inspired Brazilian nachos are no exception. The fully loaded snack arrives with slow-roasted pork shoulder, a blend of aged white cheddar and Chihuahua cheeses, Brazilian black beans, pico de gallo, avocado puree, lettuce, jalapeño, and chipotle-lime sauce.
 
Nachos
Azteca de Oro Grill (address and info)
Lakeview
The nachos at this Northside Tex-Mex mainstay include standard toppings like melted cheese, jalapeños, sour cream, pico de gallo, guacamole, and beans, but for an extra couple bucks, you can (and should) take 'em next level with your choice of beef, pork pastor, pork carnitas, or fajita veggies.
Sign up here for our daily Chicago email and be the first to get all the food/drink/fun in town.