To name Chicago's best delis, first you have to decide what qualifies as a deli. Not every sandwich shop is a deli -- it should have a meat counter as well as a place to sit, but more than that it should come from a heritage of well-sourced meats rooted in an ethnic deli tradition. You know a true deli when you see it (or smell it) and these 12 Chicago sandwich stops pass the eye (and sniff) test.
Jewish delis
Kaufman's Delicatessen & Bakery (address and info)
Skokie
Kaufman's traded up to a snazzier new building a few years ago, but otherwise this is a classic Jewish deli, mostly retail but with some cafe seating, featuring great pastrami and corned beef, lox and sable, house-baked rye bread and bagels, hot soup and pickle barrels, and celery soda.
Max's Delicatessen & Restaurant (address and info)
Highland Park
An authentic deli in a suburban strip mall might seem improbable, but this place has the authentic brusqueness of an old-time New York joint, as well as the corned beef, whitefish salad, bagels, and black & white cookies.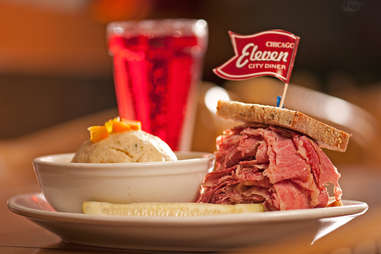 Eleven City Diner (address and info)
South Loop, Lincoln Park
The newest authentic Jewish deli in the city (two locations, South Loop and Lincoln Park), Eleven City goes for classic New York style, from corned beef and matzoh ball soup to phosphates and egg creams.
Manny's Deli (address and info)
South Loop
We violate one of our deli rules almost immediately, because Manny's has no retail, only a cafeteria -- but nobody could argue with the inclusion of this Chicago institution, drawing everyone from aldermen and machers to Streets & San workers for corned beef sandwiches, potato pancakes, and Jewish comfort foods like short ribs and oxtails.
Italian delis
J.P. Graziano Grocery Co. (address and info)
West Loop
The third-generation Randolph St grocer-turned-mostly sandwich shop puts top-quality Italian sub ingredients on great crusty bread from D'Amato's (ask for a Mr. G), and offers great Parmigiano-Reggiano cheese, olive oil, and other goods for purchase.

Riviera Italian and American Imported Foods (address and info)
Dunning
On the Italian-American stretch of Harlem on the city's Western edge, this little shop smells more like a European meat market than any place in town, thanks to the sausage and salumi made in-house, which is offered alongside olive and seafood salads and crusty bread from Palermo Bakery across the street. Maximize the great house-made stuff by ordering a Will Special, named for a frequent (now departed) customer.

Miceli's Deli & Food Mart (address and info)
Pilsen/Heart of Italy
Oakley St on the South Side is a charming Italian strip right out of the old days, that looks like Sonny might drive up at any moment to beat the crap out of Carlo. Miceli's is the neighborhood grocer and Italian deli, and it could not be sweeter, with the owner Lou and staff joking around with longtime customers and serving up classic, dirt-cheap Italian subs and old-school pasta dishes.

Freddy's Pizza (address and info)
Cicero
Pizza in the name hardly does justice to the incredible spread offered inside this place every day, which ranges from subs using house-cured meats and house-made meatballs, to Italian hot dishes (try the chicken limone), to seafood salads, to house-made gelato -- oh yeah, and pizza, and some groceries, too. It's like an Eataly crammed into a White Hen.
Bari Foods (address and info)
West Town
Every day at lunchtime you'll see a crowd of Chicago guys trying to figure out who's next in line at this West Town grocery and sub shop. It's worth the chaos for classic Italian subs, the Italian beef (which has been a special for about a decade), and other specialties -- all to go, because if you're here, you probably drive a city vehicle anyway.
Harrington's Catering & Deli (address and info)
Jefferson Park
An Irish deli may sound like the set-up for a joke, but Harrington's corned beef is sold all over the Northwestern suburbs for St. Patrick's Day, and you can get a great sandwich of it -- corned beef or Reuben -- and other mostly potato-based sides at the storefront in Jefferson Park.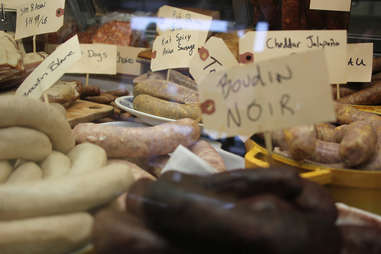 Publican Quality Meats (address and info)
West Loop
At first glance it may look more like an artisanal restaurant and shop than a deli. But Chef Paul Kahan's father used to have a smoked fish business nearby, and behind the (generally pretty terrific) trendy sandwiches, house-cured salumi, and fancy products, there beats a deli heart.
Gene's Sausage Shop (address and info)
Lincoln Square
The city's old German delis are pretty much gone, but Polish meat market Gene's keeps their memory alive in the former location of Meyer Delicatessen in Lincoln Square (whose neon sign hangs over the stairs). Start by shopping downstairs for a spectacular variety of meat products; then, in summertime, head to the rooftop for a beer, grilled German sausages, and an extra order of gemütlichkeit.
Sign up here for our daily Chicago email and be the first to get all the food/drink/fun in town.