If you're a vegetarian, dining with someone who is, or just attempting a meatless Monday, navigating Chicago's dining scene for vegetarian-friendly options can be intimidating at best and disheartening at worst. Fortunately, there are some veggie sanctuaries among our meat market of a city: from a suburban bakery touting hearty meatless sandwiches to a triple Michelin-starred tasting menu, these are the best spots to indulge in a meat-free meal.
Lakeview, Logan Square
Touting the slogan, "Meat free since '83," this time-tested favorite is a no-brainer for all things carnivore-unfriendly (see what we did there?). The expansive menu covers all the bases, from seitan "wingz" doused in a chili lime marinade and paired with Sriracha ranch dipping sauce, to a portobello truffle melt oozing with vegan mozzarella -- but the real standout is the quinoa chili, a protein-rich take on classic chili best enjoyed with jalapeño corn fitters, diced tomato and onion, sour cream, cheese, and avocado.
West Loop
This stylish Spanish resto in the West Loop ditches tapas in favor of starters and entrees, and offers one of the heartiest, most satisfying vegetarian entrees you'll ever try. The current seasonal rendition of the confit potatoes a la plancha includes crispy-on-the-outside, tender-on-the-inside confit potatoes, wild mushrooms, a mushroom demi-glace, and queso tetilla, and is finished with a perfectly cooked sunny-side-up egg. Team it with the Catalan gazpacho and churros for dessert for a complete meat-free meal that doesn't skimp on flavor.
West Loop
This three-star Michelin restaurant offers both a meat-focused menu ("Fauna") and a vegetarian-friendly menu ("Flora"), thereby making it one of the only Chicago restaurants of its caliber to deliver a tasting menu experience that doesn't alienate guests who choose not to eat meat. Both menus change based on seasonal availability of ingredients, but recent courses include asparagus with brioche, black olive, and sorrel, beets with goat cheese, cider, and red amaranth, and a chocolate-based dessert made with pistachio, lemon, and mint.
River North
Don't let its penchant for roasted meat fool you: this riverside concept is actually exceptionally vegetarian-friendly, as evidenced by the section of the menu dedicated to "roots, shoots, and veggies." Indulge in roasted carrots tossed with pumpernickel crumb "dirt," goat cheese, and balsamic; turnips au gratin; Mexican street corn; and more. Make sure not to miss the aptly named Boatload of Veggies entrée, which currently features a giant poblano pepper stuffed with creamy purple cauliflower "risotto."
Lincoln Park
Given its cool SoCal appeal, it's no surprise that this Lincoln Park hotspot has more to offer vegetarians than just salad. If you're looking for a protein fix, the quinoa and Forbidden black rice bowl is tops. Craving something hearty? Try the wild mushroom enchilada stack, which comes with crispy tortillas, pickled red onion and cucumber salad, and cumin-scented crema. And whatever you do, don't miss the brown butter rice crispy treats for dessert.
Gold Coast
Whether you've instigated a retail therapy session or you've simply been dragged along, one thing's certain: you're going to need to refuel. Fortunately for you, Fred's is located above Barney's New York -- right in the heart of Chicago's preeminent shopping district -- and offers a bounty of vegetarian-friendly dishes ranging from roasted vegetable vegan pizza stacked with roasted veggies and vegan cheese on a whole-wheat crust and an assortment of salads to a seasonal vegan soup that changes at the chef's whim.
Wicker Park
Hipster-to-the-core Handlebar is Wicker Park's casual go-to for made-from-scratch vegetarian and vegan comfort food, and as expected, it sources most of its ingredients from local purveyors and brews fair-trade coffee. Stop in during breakfast, lunch, or dinner to feast on fried avocado tacos stuffed with cabbage slaw, tomatoes, queso fresco, refried beans, house-made ranch, brown rice, and salsa verde; veggie chili mac and cheese; and pepita scrambled eggs.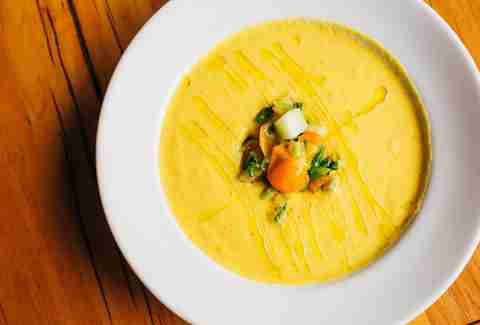 River North
Chef John Chiakulas knows a thing or two about how to prepare vegetarian-ready eats, as evidenced by dishes like escarole and potato ravioli with jumbo asparagus, Parmesan, and white truffle; a mushroom and quinoa burger; and yellow tomato gazpacho. These dishes are so well-executed and flavorful, they'll convert even the most devout of carnivores to vegetarianism, if only for just one meal.
River North
No need to scour Sunda's lengthy menu for meatless options: upon request, guests may receive a dedicated vegan menu spanning nearly 20 dishes, including salads, dim sum, sushi, and more. Abbreviated versions of the menu are also available for lunch and brunch services. Standouts include the restaurant's coveted crispy Brussels sprouts salad and the fish-less sweet potato caterpillar roll off the maki menu.
West Town
The tasting menu at this upscale vegetarian resto changes based on the seasonal availability of ingredients, but you can always count on it to showcase a bright, colorful mix of veggies. The current five-course lineup features sweet corn soup, blistered shishito peppers, squash risotto "beggar's purse," and more. Not feeling the prix fixe experience? Check out the expansive a la cart menu, which is almost entirely vegetarian-friendly.
Lincoln Park
The menu at this Indian concept may be of epic length, but a helpful "V" notation next to vegetarian items makes reading it a breeze. The vegetarian samosas packed with potatoes and peas are non-negotiable, and the "vegetarian treasures" portion of the menu is loaded with meatless items like the popular chana masala comprised of sautéed chickpeas, onions, and tomatoes amped up with an assortment of herbs and spices.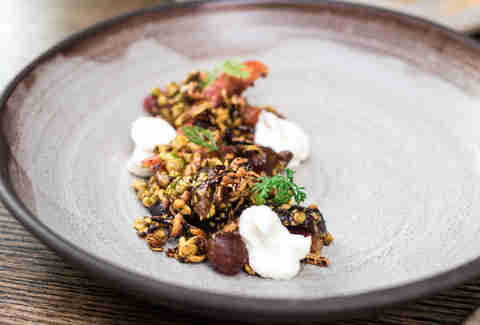 Lincoln Park
Executive Chef Lee Wolen has a knack for transforming seasonal produce into culinary works of art that taste every bit as great as they look. While his menu changes regularly, you can always count on the heirloom carrots with pistachio, vadouvan, dates, and smoked feta to be there. Other veggie-friendly highlights on his current menu include white gazpacho with almonds, radish, and ricotta salata and ricotta ravioli prepared with corn, maitake, blueberry, and goat gouda.
Evanston
Steps from the Purple Line, this suburban bakery is one of the North Shore's best-kept secrets, and happens to be both easily accessible from the city and exceptionally vegetarian-friendly. Swing by for a spicy eggplant and arugula sandwich made with Sriracha, cilantro, chopped tomatoes, and fresh mozzarella on Hewn's hand-forged ciabatta, a light and refreshing orzo salad tossed with cucumbers, MightyVine tomatoes, peppers, fresh feta, and house-made lemon-honey dressing; don't leave without a loaf of bread.
Sign up here for our daily Chicago email and be the first to get all the food/drink/fun in town.