A new year has brought some tasty new obstacles to your 2016 weight loss goal, with an influx of donut shops, an expanded barbecue franchise, and a restaurant that's put "pig candy" (brown sugared slow-smoked bacon) on the menu. Your valiant diet efforts were going to be derailed eventually, so you might as well cut your losses now; Chicago's food and drink scene is off to a strong start this year, and shows no sign of slowing down.
Recommended Video
What to Eat at Brooklyn's Massive DeKalb Market Hall
Bucktown
Touting the catchphrase, "feed your senses," this new concept from Food Network personality and Illinois native Jeff Mauro combines local artists and musicians with sandwiches to create a dining experience that is as much about the food as it is art. Settle in for a "Bao to the Pork" sandwich showcasing hickory-smoked, hand-pulled pork shoulder topped with Asian Plum sauce and nestled on a toasted bao bun, and feast your eyes and ears on the works of some of the top emerging talents in Chicago.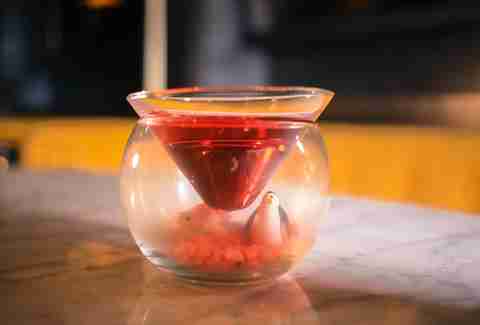 Lincoln Square
OK, this whimsical cocktail bar from the folks behind Roots Handmade Pizza snuck in during late December, but its progressive cocktail program is too exceptional to let slide through the cracks. The bar opened with ten house cocktails including the mezcal-based Spaceman Spiff, which is served with a saucer that releases citrus and cedar smoke when removed, and the Game of Thrones-inspired Bracer made with rye, stone pine, amaro, and porter and served in an ox horn mug. The Lannisters send their regards.
Lincoln Park
Nestled within Intro, this quaint sushi restaurant backed by Lettuce Entertain You is just the sort of casual dining escape the neighborhood has needed. The 50-seater sports a clean, minimalist design and emits a welcoming glow that sets the scene for feasting on spicy tuna temaki, Hamachi sashimi with aji panca, scallion, and ponzu, and truffle-infused unagi maki.
Lakeview
Chicago's leading name in quick-service barbeque adds Lakeview to its expanding roster of locations. In addition to the usual lineup of pulled pork, chicken, and beef brisket, this outpost is kicking things up a notch with craft beer, new sides like chipotle potato salad, larger meat platters, and most importantly, weekend hours so that you can get your 'cue fix all week long.
Pilsen
The bad news: time-tested Pilsen mainstay Nuevo Leon was destroyed in massive fire early last month. The good news: the restaurant's resilient ownership has already opened a new restaurant nearby, and plans to resurrect their ill-fated resto are in the works. The menu promises a variety of dishes rooted in Mexican tradition, such as mollejas de res (charbroiled beef sweetbreads over grilled spring onions and fire roasted peppers), chicken skewers, a selection of steaks, and more.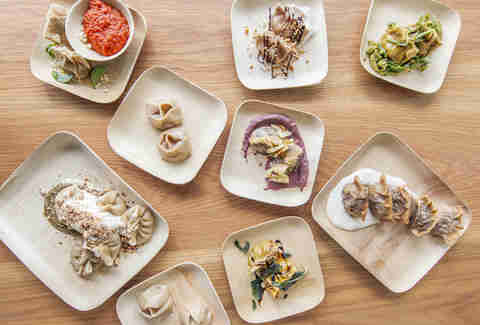 Hyde Park
Helmed by Chef Mike Sheerin (Embeya, Blackbird, Cicchetti), this fast-casual dumpling destination strikes a balance between affordable, approachable fare and refined culinary sensibilities. The restaurant prides itself on its use of seasonal, locally sourced ingredients; as a result, you can expect the menu to change frequently. Opening offerings include Peking duck dumplings packed with pork, ginger-scallion sauce, and green olives and pastrami dumplings comprised of pumpernickel, beer-braised onions, pickled green tomatoes, and violet mustard.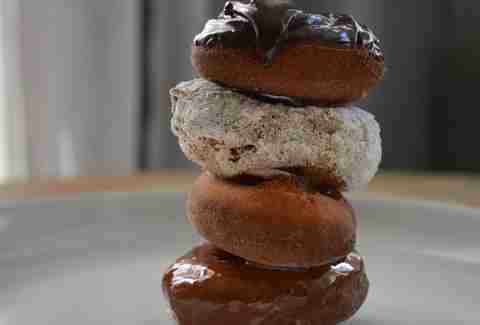 Lakeview
Michelin starred chef Iliana Regan's (Elizabeth) long-awaited bakery is finally here, and if its introductory selection of daily offerings is any indication, it's already raised the bar for bakeries across the city. The self-proclaimed micro bakery, tiny though it may be, is going big with everything from toasts (think: black barley sourdough studded with bacon, potato, and leek and seeded rye) and donuts to foraged mushroom team, pierogi, and house-made cereal with nut milk. Our prediction: breakfast is going to be forever changed for the better.
Lincoln Park
Thanks to a new Clark St expansion, River North is no longer the only neighborhood lucky enough to lay claim to a brick and mortar Firecakes shop. The new location boasts a quaint, cozy atmosphere, not unlike the original location, and welcomes a few new additions to the tight donut lineup, including a black and white donut and a bacon long John filled with maple custard.