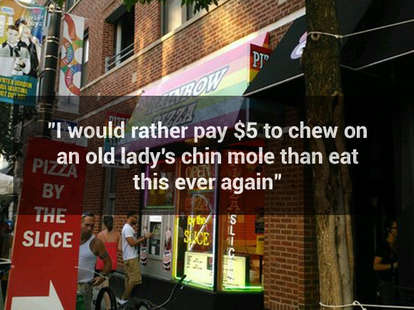 We've all had that nightmare restaurant experience: food poisoning, angry service, bathrooms that look like testing grounds for fecal explosives. We haven't all, however, decided to go on Yelp right after it to brutally take down said restaurant. These people though? They totally have. Here are the best Yelp reviews for Chicago's worst-rated restaurants.
Rainbow Pizza
Lakeview
Stars: 1.5
Best Yelp Comment: "I would rather pay $5 to chew on an old ladys chin mole than eat this ever again. A pure disgrace to a city that prides itself on pizza that doesn't taste like Llamas genitalia." - Ross H.

Mothers Too
Near North Side
Stars: 2
Best Yelp Comment: "If you've been here, you probably have hepatitis." -Conor O.
Big City Tap
Lakeview
Stars: 2
Best Yelp Comment: "I've only been here once and that was enough. I was single at the time and yet still pretended I was married to my friend because I felt like I was in a pool of skeazy sharks that wouldn't stop staring at me or coming up and touching me." -Kathleen O.
Yu Choy
River North
Stars: 2.5
Best Yelp Comment: "According to Grub Hub reviews, Alex called the food "stellar", and Megan generically said "it's the best chinese food i've ever had." Two possibilities, Megan and Alex don't have any sort of cognitive abilities, or they don't exist. Never eat here." -Andrew W.
Papa Romeo's Pizza
Rogers Park
Stars: 2
Best Yelp Comment: "…you're probably better off going ANY FREAKING WHERE ELSE UNLESS YOU WANT TO SPEND SOME QUALITY TIME WITH YOUR FRAKING TOILET...I have literally no idea how this post became about me getting diarrhea. Anyway, I seriously don't recommend eating at this place unless you're trying to lose weight QUICK, because dehydration does wonders for your figure, I've heard." -Gregory P.
Flash Taco
Wicker Park
Stars: 2
Best Yelp Comment: "Just kneeling on the sidewalk outside and licking it will give you the same experience as eating there. Well, ok, to be fair, the sidewalk will probably make you less sick." -Audrey T.
Bacci Pizzeria
Lakeview
Stars: 3
Best Yelp Comment: "I arose this morning at around 1 pm. I walked to the bathroom as I normally do for my morning pee. As I stood there staring at the porcelain toilet seat I noticed something disturbing. I noticed something that has changed me forever in the most deep and profound way that something can change a person. There was a streak of dried sh*t across the back of the toilet seat, and it belonged to my roommates' girlfriend. As I got onto my knees to scrape the most recently deposited fecal matter off of the toilet seat I thought only one thing. THANK GOD I'm not at Bacci Pizzeria." - Daniel G.
El Famous Burrito
West Loop
Stars: 2
Best Yelp Comment: "First bite of burrito and whamo- a nice big gagging mass of connective tissue and gristle. Terrible temp, stale flavor, mushy LONG GRAIN rice in picante sauce (not even Spanish Rice), and ROMAINE lettuce on a freaking burrito? Coagulated 1/10oz to-go salsa cups? Are you kidding me? Is hot sauce from a tin can that expensive you can't give me enough for a burrito?" -Dan L.
Yang Restaurant
South Loop
Stars: 1
Best Yelp Comment: "Maybe if it was Thanksgiving and I was in some The Christmas Story kind of scenario with all of my family staring at my with hungry eyes and a completely empty refrigerator and the only place to get food in the whole city was this place MAYBE i would get a delivery from here. That is a big MAYBE." - Jessica N.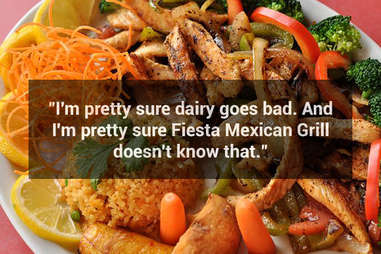 Fiesta Mexican Grill
Logan Square
Stars: 1
Best Yelp Comment: "I'm pretty sure dairy goes bad. And I'm pretty sure Fiesta Mexican Grill doesn't know that. If you're up for waiting around over 90 minutes for an order that looks like a failed 4th grade chemistry experiment, go for it." -Sarah M.
Lincoln Park Pizza
Lincoln Park
Stars: 1.5
Best Yelp Comment (pay close attention to who this comment is from...): "Not only has Lincoln Park Pizza made the best pizza in the world in the past, but it continues to make the best pizza in the world at present, and shall continue to make the best pizza in the world in the future. Lincoln Park is not "sub par." Rather, Lincoln Park Pizza is way above par." - Jerome P. of Lincoln Park Pizza
Taqueria El Ranchito
Uptown
Stars: 1
Best Yelp Comment: "...The doctors couldnt even figure out what i caught, it wasnt food poisoning because it lasted well over 2 weeks. It was some weird stomach virus/bug, i had to be prescribed antibiotics to stop the stomach pains that made me wish i was dead." -Jackie R.
Taco Fresco
The Loop
Stars: 1
Best Yelp Comment: "... The (nearly) cute girl got hot sauce, extra hot sauce, limes, sour cream for free despite the sign saying that one hot sauce is free extra hot sauce is 25 cents. (I can't help it that I am not an (almost) cute girl.)" - Paul B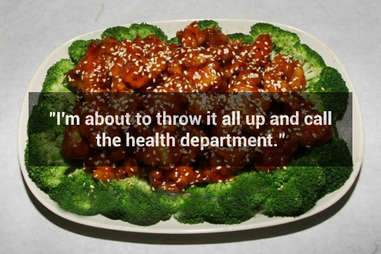 Beijing Gardens
Uptown
Stars: 2.5
Best Yelp Comment: "I felt like I was going to vomit everytime I took a bite... I ended up throwing my food away and eating a bowl of cereal." – Frank A
Ray's Chicken & Ribs
Lincoln Park
Stars: 2.5
Best Yelp Comment: "They delivered fried chicken to me that still had feathers attached to it." - Joshua M.
Halsted Street Deli
Near West Side
Stars: 1
Best Yelp Comment: "I'm burning my Admin's copy of the Halsted Street Deli menu." -Amanda F.
Americana Submarine
The Loop
Stars: 1
Best Yelp Comment: "The only thing this place has going for it… they sell condoms." -Craig S.