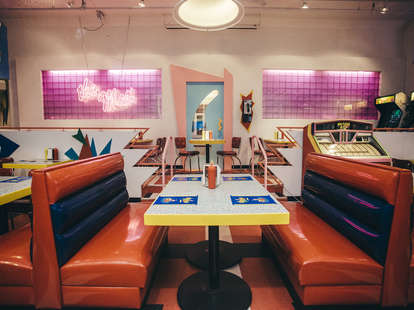 Jim Vondruska/Thrillist
Jim Vondruska/Thrillist
Time out! You haven't heard about the pop-up restaurant in Wicker Park opening this weekend that's an exact replica of the The Max from Saved by the Bell? Now, we know better than to peer pressure you (especially after that last toga party), but you really should check it out; it's pretty radical. There's choice diner food, events that are way cooler than any pep rally, and it's a safe space to espouse your theories on why Tori never made it to graduation. Here's more on what to expect now that Bayside has come to Chicago.
The interior is a photocopy of the show
It's taking over the former home of Geek Bar on North Ave, and the interior has been gutted and custom-built. The crew behind Saved by the Max studied the fictional diner's layout frame-by-frame to give a team of contractors a blueprint. From the pink sawmill railings and the arc of the door frame to the scribble table tops, they've nailed the details.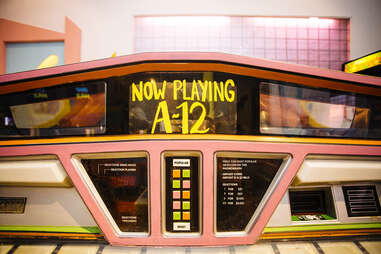 There's a jukebox that'll only play A-12 (that's Zack and Kelly's song!)...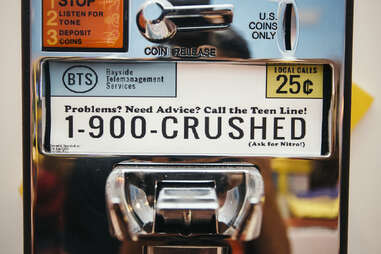 ... plus an advice line (which you should never trust).
In the entryway, you'll find the locker of mega babe Kelly Kapowski.
Hey, hey, hey, hey, hey, what is going on here? Well, one lucky group gets to take their dinner in Mr. Belding's office. Pretend to admire his master's degree as you rifle through the file cabinet for your permanent record.
The lineup of events is pretty dope
The first month of The Max's late-night programming is up, but the real question is can you RSVP from a Motorola DynaTAC 8000X? Mondays are rotating events like benefits or brew-and-view watch parties, Tuesdays are trivia nights, and Wednesdays will be TV-oke where you can act out episodes of the show using subtitles.Thursday theme nights include an aerobics party and a Bayside prom (hopefully no one's dad loses their job). Weekends will have '80s versus '90s dance-offs and an in-house Zack Attack cover band on Sundays. You'll find actors impersonating your favorite characters, that is, until Mario Lopez shows up one day in a full leotard -- a rumor that we're starting right now.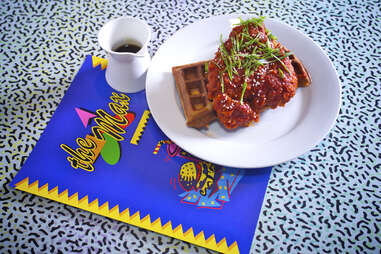 The food options are no joke
With a novelty concept come the fears that the food will be an afterthought, but you should be on the SO EXCITED end of the Spano spectrum courtesy of former chef de cuisine at Michelin-starred Schwa, Brian Fisher. The dinner menu is classic diner fare featuring a number of collaborations with esteemed local restaurants. Early favorites include Tori's Fried Chicken (a coconut milk waffle and sous-vide Korean fried chicken drizzled with spiced maple syrup), AC Sliders topped with Goose Island braised pulled pork and Lillie's Q mustard barbecue sauce, and Mr. Dewey's Honey Buttermilk Biscuits and Gravy with custom biscuits from Bang Bang Pie Shop.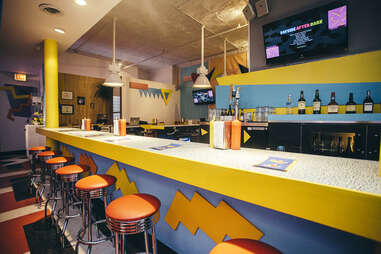 Dinner reservations are mostly already taken, but you can still eat
The bummer news: it'll be tough to score a reservation during the routine 5-11pm dinner service. The awesome news: outside of those hours, the space is first-come, first-served. So make use of the parsed-down late-night menu or even go when you wake up in the morning on weekends for brunch (11am-3pm) and the eggs Benedict with Cajun smoked ham and crawfish hollandaise.
(UPDATE: Brunch service has been postponed in favor of an 11am walk-in bag lunch while supplies last)
The drink menu will have some sneaky surprises
On top of the lineup of standard cocktails with much-improved names (to wit: Stacey Carosi's Sofie Mimosie), you'll also have the chance to share a boozy chocolate whiskyy shake with the "Lisa" or "Screech" in your life. Partnering with Goose Island, the bar will also offer rotating rarities like a Bourbon County Barleywine float.
You've got until the end of August to check it out
The pop-up restaurant has only extended out to the end of summer. After that, like a duck in an oil spill (RIP Becky), it's gone.
(UPDATE: the popup has been extended, with dinner dates available through December 31st).
Sign up here for our daily Chicago email and be the first to get all the food/drink/fun in town.
Sean Cooley is Thrillist's Cities senior editor and he still wonders what the hell happened to Tori. Follow him: @SeanCooley.