Having obtained Chicago's long-awaited first mobile food vendor license to allow for on-board cookery, The Salsa Truck's built into a former ice cream rig that's outlived its odometer and can still play the Mr. Frosty jingle, though it'll only make you scream for its Mexican street-fare. Or if it accidentally runs over your foot.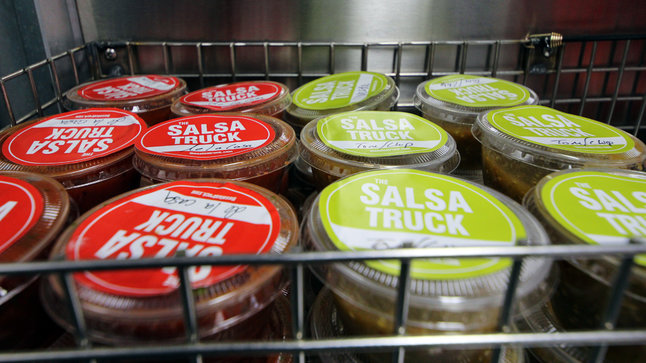 The truck totes a core group of five salsas, including the classic house recipe, verde, and roja. There're also salsa frijole (black bean, habanero, agave nectar) and roasted tomatillo and chipotle, for those seeking a Chipotle experience that won't wreck the digestive system.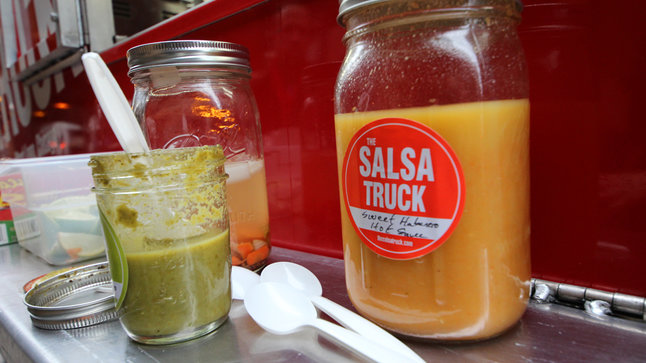 They'll also have some rotating bonus-sauces like the spicy escabeche or sweet habanero.
But what to put the salsa on? Tacos come as singles or part of a lunch meal (chips, two salsas & a drink). Depending on the day, you might find achiote-marinated shrimp w/ pineapple, chorizo, or slow-roasted adobo chicken. This carne asada is marinated in mojo, which is sure to get Jim Morrison's risin'. Kidding, he's dead.
Quesadillas (avail with any of the taco fillings) are also a truck staple. Occasional guest stars on the menu include: chicken tortilla soup, crispy pig ears, chili, and Ted McGinley.
A food truck that will bring you fresh guacamole? Be sure to thank Rahm, a mayor who screams for... pretty much anything that pisses him off.