This Is Potbelly's Entire Super-Secret Menu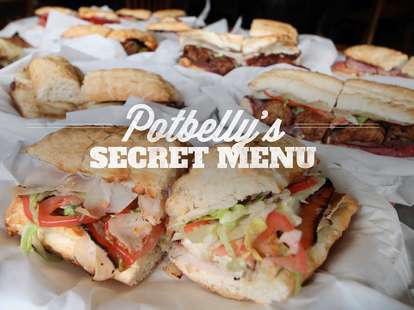 Sean Cooley/Thrillist
Sean Cooley/Thrillist
Potbelly's menu? Good. Potbelly's secret (!?!?!?!?!?!?!) menu? Even better. The sandwich standby puts West Coast burger chain In-N-Out's secret menu to shame, with ELEVEN sandwiches and FOUR desserts, all of which you won't find in any official Potbelly materials... but you will find laid out, in all their glory, right here.
Lucky 7
Oh, this? It's just a Potbelly's Wreck (ham, turkey, roast beef, and salami) COMBINED WITH AN ITALIAN (salami, pepperoni, capicola, and mortadella) with Provolone and nearly every topping on the menu.

Wrecking Ball
It's just like a Wreck (ham, turkey, roast beef, and salami), but with meatballs. And Swiss cheese. And mayo. And lettuce. And tomato.
Fireball
A little meatball here, a little cheddar there, a little chili also here, a little hot pepper also there... then throw in the name of our favorite villain from The Running Man, and boom, you've got the Fireball.

Cheeseburger
Meatballs, cheddar, mayo, mustard, lettuce, tomato, and pickles, served on a bun that is decidedly ketchup-free. How very Chicago of it.
Sicilian
They'll take an Italian and then add meatballs, mushrooms, marinara, Provolone, hot peppers, and mafia ties.

Black and Bleu
Not just our FAVE Backstreet Boys album; this sandwich has roast beef, bleu cheese (?!), lettuce, and tomato.
Chicken Cordon Bleu
With grilled chicken, ham, and Swiss, it's a sandwich so good they named Le Cordon Bleu school after it (right?).

Barnyard
If all you think about when reading Animal Farm is eating all the animals, the Barnyard is for you (a Wreck plus Nueske's bacon, meatballs, mayo, lettuce, and tomato).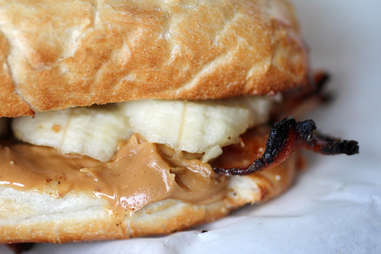 Elvis
Long live the King, which's packed with peanut butter, Nueske's bacon, and bananas... much like Elvis' stomach.

The Clubby
Turkey. Ham. Bacon. Prov. Ranch. Yes. Please.

Toasty Turkey BLT
Like a regular BLT but... with toasty turkey.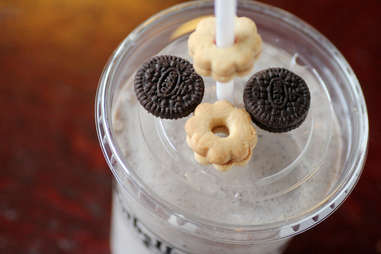 Cookie Collision Shake
Vanilla ice cream + Oreo crumble + shortbread butter cookies + itty-bitty cookie garnishes = whoa.

Chocolate Peanut Butter Banana Shake
This shake packs vanilla ice cream, chocolate syrup, peanut butter, and bananas. Just be wary not to order it during rush hour, as they have to clean the equipment to accommodate peanut allergies.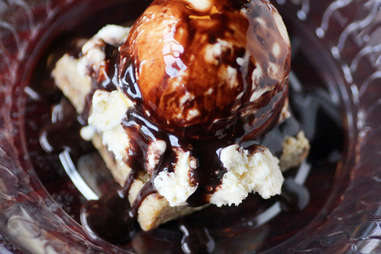 Dream Bar Sundae
This is the stuff dreams are made of: a heated-up Dream Bar (a cookie bar made with brown sugar, nuts, coconut, and oatmeal), topped with vanilla ice cream and chocolate syrup.

Ice Cream Sandwich
Get vanilla ice cream scooped between cookies that come in sugar, chocolate brownie, or oatmeal chocolate chip.
Sign up here for our daily Chicago email and be the first to get all the food/drink/fun in town.
Sean Cooley is Thrillist's Chicago Editor, and he really hopes you don't have to battle all the animals you've eaten in your life to get into Heaven. Follow him @SeanCooley.
​This article originally published on February 17, 2014.