All photos by Sean Cooley
For the man who'd rather allocate funds for tasty chicken than future child support, welcome Leghorn: an unapologetic chicken shack in Ukrainian Village that's not only putting out super-popular deep-fried birds (seriously, they sold 600 chicken sandwiches on day one), but is doing it while also offering free... branded... condoms.
Finally giving Chicago the manageable fried chicken crawl it so desperately needed (start here, then head to Parson's in Logan, then to Honey Butter in Avondale), this 25-seat restaurant is cash only, BYOB, opens at 11am daily, and slings crispy birds until it runs out (they didn't make it past 3pm any day during their opening week).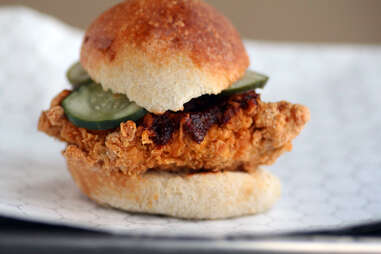 The simple menu offers two main styles of sandwich. Option one is the Nashville Hot-style chicken sandwich, here on a house-made bun, waiting to be topped with sauces like house-made catsup, Thousand Island, buttermilk rancho verde, or honey mustard.
Option two is a pickle-brined chicken breast sandwich with dills on a buttermilk biscuit (also available as a side option with blue cheese/caramel butter, which you should probably also try because, blue cheese/caramel butter).
Pair your sandy with a side of nori garlic fries, or better yet, swing by on a Tuesday when they're making chicken-fried fries. Other weekly specials include fried chicken skins on Mondays, and chicken nuggets on Wednesdays.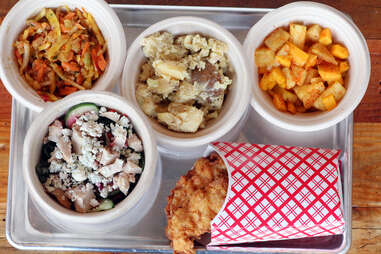 Fill out your tray/hit your weekly calorie count in one sitting with a side of slaw, potato salad with sour cream and chives, a grilled chicken bowl, and fried chicken tenders.