The 9 Best Under-the-Radar Hot Dog Stands in Chicago
Making a list of the best hot dogs in Chicago is not a unique concept -- hell, even we did it. And all of the "Best of" lists pretty much all feature Gene and Jude's, Superdawg, Portillo's, Frank 'N' Dawgs, Jimmy's Red Hots, and the rest of Chicago's fabled hot dog royalty that's well known to any Chicagoan worth their weight in encased meat. Today we shine a light on nine of the best under-the-radar hot dog stands in the city. Loosen that belt up, 'cause it's about to get heavy.
<em>Lincoln Park</em><br />
Hot Doug's may be gone, but his foie gras dog lives on. When Doug Sohn retired and gave the proprietor at the Dog House his okay to recreate the recipe, it joined a handful of other specialty sausage options that keep DePaul students and neighborhood residents coming back for more. The Springfield-born corn dog (the less famous cousin of the Chicago-style hot dog) is another good option, as are the unique-to-the-house Frips -- a combination of fries and chips made from a fresh-cut potato that's drilled on site.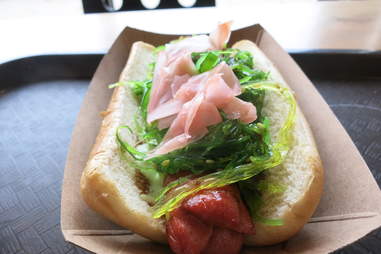 titus ruscitti/thrillist
<em>Edgebrook</em><br />
The man behind this Edgebrook hidden gem has a history in the restaurant business, which you can tell immediately once you taste his food. The wieners are black Angus dogs from Eisenberg, and aside from a fantastic Chicago-style version, you can also try one of Ivy's specialty dogs. The Japanese will have you thinking "Seaweed? On a hot dog??? No waaaay!" at first -- but, when it's combined with gari and wasabi cream, you'll be like, "Way."<br />
&nbsp;
<em>Lakeview</em><br />
Located under the Wellington Brown Line stop, these folks have been supplying top-notch, natural casing dogs to the Lakeview neighborhood for a handful of years now. A natural casing Vienna Beef wiener is topped with mustard, onions, relish, sport peppers, tomatoes, and pickles, and placed on a regular steamed bun. Nothing too crazy, just solid, delicious, fattening execution. Speaking of fattening, if you miss out on the thin, fresh-cut fries, you are not making the most of your visit.
titus ruscitti/thrillist
<em>Bucktown</em><br />
If there's one thing that makes dealing with the soul-crushing traffic congestion at the Damen/Elston/Fullerton intersection worth it, it's this. This is where workers from the Vienna Beef Factory (soon moving South) eat their lunch. You think they're going to settle for a mediocre Chicago-style hot dog? Not a chance! The 8/1-sized natural casing wieners come perfectly prepared each and every time. While the factory is moving, the cafe will remain and eventually be a breeze to get to once future construction is complete. If that ever happens.<br />
&nbsp;
<em>Bridgeport</em><br />
This seasonal stand in Bridgeport is a favorite stop for White Sox fans before a game. They were here eating hot dogs before the first-ever game at the new Comiskey Park, they were here before game one of the 2005 World Series, and they'll be there on Opening Day 2015. The fan favorite has the classic representation of a Chicago-style hot dog. March will mark its 27th season in business and, unlike the Sox, they've never posted a losing record.
titus ruscitti/thrillist
<em>Northwest Side</em><br />
At this Northwest Side favorite, everything includes sauerkraut. Wait, what?!?!?! Okay, calm down, encased-meat-purity police. It's not ketchup, and it actually blends in quite well. Though that's not what sets Jeff's apart. As regulars here can attest, every hot dog they've ever eaten here has been exactly the same. The perfectly steamed poppy seed bun and extra-snappy natural casing Vienna Beef frank are loaded with just the right amount of garden-style toppings, giving you a consistency that many of the better-known spots fail to match.<br />
&nbsp;
<em>West Side</em><br />
Hidden under the L on Lake St, this West Side favorite has fed a long list of loyal customers since 1953. The menu is simple, with old-school, minimalist-style hot dogs, Polish sausage, and burgers joining with killer fresh-cut fries. This short menu results in above-average everything, but it's the old-school hot dog that draws all those repeat customers. The extra-friendly service probably doesn't hurt, either.
titus ruscitti/thrillist
<em>Ashburn</em><br />
When people ask where to find the best Polish sausage in Chicago, the answer lies in Ashburn. Don's sits on an industrial strip of Kedzie, but it's hard to miss because there's a giant hot dog statue committing suicide by squeezing ketchup all over himself on top of the building. The hot dogs here are formidable, but, as mentioned, the Fire Fried Polish is what you want to order. Get it topped with everything, which includes a neon green relish and sliced cucumber in place of the pickle.<br />
&nbsp;
<em>Lawndale</em><br />
This West Side favorite has been serving hot dogs to the Lawndale neighborhood since 1938, making it one of the oldest hot dog purveyors in Chicago. The wieners are still Vienna Beef natural casing, and the fries are still cut fresh and loaded on top of the dog -- which features the typical minimalist toppings of mustard, relish, onion, and sport peppers as well as thinly sliced kosher pickles.<br />
<br />
<em><a href="https://signup.thrillist.com/&quot; target="_blank">Sign up here</a>&nbsp;for our daily Chicago email and be the first to get all the food/drink/fun in town.<br />
<br />
Titus Ruscitti is a contributing writer for Thrillist and the man behind&nbsp;<a href="http://chicagotacotour.blogspot.com/&quot; target="_blank">Chicago Taco Tour</a>. You can join him on his taco-specific travels throughout the cityscape there, or his general food ones on his blog, where he's single-handedly tackled close to 1,000 food stops. Follow him&nbsp;<a href="https://twitter.com/chibbqking&quot; target="_blank">@chibbqking</a>.</em><br />
<br />
&nbsp;