Not unlike a massive stack of pancakes, there are layers upon layers to Chicago's brunch scene. While the top places garner the buzz (and the wait times), there are times when the better option is that sweet middle layer of brunch spots that fly under the radar -- whether they are new to the brunch game or just more famous for other meals. From giardiniera hollandaise in Lincoln Park to corned beef Bloody Marys in the Loop, these 10 underrated Chicago brunches are pleasant surprises worth checking out, stat.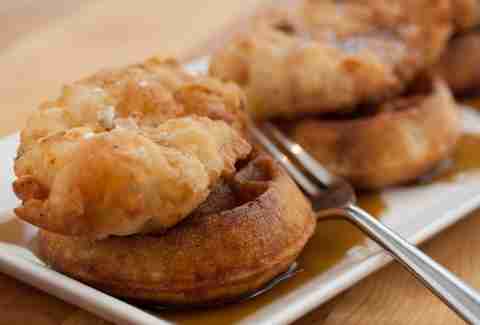 River North
Home to one of the most well-stocked bars in town and a cocktail list so thorough that it requires a table of contents, this sleek spot is an obvious choice when out barhopping in River North, and one of the neighborhood's best-kept brunch secrets. The menu boasts comfort food classics like chicken and waffles smothered in whipped maple butter and Tabasco maple syrup, bananas Foster French toast, huevos rancheros -- all of which are prime for soaking up the remaining drops of booze in your system from the night before.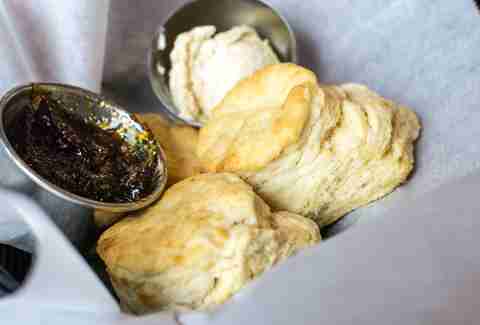 Logan Square
Cajun fare is the name of the game at this hip bar and restaurant. Kickstart your appetite with powdered sugar-dusted beignets and flaky buttermilk biscuits and then get down to business with BBQ shrimp and grits, ham hock hash, and a side of house-made bacon.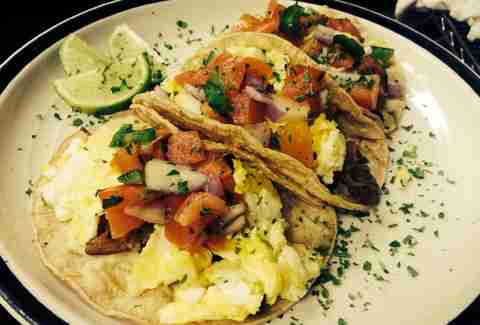 Wicker Park
Accented with hippie-era relics and mosaic-topped tables, this playful eatery promises just the sort of calming environment necessary for housing excessive quantities of its namesake hash. Try a large order of the "pork bubble and squeak" with bacon fat hash if you know what's good for you.
Lincoln Square
Pancakes are a given on most breakfast and brunch menus across Chicago, but pannenkoeken, thin, crispy-edged pancakes of Dutch origin, are far harder to come by. This tiny cafe has been the city's go-to for the delicacy for nearly a decade, and serves both sweet and savory varieties, including apple ginger, bacon and cheese, and sautéed veggie-studded.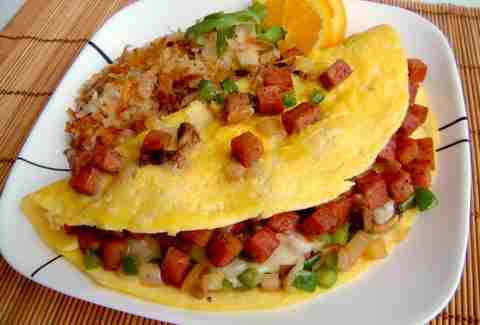 West Town
Score massively portioned American-Filipino breakfast and lunch eats all day long at this cozy spot on Grand Ave. Omelets, BLTs, and 1/2lb patty melts won't disappoint, but it's the Filipino breakfast platters that secure this place's status as a veritable neighborhood gem. Don't miss the tocino (anise wine-cured pork shoulder) with two eggs any style, garlic fried rice, and a bowl of fresh lugao.
Lincoln Square
Given social media's love affair with epic, over-the-top food mashups, it's surprising that the jaw unhinging "showstopper" at this real-deal farm-to-table destination hasn't become an Instagram favorite yet; we're here to change that. Get your phones ready, because the brunch-ready monster, which features a 1lb prime beef patty poised atop a Belgian waffle "bun" and smothered in cheddar and Swiss, is as delicious as it is photogenic.
Lincoln Park
From cinnamon roll pancakes laden with cream cheese frosting and candied pecans to cider-braised pork shoulder Benedict with giardiniera hollandaise, each menu item is seemingly more decadent than the next at this often overlooked resto near DePaul. Even the healthier options, like the kale and farro salad tossed with goat cheese, figs, and a candied sage vinaigrette, taste indulgent thanks to luxurious ingredients, and prove that you'll brunch like royalty no matter what you order here.
Loop
The Loop is hardly the first neighborhood that comes to mind when considering weekend brunch options, but brunch at the Gage will have you rethinking your stance, provided fighting crowds or tourists in the area isn't a deal-breaker for you. The bustling restaurant pours a potent Bloody infused with CH Peppercorn Vodka and finished with pickled peppadew, Irish cheddar, and house corned beef; menu highlights include chilaquiles, a caramel sticky bun, and the popular venison burger.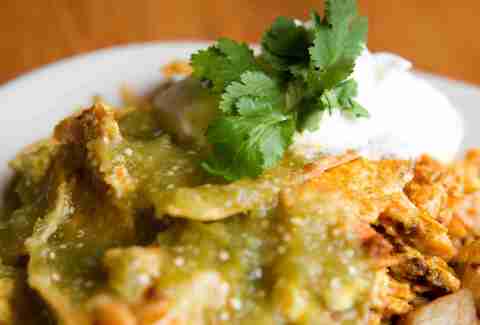 Edgewater, Lakeview
Why wait for the weekend to roll around when you can get your brunch on daily at this two-location sustainability-driven concept. Comforting fare like chorizo-loaded chilaquiles and breakfast sliders are made wholesome thanks to locally sourced and family farmed ingredients, and there are several vegetarian/vegan-friendly options for those that are into that sort of thing.
Lakeview
Satisfy your brunch needs and a case of wanderlust simultaneously at this globetrotting hideaway in Lakeview. Breakfast-y options range from foie gras and eggs with truffle carpaccio, crème fraîche, chives, and toast to Middle Eastern foule mudammas with labna, olives, zaatar, and pita, while lunch-leaning dishes include a shockingly great Cubano packed with slow roasted pork and Thai curry butternut soup with citrus marinated shrimp, fried garlic chip, and coriander leaf.
Sign up here for our daily Chicago email and be the first to get all the food/drink/fun in town.