In a city as food-rich as Chicago, there're always some places that ought to have lines running out the door, but don't have lines running out the door... yet. These are some of those restaurants: 15 spots in 15 all-important categories -- from donut shops to burger joints -- none of which 1) have any Michelin stars, 2) are on any of the most recent Best Restaurants in Chicago lists from Chicagoist, Food & Wine, or Zagat, or 3) get nearly the amount of hype they deserve.
Cragin
If you're tired of paying $3 a head for hipster doughnuts covered with more frosting than a birthday cake, get back to basics at this West Side shop owned (like a lot of donut shops in California) by a super-friendly Cambodian immigrant and his family. They make classic dunkers in lots of flavors, from blueberry to red velvet -- and they'll run you a whopping 75 cents each.
Edgebrook
Go in this attractive dog and burger restaurant in almost-suburban Edgebrook on the Northwest Side and you'll quickly notice this is no ordinary dog stand (see: the Japanese dog topped with seaweed and pickled ginger). Owner Tony Tzoubris aims to do everything a little better while keeping prices reasonable and his burger, made from Angus beef from a few hand-chosen ranches in Nebraska, is as good a single-digit-priced burger as you can find anywhere in the city.
West Loop
The Loop is littered with indistinguishable plastic fast-food sandwiches. But off on the Southwest side of Downtown near Union Station, there's this family-run Italian place that looks like a speakeasy and makes all kinds of things from scratch -- including lemon chicken sandwiches with roasted vegetables on crusty D'amato bread, meatball sandwiches, Italian subs -- the works. The only bad thing about finally discovering it is kicking yourself for all the years you worked nearby and didn't know it existed.
Underrated tacos: El Metro
West Town
We could name great unknown taco joints all day long, but our current fave is this new, Mexican street food-themed spot from the two sisters (Betty and Veronica, we kid you not) who run the equally under-appreciated Cafe Gaudi. They've got a wider range of tacos than most places, serving up everything from fish tacos to cochinita pibil. They're all tasty and artfully made, and almost nothing is over three bucks.
North Center
This old-school coffee shop finally gave up the ghost and was taken over by a friendly Mexican family that knows how to knock out a plate of pancakes and bacon that'll keep the kiddies happy. But they also work Mexican flavors into things like the al pastor hash, or the Hangover Chilaquiles that make it a worthy Sunday morning stop for adults, too.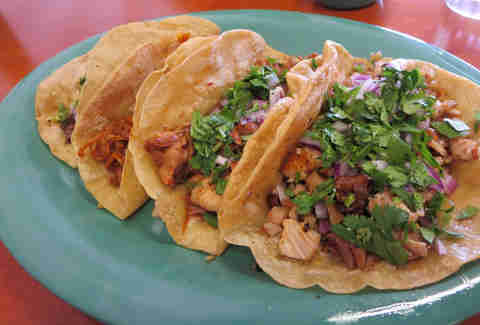 Gage Park
The haze of smoke in this Mexican restaurant tells you there's no kidding about the mesquite. There's juicy, spicy chicken and steak cooking over live fire all day long. The location (a couple of miles East of Midway Airport) may be a hike for most of Chicago, but go for the steak, then take a chicken or two along with some handmade tortillas to-go, and you'll be fed happily for most of the week.
Summit
Speaking of Midway, just past it in the suburb of Summit is an old tavern called Chester's, which is also home to an old pizza place called Orsi's. And if you want the full Chicago tavern-cut pizza experience with cracker-thin crust and tasty Italian sausage, American beer, and real Chicago guys yelling at the ball game on the TV in between games of video poker, this is your place.
Pilsen
As Taylor St fills up with sushi bars and Indian restaurants, you have to look harder for a real Little Italy in Chicago. Heart of Italy, on the edge of Pilsen, is a little strip that looks like Sonny might show up at any minute to beat the crap of Carlo. The Italian-American joints along Oakley are definitely old school, and some have gotten tired. But some still know how to do the classics well and make you feel like a big shot for dining out. And Bacchanalia does one of the best Chicken Vesuvios in town, plus plenty of other dishes from lasagna, to linguini and clams.
Chinatown
Chinatown is booming with new places worth checking out, but if you really want to see the cutting edge, locate this building on the East end of the Chinatown mall and head downstairs into its food court. At first it seems dead, but start checking out the food stalls and just order off the photos. Anything that looks good... it's all cheap. The skewer stand is great, there's a handy Tribune guide to the food posted on the wall, and there are places to get dumplings and takoyaki (think octopus doughnuts). Snack Planet belies its mild name with spicy food -- it's a street food trip to Shanghai, just a CTA ride away.
Lincoln Square
If there's a whole Asian cuisine that's underrated, it's Filipino food in general. Isla Pilipina is the closest that any spot comes to being known outside of the Filipino community, and deservedly so for its brightly flavored comfort food and energetic second-generation staff. Pancit noodles, adobo chicken, lumpia (Pinoy eggrolls), lechon kawali (fried pork), and the inevitable garlic rice offer you a feast for a reasonable price.
Underrated Middle Eastern food: Zizi's Cafe
Lakeview
This Turkish restaurant with an eager-to-please owner is one of the hidden gems of Lakeview, not otherwise a dining standout of the city. It offers well executed versions of classic Middle Eastern dishes (hummus, falafel, chicken. and beef shawarma), but what lifts it all up a notch is the terrific house-baked bread.
Underrated vegetarian: Annapurna
West Ridge
Most of the time, you're all too aware of compromising when eating in a vegetarian restaurant. Not so, though, when the vegetarian restaurant is Indian and offers rich, spicy flavors that explode from the simplest things -- like potato-filled samosas, or plates of chole bhatura, or chickpea stew served with puffy bread for dipping.
Underrated farm-to-table restaurant: Fork
Lincoln Square
Anyone who thought Gather brought farm-to-table to Lincoln Square wasn't paying attention to one of the neighborhood's old standbys. Fork looks like the other burger bars and family dining spots on Lincoln, but it stands above them because of the commitment of Chef Tim Cottini (a veteran of Lettuce Entertain You) to buying all that farmer's market meat and produce and turning it into easygoing comfort food. Try the standout chicken & waffles with maple pecan-crusted bacon.
Underrated gastropub: Red Door
Bucktown
Eight months of the year, Red Door huddles in its little indoor space and serves Troy Graves' earthy, tasty food alongside a great beer list. Then spring comes and for a few glorious months, it hides the best back patio in Bucktown. You should definitely hit it now as the weather gets better, but you should also support it in the colder months to keep it going for next summer, too.
Underrated fancy dining: Cafe des Architectes (in the Sofitel)
Streeterville
The Sofitel has a '70s-glam dining room, a chef in Greg Biggers who trained under Nobu Matsuhisa, and does gorgeous plates of chic dots and squiggles. It also has a star pastry chef and baker in Leigh Omilinsky (which ensures that breakfast is as much of a dazzler as dinner) and the city's only in-house charcuterie, pickling, and cheese-making program. So why don't you see it on more best-of-fine-dining lists? Beats us, but it's the kind of sophisticated night out that reminds you why you live in a big city.

Sign up here for our daily Chicago email and be the first to get all the food/drink/fun in town.

Mike Gebert is a James Beard Award-winning food video producer and writer, and founder of SkyFullofBacon.com. Follow him on Twitter @skyfullofbacon.