The drive-in famous for putting out hot dogs, tots, slushes, and really funny commercials has finally landed in Chicago (Uptown, specifically), and whether you've never had it, or know the franchise inside and out (minus these secrets, obviously), we've got a primer for what to expect at the newest outpost.

Recommended Video
Tuna Eyeball with Timothy DeLaGhetto and Ben Sinclair
Your own personal intercom
Outside, there're nine drive-in stalls where a roller-skating carhop will bring you your order, weather permitting. The two-lane drive-through is open 24 hours, and yes, you do have to be in a car to order (sorry, stumbling guys).
Al fresco dining
The dining area has free Wi-Fi and room for 50, including an outdoor patio. It's no Miami beachfront Sonic, but it's nice.
Breakfast, any time
Unlike other chains that cut off breakfast about two hours before you need it, Sonic serves its morning menu all day. That means breakfast burritos -- packed with sausage, onions, tomatoes, jalapeños, and tots -- in addition to a spread of breakfast sandwiches, French toast sticks, and coffee.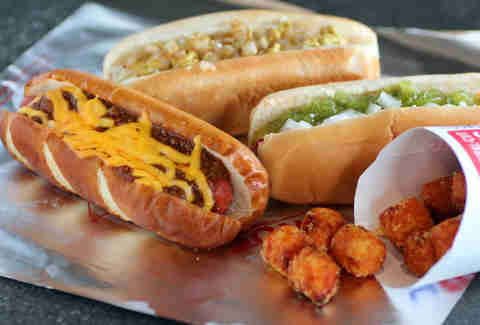 Vienna Beef hot dogs
Sonic's hot dog roster is anchored by the return of its chili-cheese pretzel dog. You'll also find foot-long coney dogs, New York-style links (spicy brown mustard, grilled onions, sauerkraut), and Chicago dogs, all of which are made with Vienna Beef.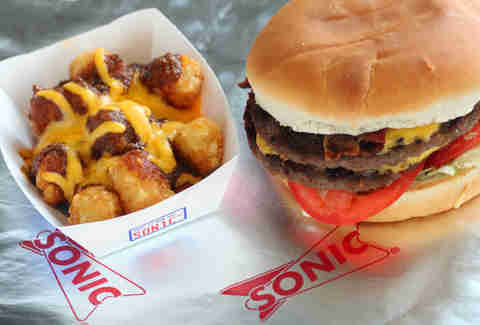 Everything with a side of tots
The other staple menu item is the double bacon cheeseburger.The chili-cheese tots are also the star of a sides list that also includes mozzarella sticks, onion rings, and Cinnasnacks with cream cheese frosting.
1,063,953 drink combinations
You can combine any mixture of sodas and flavor add-ins (peach, chocolate, watermelon, green apple, etc.), but you'll be hard-pressed to find a better combo than their signature Sprite-based cherry limeade.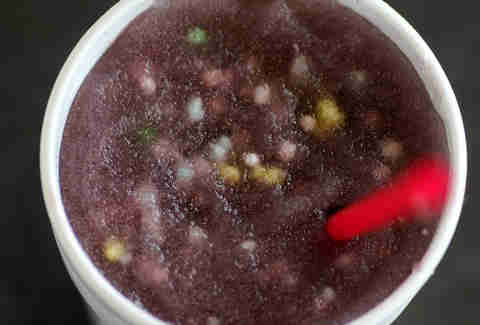 Or you could just drink candy
In the form of a grape slush with Nerds.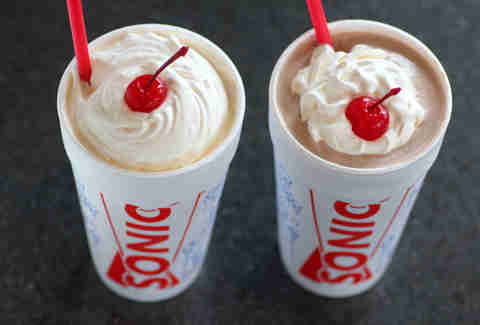 Inventive shake flavors
The terms "peanut butter bacon" and "chocolate jalapeño" should now be in your dessert vocabulary.
Sean Cooley is Thrillist's Chicago Editor, and was raised on a diet of Ellio's pizza, oatmeal cream pies, and Sonic the Hedgehog. Follow him @SeanCooley.