13 reasons Green Street Smoked Meats is now the coolest spot in Chicago
Responsible for both one of Thrillist's best burgers in Chicago and Thrillist's best donuts, the team behind Au Cheval and Doughnut Vault goes for the "best" triple crown with Green Street Smoked Meats: a clandestine Texas BBQ smokehouse down an alley off of Restaurant Row. From world class beers to brisket chili Frito pie, we found 13 reasons to hit up Chicago's about-to-be hottest restaurant.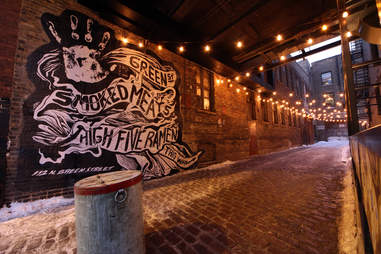 Sean Cooley
1. The discreet, street art-alley entrance
This place is legitimately hard to find if you don't know where to look. Luckily, you will: follow the mural (and smoked-meat aroma) pointing the way down the back alley of RM Champagne Salon, where you'll open the second unmarked door on the left.
Kari Skaflen/Hogsalt
2. A smokehouse-meets-rustic warehouse aesthetic
The minimalist interior -- which bench-seats 120 -- relies on distressed brick walls and string lights for ambience, and houses both an L-shaped food counter and (phew) a bar.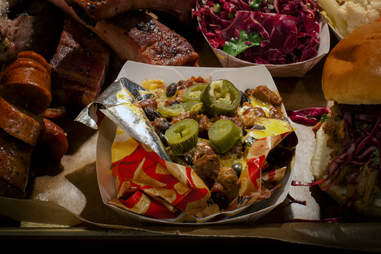 Kari Skaflen/Hogsalt
3. Frito pie with brisket chili
At GSSM, you can forsake your apple pie allegiances in favor of Frito pie. This corn chip pie is served in its bag (who needs crust?), filled with brisket chili, jalapenos, beans, and melted cheese.
Kari Skaflen/Hogsalt
4. All the meat!
There's marbled-everything on the chopping block, including Texas-style smoked brisket, pork ribs, pork belly, pulled pork sandwiches (topped w/ slaw), hot links, chicken legs, short ribs, tamales, salmon, and oysters. Sauces available include the coffee-infused Brown Thunder, the sweet vinegar of Leprechaun's Tears, and a spicy Texa$$ Squeeze.
Kari Skaflen/Hogsalt
5. All the sides!
Fill out your meat tray with spicy and sweet pickles, cole slaw, potato salad, broccoli salad, macaroni salad, baked beans, and a (few) slice(s) of Butternut Bread.
Kari Skaflen/Hogsalt
6. The mammoth oak wood-smoker
Weighing in at 12,000lbs with enough room to smoke 72 pork bellies, the giant cast steel smoker is the centerpiece of the kitchen. Beside it: piles of chopped oak for smoking, and bags of mesquite charcoal for the coal bed.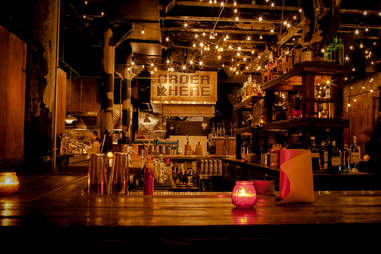 Kari Skaflen/Hogsalt
7. Quick and easy counter service
Queue up in front of THE GIANT "ORDER HERE" SIGN by the meat counter, where you'll do things counter-service-style, picking proteins that they'll slice on the spot, while you nibble on samples of meat candy. Finish out by ordering your sides, paying, and walking your properly packed BBQ tray to your picnic table.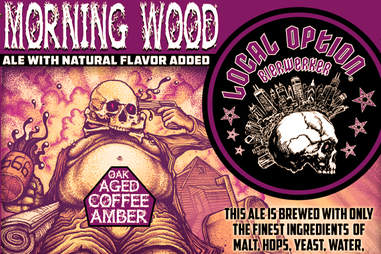 Local Option
8. Badass draft beer from a group of gypsy brewers
The bar has 16 beers on tap (plus a dozen more in cans), and half of 'em are from Local Option, the heavy metal, renegade beer-makers who develop recipes and brew at other Midwest breweries, then tap them at local bars like Green Street or their Cajun pub in Lincoln Park. LO offerings include the Morning Wood oak-aged coffee amber ale, Sweet Leif Belgian blond infused with Chinese sencha green tea, and an all-barley steam beer called Dampf Loc.
9. Vintage beer sinks
Barside, they've got reclaimed sinks packed with ice, $3 beer cans, and $4 bottles of Lone Star.
Kari Skaflen/Hogsalt
10. A dozen whiskeys for pickleback shots
Put back a shot of Whistle Pig or Ransom Whipper Snapper with house-made pickle juice, while telling everyone all the awesome facts you just learned about picklebacks. The solid liquor line-up extends out to tequila, mezcal, and nearly 30 bourbons.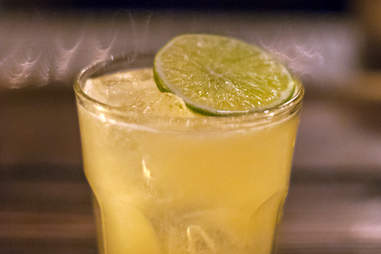 Kari Skaflen/Hogsalt
11. The Chartreuse Mule
This mule adds gin and Chartreuse to the classic Moscow formula (for cocktails, not human rights repression), and it's available by the pitcher, along with margaritas, Mexican fernet, and bourbon or vodka sweet tea.
Sean Cooley
12. Soft-serve ice cream
Cap-off your bovine eating spree with soft-serve, in flavors like vanilla or coffee served with a hardened sundae shell. Mmm... ice cream shell...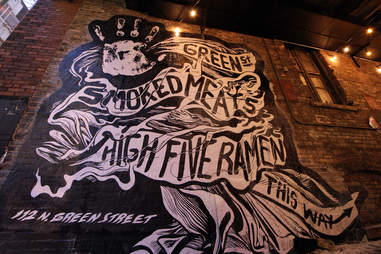 Sean Cooley
13. The soon-to-be-open ramen shop and juice bar
The ultimate goal for the Green Street space is to host BBQ on the main floor, with two additional concepts to come: High Five Ramen, a 15-seat ramen bar tucked in the basement, as well as Jack and Juice, a cold-pressed juice bar.
Sean Cooley is Thrillist's Chicago Editor and he once drank 64 beers on a cross-country flight. Follow him @SeanCooley.