Are you ready for a Malört and sake cocktail?
Just rip down the first couple letters from the "COMING SOON" sign and boom, you've opened OON. Easy, right? While OON has come out of nowhere (which is what the acronym stands for), this 80-seat Southeast Asian kitchen with American overtones is actually coming from the former Saigon Sisters chef, and looking to hold its own right near Au Cheval and Girl & The Goat thanks to dishes like the Foie Pho, a riff on the Vietnamese classic incorporating with duck breast cooked tableside in the broth and a little foie gras for good measure.
Like Ross on your favorite episode of Friends, now you are the one with unagi… specifically, unagi-glazed octopus confit served with wheatberries, fennel, fried chorizo, and a smoked strawberry puree.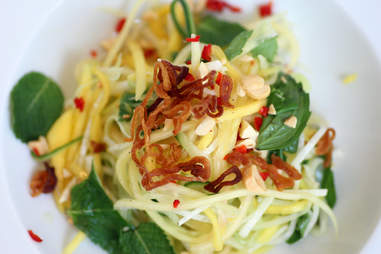 If you fancy your plates a little smaller, reach for the grilled short rib with lotus root or this green papaya salad with jicama, peanuts, fried shallots, and honey-ginger nuoc cham sauce.
Proper dining attire while chowing on this quail entrée (hoisin glaze, coconut-ginger fried rice, maitake mushroom, Sriracha) should be a belt wrapped around your head and underwear on the outside. Should be.
With cocktails from a Drumbar and Aviary vet, the cocktail menu is inventive (e.g., the Tip to Tail with sake and fish sauce) and includes a taste of Letherbee's brand-spanking-new Malört (it's gone classy!), a recipe previously only made at The Violet Hour, but now available in…
... The Second City Samurai, along with sake and kumquat syrup, which may conjure images of Jim Belushi's samurai deli (note: little chocolate donuts are not on the menu).